by Rowan Kavner Wilmer Font, the 2017 Pacific Coast League Pitcher of the Year, is slated to start Friday's Cactus League opener against the White Sox. Manager Dave Roberts told reporters that Font, who made three appearances for the Dodgers in 2017, is likely to go one or two innings. Font led all qualified PCL pitchers last year in ERA (3.42), WHIP (1.11) and strikeouts (178) last...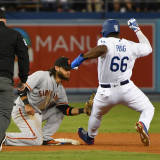 Los Angeles Dodgers manager Dave Roberts decided to bench Yasiel Puig on Sunday after his frustrations boiled over following a game-ending play on Saturday night.Puig was thrown out trying to steal second base at the end of a 2-1 loss to the Giants Saturday night. Puig made the decision to attempt the steal on his own, and then did not slide. The combination of events left Roberts...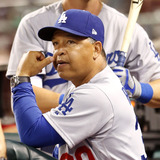 Benches cleared during Friday night's Dodgers-Padres game in San Diego after the two managers got into it following a meeting at home plate, leading to their ejection.The differences between the sides began when Dodgers pitcher Alex Wood suspected Jose Pirela was stealing signs at second base. The umpires said something, and then the two managers met after the first inning. But something...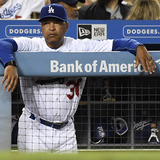 Dave Roberts did not take his decision to pull Rich Hill in the middle of a perfect game bid lightly. Apparently fighting tears after his Dodgers shut out the Marlins 5-0 on Saturday, Roberts explained that he removed Hill after seven perfect innings because of concerns about the southpaw's blister resurfacing. Roberts said there was "heat" on Hill's finger, a sign of the blister...
LOS ANGELES (AP) Dodgers outfielder Rob Segedin is going on paternity leave after exiting in the eighth inning Tuesday night to be there for the birth of his son. Manager Dave Roberts said Wednesday he had to convince the rookie to take one day leave. Players can take up to three days. ''We talked and in his situation, he was saying all the right things and maybe to a fault as...
This could end up being disastrous news for the Los Angeles Dodgers. According to manager Dave Roberts, it's more possible now than ever before that staff ace Clayton Kershaw could undergo surgery to repair a herniated disc in his back. Dave Roberts said Kershaw's setback makes surgery seem like more of a possibility now. But he has not been told that in reports. — Bill Plunkett...
SAN FRANCISCO (AP) Ross Stripling's emotional father sought out Dave Roberts in the hotel lobby Saturday morning and thanked him from the heart. Not that Roberts needed any reassurance about his decision some 12 hours later. He pulled Stripling with a no-hitter in progress during the eighth inning of his major league debut after the right-hander's 100th pitch - a ''no-brainer'...
As Did The Tribe Win Last Night helps fans count down the days until the Indians retake the field in an official Major League game, we look back at some of the players who wore the Cleveland jersey with pride. Countdown to Opening Day – 52 days Former outfielder Dave Roberts may be most famous for an October evening at Fenway Park in 2004, but his long and productive career actually...
With Don Mattingly and the Dodgers parting ways last month, the team has reportedly found his successor. It was expected the Dodgers would fill their vacant manager position by Monday, with Gabe Kapler and Dave Roberts the final reported candidates. According to Dylan Hernandez of the Los Angeles Times, Roberts will be the new man in charge next season. Roberts had a 10-year major...
Former outfielder Dave Roberts may be most famous for an October evening at Fenway Park in 2004, but his long and productive career actually started for the Cleveland Indians back in 1999. On August 7, All-Star Kenny Lofton was about to miss his ninth straight game due to a strained hamstring and Mike Hargrove's club was going with youngster Jacob Cruz a lot as a substitute in centerfield...
MORE STORIES >>
Giants News

Delivered to your inbox

You'll also receive Yardbarker's daily Top 10, featuring the best sports stories from around the web. Customize your newsletter to get articles on your favorite sports and teams. And the best part? It's free!