In likely one of the most bizarre news items of the day, it has been announced that in a last-minute scheduling change, former-MLB-star-turned-financial-and-personal-trainwreck Lenny Dykstra will square off in the ring against former-MLB-star-turned-financial-and-personal-trainwreck Jose Canseco in a celebrity boxing match. Dykstra is replacing Tareq Salahi a/k/a the White House Party Crasher for a bout scheduled for Nov. 5 which will air live from Avalon Hollywood CA in a pay-per-view, streamed format online courtesy of FilmOn.com, which according to the press release announcing this little slice of crazy, boasts itself as "the first virtual Cable TV Network that delivers high definition, live TV channels in the USA over the Internet to Computers, Mobile Devices, Roku and IP enabled Televisions." Neato.
Before we continue, allow the madness contained in the preceding paragraph soak in a bit: Lenny Dykstra against Jose Canseco in a celebrity boxing match on PPV. Yep.
Okay, let's move on to the incoherently amusing statement Dykstra released announcing his role in the bout:
"Canseco ruined my career by spreading lies. I called Tareq and begged him to let me take his place in the upcoming fight against Canseco."
Alrighty then. That Nails, what a cad.
Obviously, both are in it for a quick, relatively easy payday, so I wouldn't expect much of a fight, given Dykstra's struggles in recent months and going well into the last several years when Dykstra's post-baseball life degenerated into a heaping pile of fail.
And Canseco? His failures and maladaptive behavior have been well-documented and one only has to follow him on Twitter for evidence. And his previous forays into celebrity boxing bouts have been laughable, circus-sideshow displays, to put it kindly.
But, as mentioned above, it's all for a quick payday for these two. I only wonder how Dykstra and Canseco will split up the $500 purse. Okay, maybe it will be a $1,000, but who's counting? Well, I suppose these guys are, but between legal fees and rent, these two will take whatever payout they can get.
Via Sportress of Blogitude
Chippendale's offers Kim's ex celebrity emcee gig
Video: UFO spotted above high school football game
Gallery: High school baseball game played in Halloween costumes
MORE FROM YARDBARKER
MLB News

Delivered to your inbox

You'll also receive Yardbarker's daily Top 10, featuring the best sports stories from around the web. Customize your newsletter to get articles on your favorite sports and teams. And the best part? It's free!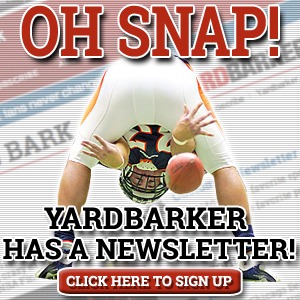 Latest Rumors
Best of Yardbarker

Today's Best Stuff

For Bloggers

Join the Yardbarker Network for more promotion, traffic, and money.

Company Info

Help

What is Yardbarker?

Yardbarker is the largest network of sports blogs and pro athlete blogs on the web. This site is the hub of the Yardbarker Network, where our editors and algorithms curate the best sports content from our network and beyond.