Found May 22, 2012 on Fox Sports Wisconsin:
MILWAUKEE It was May 21, 2010 a little over two years ago now that Jonathan Lucroy crouched behind the plate at Target Field in Minneapolis, completely and utterly overwhelmed. The young Brewers catcher wasn't supposed to be in the major leagues already. He had played just 21 games at the Triple-A level, but injuries and departures had blazed the path for his extraordinarily early arrival. For Lucroy, then just 23, this had all happened a bit too fast. He didn't know how to do scouting reports. He didn't know how to do many of the things expected of a big league catcher. "When I first got called up to the big leagues, it was really hard the most difficult time I've ever had in my life with this game," Lucroy said. "I don't think I was quite ready for it. I was force-fed, a trial-by-fire thing. but those type of trials, those helped me out. You have to learn from those. It was definitely a life lesson in how to handle failure." Lucroy had never experienced much failure when it came to baseball. In college ball at Louisiana-Lafayette, he became one of the most successful players in school history. His No. 6 jersey at Umatilla (Fla.) High School was retired in 2011. And after he was selected in the third round of the MLB draft, Lucroy had been impressive at every level of the minor leagues. But as difficult as the failures and the trials were in that first major league season Lucroy was woefully unaware of the intricacies of major league catching -- he had been prepared for this type of experience all his life. His father, Steve Lucroy, hadn't just primed him since a young age to play the game they both loved. He had done his best to prepare his son to deal with every aspect of the journey the setbacks and the successes. And during that first year in the clubhouse, Lucroy could see more than ever how important his father's advice had been. "Just hang in there and battle and fight and prepare yourself the best you can," he told Lucroy. "Do whatever you have to get better. If you can just do those things, you're going to be OK. The talent is always there, it's the intangibles that make you stay there." Steve Lucroy is, as his son describes him, a blue-collar man and a baseball guy who has taught his kids above all else to work hard and stay humble two of the reasons for Jonathan Lucroy's meteoric rise this season. In the last month, Lucroy is batting an extraordinary .388 with a 1.026 OPS that puts him among the league's top sluggers. By comparison, Lucroy has a higher batting average and RBI total this month than Brewers star outfielder Ryan Braun. His .339 season batting average is good for 10th in major league baseball, second-highest among catchers. And perhaps most impressive, Lucroy is hitting a major league-high .560 with runners in scoring position. Through all of that success, Lucroy repeats over and over again, often unprompted, that he's not satisfied. That's just how he was raised. "As well as he's doing, he's still hard on himself," Brewers manager Ron Roenicke said. "It pushes him. As long as it doesn't interfere in the negative way, it's good." Sitting next to his locker in the Brewers clubhouse on Monday, the day after his grand slam and seven RBI carried the team to a 16-4 victory, Lucroy admitted that he doesn't often give himself credit. After his debut 2010 season, Lucroy told reporters that he "stunk" and that his performance was "inexcusable" despite the fact that his adjustment to the major leagues was, by all accounts, much quicker than expected. But since he was a kid, he had always tried to emulate his father in his quest for continued improvement. "He's always taught me that this game is such a roller-coaster game," Lucroy said. "It's so up and down. He told me to always be level-headed. If you can be level on your low days and level on your high days, you're going to be successful at this game. That's the one thing I really try to do. You can't be too high or too low. The higher you are, the farther you can fall." He had already talked to his father twice on this particular day. Proud of his son's career game the night before, Steve Lucroy still made sure to remind him to remain humble. Remember that someone out there is working harder than you, he told Jonathan. Now, with the valuable experience of more than a season and a half behind the plate, Lucroy is trying his best to make sure no one works harder than he does. Roenicke has batted his catcher in all but three spots in the lineup this season and trusted him at key moments in games. And through all the challenges, Lucroy's teammates have watched the backstop become the team's most consistent hitter. "He's been showcasing his talent pretty much all year," right fielder Corey Hart said. "He's been one of our bright spots." To Lucroy, that just means he has more to prove. Even with a recently signed contract extension keeping him in Milwaukee until at least 2016, it's hard not to believe him when he insists he still has to earn his spot. "A lot of guys get to the big leagues, but not many stay here," he said. The truth is, Jonathan Lucroy is already one of the major league's top up-and-coming catchers even if he won't admit it. "The way I grew up, it was ingrained in me to always be working hard, never be content with what you do," Lucroy said. "That's what my dad always made me believe, and that's how I've always played. Nothing is ever good enough. The moment you get content is the moment you start failing. ... And that means you're going to fail your team." It's safe to say that moment hasn't arrived yet. Follow Ryan Kartje on Twitter.
Original Story:
http://www.foxsportswisconsin.com/05/...
THE BACKYARD
BEST OF MAXIM
RELATED ARTICLES
When Travis Ishikawa first met the woman who turned out to be his future wife, she apparently didn't notice that he looked like Rocky Balboa after going 15 rounds with Apollo Creed. "She says she doesn't remember me having a swollen face," Ishikawa said. "My cheek was all swollen and she says she doesn't remember any of that." It is true, then, that...
MILWAUKEE Ron Roenicke has a puzzle that he hasn't quite cracked yet. The Brewers manager knows his team is better than what they've shown this season, and seeing that potential has made the team's struggles all the more frustrating. So lately, Roenicke has experimented with different guys in different spots in the lineup and on the field. Soon, that experiment could...
COULDA TURNED TWO, RICKIE
Your browser does not support iframes. DERP! It's not bad enough that Milwaukee Brewers second baseman Rickie Weeks is in the throes of a season-long slump at the plate (.155 BA, 54 strikeouts in 148 at-bats, only 4 homers while knocking in an abysmal 7 RBI), he's also experiencing brain farts out while playing defense [...]
MILWAUKEE With the Brewers reeling seven games back in the NL Central and wild-card race and the season no longer in its early stages, Brewers manager Ron Roenicke met with general manager Doug Melvin and assistant general manager Gord Ash on Wednesday to discuss possible options to turn the season around. One of those options is to execute some kind of trade, giving the team...
While the San Francisco Giants appear to be heating up, the Milwaukee Brewers continue to struggle. The Giants look to complete their second series sweep in three years of the Brewers at Miller Park on Wednesday. Buster Posey and Joaquin Arias each hit two-run homers as San Francisco (23-20) won for the eighth time in 11 games, 6-4 over Milwaukee on Tuesday. The Giants, who have...
LIKE A CANNON, THAT ARM
Here is a video of an amazing throw by San Francisco Giants left fielder Melky Cabrera to gun down Norichika Aoki at home plate. This happened last night in Milwaukee where the Giants defeated the Brewers 6-4.The ball hit by Nyjer Morgan to medium left field seemed deep enough to score the speedy Aoki from third base but Aoki and the Brewers underestimated Cabrera's strong arm...
Bad groin The reigning National League MVP was having a stellar Monday night…That is before he was forced to leave the game with a groin injury. The San Francisco Giants are in Milwaukee to face the Brewers. Things were looking good for the Giants early in the game as they scored three runs in the top of the first inning. While still holding on to a 3-1 lead in the eighth inning...
I have decided to break down Francisco Rodriguez's season for two reasons. Number one, because I'm a Venezuelan and a huge fan of Rodriguez, so I decided to take a closer look at his numbers to see what is going on with him. And number two, because I've heard people here in Venezuela say that Rodriguez is having a rough season because he's not the team's closer...
As previously noted on this website, MLB players sometimes lose track of the outs situation and have had some memorable blunders. Check out Brewers second baseman Rickie Weeks in last Tuesday's game against the San Francisco Giants as he forgets that there is only one out and doesn't turn a double play that would end the inning: Your browser does not support iframes.
Photo: Christian Peterson/Getty ImagesThe Brewers played another round of musical shortstops today, claiming infielder Cody Ransom off waivers from the Diamondbacks and optioning Edwin Maysonet to Nashville. The 36-year old Ransom has split time between Arizona and AAA Reno this year.Considering the current state of the Brewers infield, Ransom will probably get some playing time...
Jonathan Lucroy homered twice and had a career-high seven RBIs, Zack Greinke pitched six strong innings to improve to 14-0 at Miller Park, and the Milwaukee Brewers beat the Minnesota Twins 16-4 on Sunday. Lucroy connected on an 0-2 pitch from Jeff Gray in the seventh inning for his first career grand slam. The ball nipped the back edge of the padding in right before falling into...
A lot of exciting stuff happened across the big leagues yesterday, so let's get right to the trots! Home Run of the Day: Scott Van Slyke, Los Angeles Dodgers - 19.76 seconds [video] As a Brewers fan, I really wanted to put Jonathan Lucroy's second home run here. It was the first game in his career batting clean-up and somehow Lucroy managed two home runs and seven RBIs...
Brewers News

Delivered to your inbox

You'll also receive Yardbarker's daily Top 10, featuring the best sports stories from around the web. Customize your newsletter to get articles on your favorite sports and teams. And the best part? It's free!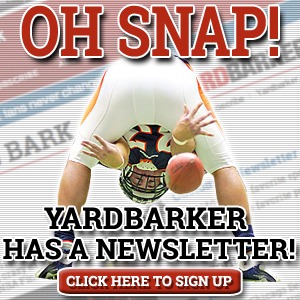 Latest Rumors
The Backyard

Today's Best Stuff

For Bloggers

Join the Yardbarker Network for more promotion, traffic, and money.

Company Info

Help

What is Yardbarker?

Yardbarker is the largest network of sports blogs and pro athlete blogs on the web. This site is the hub of the Yardbarker Network, where our editors and algorithms curate the best sports content from our network and beyond.