Found November 22, 2011 on Baltimore Sun:
NEW YORK (AP) — Baseball Commissioner Bud Selig and union head Michael Weiner smiled and exchanged handshakes while others in the room dug into knishes and pigs in a blanket.
Original Story:
http://feedproxy.google.com/~r/baltim...
THE BACKYARD
BEST OF MAXIM
RELATED ARTICLES
For all the criticism and vitriol absorbed by commissioner Bud Selig (see: 1994 World Series), baseball has become the most stable of the major sports, writes Joe Henderson.
In 1992, MLB Commissioner Fay Vincent made $650,000. Meanwhile, current Commissioner Bud Selig, who helped organize the plot to remove Vincent from the job, made $18.4 million in the past year. That's a pretty nice cost of living adjustment. Fred Wilpon was a Selig supporter back in those days (then co-owner Nelson Doubleday backed Vincent) and that long-term friendship is most...
Bud Selig and Michael Weiner(Photo: AP)Major League Baseball and the Player's Union unveiled a new Collective Bargaining Agreement (CBA) yesterday which will maintain labor peace for at least another five years. When this new agreement expires in 2016 there will have been 21 consecutive years of labor peace in the sport, which is something to be proud of when you consider some...
As part of Major League Baseball's new labor agreement, a new testing requirement for human growth hormone is being instituted. With MLB long having been accurately viewed as a laggard in drug testing among the major sports, Commissioner Bud Selig is now taking bows for what on the surface appears to be an aggressive stance. "It meant a great deal to me personally, and a great...
When MLB's labor deal was announced on Tuesday, it sets in motion a host of changes that will drastically alter how the game functions, both on and off the field. SEE DETAILS OF THE LABOR AGREEMENT READ ANALYSIS OF THE LABOR AGREEMENT The following is a transcript of the press conference held on Tuesday to announce the labor agreement: An interview with: COMMISSIONER SELIG...
I tried to watch the press conference where Bud Selig announced the new Collective Bargaining Agreement, although it was hard to keep track of the announcement while following all of the details on Twitter.  I didn't catch every word that was said, so I probably missed an announcement that went something like this: "We're proud to say that with this new Collective Bargaining...
NEW YORK - Baseball Commissioner Bud Selig and union head Michael Weiner smiled and exchanged handshakes while...
Major League Baseball's owners and players have come to a remarkably noncontentious 5-year agreement. Even more remarkable is that the deal was struck with an efficiency that would put the NFL, NBA, and even Congress to shame. After negotiations between Rob Manfred and Michael Weiner (couldn't ask for a better name combination), mediated by Bud Selig, baseball's 5-year extension...
By Bob Owens Recently Bud Selig mentioned that he intends to retire after the 2012 baseball season, forcing the owners and players to find a (suitable) replacement for the first time in 20 years. So I decided to take a brief look at the 9 men who have been commissioner of our nations beloved pastime, and see what kind of backgrounds they had, and if some are better than others...
Major League Baseball and the Major League Baseball Players Association unveiled the latest collective bargaining agreement yesterday afternoon, and it brings numerous changes, many of them major. Before we break down the new CBA, though, let's pause and attempt to digest just how remarkable it is that both sides were able to come to an agreement without the slightest trace...
The effects of Major League Baseball's new collective bargaining agreement can't be described within one post, even one as long as this. It will take a while for teams and players to adjust to the game's new conditions, but here's an early look at ten highlights from the CBA (in no particular order): Playoffs may expand in 2012 - If Commissioner Bud Selig gets...
Baseball players and owners recently signed a new collective bargaining agreement that will start the testing of HGH and expand the playoffs to 10 teams.  Major League Baseball will now be the only North American professional sport to be blood testing on human growth hormones. An initial positive test for HGH would result in a 50-game suspension, the same as a first positive...
MLB News

Delivered to your inbox

You'll also receive Yardbarker's daily Top 10, featuring the best sports stories from around the web. Customize your newsletter to get articles on your favorite sports and teams. And the best part? It's free!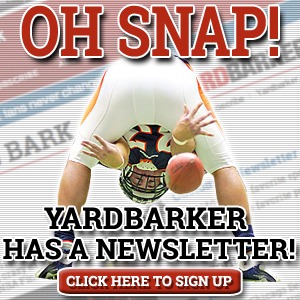 Latest Rumors
Best of Yardbarker

Today's Best Stuff

For Bloggers

Join the Yardbarker Network for more promotion, traffic, and money.

Company Info

Help

What is Yardbarker?

Yardbarker is the largest network of sports blogs and pro athlete blogs on the web. This site is the hub of the Yardbarker Network, where our editors and algorithms curate the best sports content from our network and beyond.