Found October 23, 2012 on Fox Sports Detroit:
It wasnt all that long ago that Detroit Tigers fans wanted to burn Jim Leyland in effigy. Now, after five magical weeks, they want to toast the Tigers manager instead. Getting his team to the World Series, which opens Wednesday night in San Francisco, has done wonders for Leyland's image. When the Tigers were three games behind the White Sox with 16 to play, he was labeled an out-of-touch curmudgeon who had to go. But after rallying to shred the White Sox, As and Yankees, he's once again a manager whom players love to play for and a master of the game. Funny thing is, Leyland hasnt changed and seemed to enjoy relaying fan-reaction stories to reporters in recent days. I did get one interesting comment, says Leyland, a smile slowly crossing his face. I was out and I actually had a guy come up to me and say, Great job! And I want to apologize for being mean to you all year long.' When Leyalnd kept playing Ryan Raburn... kept putting Joaquin Benoit and Jose Valverde into pressure situations... kept looking up at the White Sox in the standings and appearing to mismanage a wealth of talent... well, fans fumed. They used Leylands name in vain... said there's no way the Tigers should offer him another contract... endorsed anybody but Leyland for manager. Well, now alls forgiven. Fans are begging for Leyland's autograph while he waits in line at the bank or at the pancake house he frequents. He poses for more photos than a politician. He's even been invited to a wedding by folks he just met. Last Saturday, with Leyland minding his own business at the bar inside Detroit's Atheneum hotel -- trying to watch the Michigan-Michigan State game -- the wedding reception there took on a Tigers flavor when some of the men in tuxedos noticed who was in their midst. They offered to buy him drinks, which Leyland declined in favor of the glass of tomato juice in front of him. They asked him to pose with the bride and groom, which he did. I ended up taking pictures with all of em, Leyland says. He drew the line, however, at accepting an impromptu invitation to attend the reception because he didn't want to upstage the newlyweds. Leyalnd shakes his head, that slow smile crossing his face again, and says, Im on Twitter, every Facebook in the world today with some bride that got married last night. Then Leyland pauses and says, They were really nice people. Its so nice. Im running into people all over. Its neat. Its people. Its life. Its great. He knows many of them very recently wanted him run out town, along with longtime hitting coach Lloyd McClendon, and close friend and third base coach Gene Lamont. But after 49 years in professional baseball and 21 years as a big-league manager, Leyland understands how it goes. They dont hate a manager or hate a player, says Leyland, who has 1,676 regular-season victories. They hate losing. He gets that its nothing personal. Still, hes human. You could see the look on his face in the dugout five weeks ago, when it all seemed to be going down the drain -- along with his time as the manager of a franchise he loves, in a town he loves. He was shaken; he was toast. Now hes being toasted. Although Tigers fans are fickle, Leyland's team had his back all the way. Triple Crown winner Miguel Cabrera politely confiscated a Fire Leyland sign from a fan in Chicago in September, and defending AL MVP Justin Verlander says of his manager: Hes never rah-rah. He just trusted us. He didnt freak out. Leyland's loyalty and stability wins out. He turns 68 on Dec. 15 and doesnt have a contract for next season. It was widely assumed the Tigers wouldn't invite Leyland back without at least a Central Division title. They got that and more, and amid the AL pennant celebration, Tigers president and general manager Dave Dombrowski gave Leyland a resounding vote of confidence, adding that there's a time and place for coming to terms. Leyland says he wants to return, but brushes aside any conversation about contracts right now. Just like refusing to attend that wedding reception, he doesnt want to upstage his team as it prepares for a second World Series in seven seasons.
Original Story:
http://www.foxsportsdetroit.com/10/23...
THE BACKYARD
BEST OF MAXIM
RELATED ARTICLES
IS IT TRUE?
Tigers pitcher Justin Verlander was asked about the rumor that he is dating supermodel Kate Upton. See what his response was.
At least he didn't eat it.  The Detroit Tigers bat boy was caught on camera behind manager Jim Leyland picking his nose and than rolling whatever came out of it in his fingers. Not a good way to kickoff Game 1 of the 2012 World Series.  I heard that bat boy was picking the Tigers in 5 because they will pick apart the Giants pitching because they have great pickoffs…alright...
DETROIT -- Not long ago, Quintin Berry almost gave up on baseball and searched for a "real job." Instead, he stuck with his dream and is now headed to the World Series with the Detroit Tigers. "I'm just trying to take this in," Berry said. "It is all a little hard for me to believe." This past offseason, Berry was released by his fourth team in...
Jim Leyland and the Detroit Tigers found out the hard way that rest means rust in the World Series. Six years ago, their last Series appearance, they lounged around for nearly a week before getting wiped out by St. Louis. This time, while once again waiting for the National League opponent to be decided, they stayed busy by working on bunts, playing against their instructional...
While the National League will be represented by the San Francisco Giants who last appeared in the World Series in 2010, winning it all against the Texas Rangers. With that said lets take a look at the 2012 World Series between the Detroit Tigers and San Francisco Giants:
SAN FRANCISCO (AP) -- Justin Verlander pawed at the mound with his feet during warmups, looked flabbergasted when his pitching coach came out for a visit and appeared out of sorts from the start. Once again, nothing went right the for the Detroit Tigers ace in the World Series. Verlander allowed two of Pablo Sandoval's record-tying three home runs, an RBI single to fellow pitcher...
Look Into The Face Of Giant Fear We're going to make this quick and dirty, because baseball stopped being very interesting to me weeks ago, and even a historic comeback by the Giants has not re-stoked my fire. Also, I'm just seeing this on really, really simplistic levels. Here's what I wrote about why the Tigers were going to beat the A's in five, which was exactly...
The 2012 World Series gets underway tonight in San Francisco with Justin Verlander and Barry Zito taking the mound for the Detroit Tigers and San Francisco Giants. The Tigers have taken the American League by storm after being out of the playoff picture with two weeks remaining in the season. The Giants have played much of the Postseason with their backs to the wall, rallying from...
SAN FRANCISCO -- Seven years later, it was the same result for Justin Verlander. The Detroit Tigers right-hander lasted just four innings and took the loss Wednesday night as the San Francisco Giants rolled to an 8-3 victory behind Pablo Sandoval's three home runs in Game 1 of the World Series at AT&T Park. Two of Sandoval's three home runs came off Verlander as he...
The fall classic begins tonight. The Detroit Tigers travel to California to face the San Francisco Giants needing four more wins to achieve the ultimate baseball goal. This should be a very competitive series, with most pundits weighing in for one team or the other in six or seven games. Game one features a pitching match up classic between Justin Verlander and Barry Zito. Here...
To Win Series Tigers -175 Giants +145 Game 1 - Detroit Tigers at San Francisco Giants Tigers with Justin Verlander starting - 170 Giants with Barry Zito starting +150 The total is sitting at 7. TV: 8:07 p.m. ET, FOX WEATHER: There is a 54 percent chance of rain Wednesday with temperatures in the high 50s. PITCHING MATCHUP: Justin Verlander (3-0, 0.74 ERA) vs. [...]
MLB News

Delivered to your inbox

You'll also receive Yardbarker's daily Top 10, featuring the best sports stories from around the web. Customize your newsletter to get articles on your favorite sports and teams. And the best part? It's free!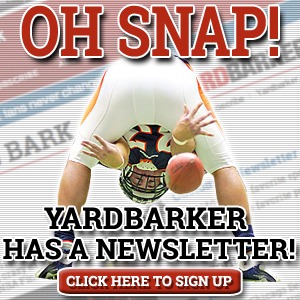 Latest Rumors
The Backyard

Today's Best Stuff

For Bloggers

Join the Yardbarker Network for more promotion, traffic, and money.

Company Info

Help

What is Yardbarker?

Yardbarker is the largest network of sports blogs and pro athlete blogs on the web. This site is the hub of the Yardbarker Network, where our editors and algorithms curate the best sports content from our network and beyond.