Found February 28, 2012 on Brewers Bar:
Let the Countdown to games being as we now stand 5 days shy of the 1st game of Spring Training against the San Francisco Giants.  I've avoided talking much about what the Brewers lineup and fielding will look like because we knew so little about what would happen to Braunie.  Well now we know and it's as good a time as any to try and construct what a potential Brewers lineup could look before a pitch is even thrown against the 2012 Brewers.The easier of the two lineups to come up with is vs. Right Handed pitchers and that's because Nyjer Morgan is a far better hitter against Righties than Carlos Gomez.  Some have wondered how the Brewers would use Braun without Prince hitting behind him, but Ron Roenicke has made his intentions quite clear on that matter.  So here is what I think you'll see the lineup look like.vs. Right Handers:1. Rickie Weeks 2B2. Nyjer Morgan CF3. Ryan Braun LF4. Aramis Ramirez 3B5. Corey Hart RF6. Matt Gamel 1B7. Alex Gonzalez SS8. Jonathan Lucro...
Original Story:
http://www.thebrewersbar.com/2012-art...
THE BACKYARD
BEST OF MAXIM
RELATED ARTICLES
Let me be clear by stating that Alex Rodriguez has never said anything about Ryan Braun's failed drug test having to do with him taking medicine for herpes. Of course A-rod wouldn't because he knows better, as Derek Jeter would have failed way before Braun… right? Kidding again. But now to the point, as this Braun saga is getting annoying but I wanted to weigh in my opinion...
Turns out, The Collector has a name. And a reputation. And a story. The PR battle Ryan Braun lamented is raging anew. For this, he has himself to blame. I don't know if Braun knowingly used the synthetic testosterone that showed up in his October urine test. But he is guilty of a blatant refusal to quit while he was ahead. In the news conference that followed his successful...
Now that Ryan Braun has had his 50 game suspension overturned, we're all left to wonder what exactly happened, why this information leaked in the first place (something I think is going egregiously overlooked), and how MLB will amend their process so that this doesn't happen again in the future.  Additionally, we're subjected to tired, knee-jerk "analysis" such as "Braun...
Ryan Braun may have won his appeal of his 50-game ban, but his PED saga is still far from over as far as MLB is concerned.Milwaukee Brewers reigning NL MVP Ryan Braun is one lucky bastard … or is he?  Sure, Braun had his 50-game suspension overturned last Thursday by baseball arbitrator Shyam Das, but all that did was piss off Commissioner Bud Selig and the Major League Baseball...
During Ryan Braun's news conference last Friday, the Milwaukee Brewers outfielder made a number of insinuations about the integrity of the MLB's sample collecting process and the specific collector who took his positive test sample. On Tuesday, a man revealing himself to be the collector of Braun's test, Dino Laurenzi Jr., sent an email to ESPN The Magazine to state his...
((HT: Fox6now.com Milwaukee))The gentleman's name is Dino Laurenzi...And he isn't going to take being accused of a felony lightly...At his welcome back press conference, Milwaukee Brewers reigning Emm-Vee-Pee Ryan Braun basically intimated that Laurenzi was the one who tampered with both of Braun's samples to give the "false positive."On both... With exactly...
While Ryan Braun's suspension over a positive drug test has ended with it being overturned, I think everybody recognizes that his trial has only just begun. While the suspension being lifted was a boost to the Milwaukee Brewers, it probably would have actually been better for Braun's reputation had he gotten suspended but for reasons
A man identifying himself as the collector who took Ryan Braun's urine samples last fall said he followed the same protocol with the Brewers slugger as he had with hundreds of previous samples.
Five days after Brewers left fielder Ryan Braun won his appeal of a 50-game suspension by blaming a faulty collection process, the collector of Braun's sample responded with a three-page statement.
                   Do you hear that sound?  Yes it's much rejoicing from around Brewers Nation and no it's got nothing to do with Ryan Braun other than seeing him on your TV screen in a Brewers uniform.  That rejoicing you are hearing comes from the announcement of the full 2012 Brewers TV Schedule.  It was announced that 150 of teh 162 games will be carried...
MLB News

Delivered to your inbox

You'll also receive Yardbarker's daily Top 10, featuring the best sports stories from around the web. Customize your newsletter to get articles on your favorite sports and teams. And the best part? It's free!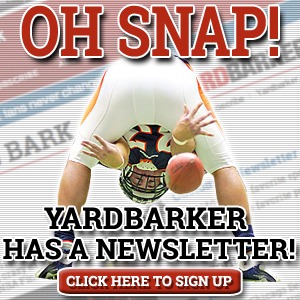 Latest Rumors
Best of Yardbarker

Today's Best Stuff

For Bloggers

Join the Yardbarker Network for more promotion, traffic, and money.

Company Info

Help

What is Yardbarker?

Yardbarker is the largest network of sports blogs and pro athlete blogs on the web. This site is the hub of the Yardbarker Network, where our editors and algorithms curate the best sports content from our network and beyond.