Found July 29, 2012 on Pirates Prospects:
PLAYERS:
Jeff Locke
,
Tony Sanchez
,
Brandon Boggs
,
Jeff Larish
,
Anderson Hernandez
,
Matt Hague
,
Jeurys Familia
,
Jeff Stevens
,
Fred Lewis
,
Mike Baxter
,
Oswaldo Navarro
,
Lucas Duda
,
Jeff Clement
,
Mike Nickeas
,
Daniel McCutchen
,
Doug Slaten
,
Gorkys Hernandez
,
Brian Friday
,
Christian Marrero
TEAMS:
Pittsburgh Pirates
,
New York Mets
,
Atlanta Braves
Indianapolis Indians  6,  Buffalo Bisons  0
(Box)
Jeff Locke earned his 8th win when he held the Buffalo Bisons scoreless for 7 innings at Victory Field tonight.  Locke surrendered 3 walks tonight, which was an improvement from his last start, on July 23rd, when he gave up 7 walks in 5 innings.  Locke gave up a total of 8 runs on 17 hits over 15 innings in his last three starts.  Today, he scattered 4 hits over those 7 innings, and also struck out 4 Buffalo batters.
Locke needed some run support, of course.  He got most of that in the 2nd inning, when the Indians batted around. The first four Tribe batters of the inning reached base safely.  C Tony Sanchez began the rally with a double down the right field line.  He scored when RF Brandon Boggs lined a single into right field.  LF Jeff Larish also hit a line drive single into right, moving Boggs to third base.  2B Anderson Hernandez lined into left-center field, bringing in Boggs.  A wild pitch moved both runners (Larish and Hernandez) into scoring position, so that they both scored when SS Chase d'Arnaud dropped a single into center field.  D'Arnaud stole second easily — the Buffalo middle infielders forgot to cover second base.  A wild pitch put d'Arnaud onto third base, and 3B Matt Hague walked, but a ground out ended the inning before they could score.  Indians leading 4-0.
Boggs gave the Indians another run in the 3rd.  With one out, Boggs doubled down the right field line, barely fair, and into the right field corner.  He stole third base, then scored when Larish grounded out to first base.  Sanchez added the Indians' sixth run in the 5th inning with a no-doubt-about-it home run over the right field wall. Buffalo starter Jeurys Familia lasted only 3 innings and was responsible for the first 5 of the Indians' runs.  Jeff Stevens pitched the next 2.2 innings, and he gave up Sanchez's homer.
Locke began his evening by allowing a single to Buffalo CF Fred Lewis.  Moments later, he picked Lewis off first base, and Lewis was tagged out in a run down.  Locke gave up a walk in each of the 2nd, 3rd, and 5th innings, but was able to work around them.  He hit 3B Zach Lutz with a pitch in the 4th, and worked around that too.
The biggest threat Locke faced came in the 6th, when he gave up two more hits.  With one out, LF Mike Baxter doubled down the right field line, and pinch-hitter Oswaldo Navarro (in for Lutz) blooped a single into short right-center field.  With runners on the corners, Locke got RF Lucas Duda to ground to first, where 1B Jeff Clement started a 3-6-3 (Clement to d'Arnaud to Clement) double play, ending the inning.  The only other hit Locke allowed was a two-out double by C Mike Nickeas in the 7th.  A strikeout ended that inning.  Locke threw 105 pitches (61 strikes) tonight.
Daniel McCutchen relieved Locke to begin the top of the 8th.  McCutchen needed only 12 pitches to strike out two and get a fly out.  Doug Slaten pitched the top of the 9th, and he also threw 12 pitches in the inning.  Slaten allowed a lone single to pinch-hitter Valentino Pascucci.  The game ended with a long fly ball down the right field line, fading foul.  RF Boggs raced toward the stands just past the visitors' bullpen, and made the catch right at the rail, leaning into the stands.
The Famous Chicken performed at the game tonight.
The Indians posted 10 hits tonight, with Chase d'Arnaud and Brandon Boggs collecting 3 hits each, and Tony Sanchez hitting a double and a homer.  Gorkys Hernandez, just back from the Pirates, was in center field tonight.  He walked in the 1st inning, then struck out in all four of his remaining trips to the plate.
Indians' Hitting Gem of the Game:  The booming home run by Tony Sanchez in the 5th inning.  It was his 6th homer while with the Indians.
Indians' Defensive Gem of the Game:  The double play in the 6th inning.  With runners on first and second, Lucas Duda grounded to first, where Jeff Clement made the scoop a few steps in front of the bag.  He fired to second base, where Chase d'Arnaud made the force out on the runner from first, then fired back to first.  Clement had scrambled back to the first base bag in time to complete the double play.  That play ended the inning, and potentially kept a run from scoring.
NOTES
Brian Friday is headed to the Atlanta Braves organization.
The Indians have played 5 games against the Bisons so far this season.  The Tribe leads the season series four games to one.
The Indians remain 8 games ahead of the second place Columbus Clippers in the International League Western Division.  The Louisville Bats beat the Toledo MudHens tonight, and now those two teams are tied for third place, both 25 games behind the Indians.
INF Brian Friday was traded to the Atlanta Braves today, with the Braves sending Christian Marrero to the Indians.  It sounds like Marrero is going to be assigned to the Indians.  Friday will probably be sent to Gwinnett.
Original Story:
http://feedproxy.google.com/~r/Pirate...
THE BACKYARD
BEST OF MAXIM
RELATED ARTICLES
Some numbered thoughts heading into Tuesday's MLB 4:00PM non-waiver trade deadline… 1-5:  Wandy Rodriguez 1.  I've been very critical of Pirates' GM Neal Huntington over the past year, but I was impressed with last week's SP Wandy Rodriguez trade with Houston.  While other clubs were still jockeying with the Cubs for Ryan Dempster, and waiting to see if the Phillies...
Remember a few weeks ago when Starling Marte was the answer for the Pirates? People were calling for him to be promoted to the majors to help the offense for the remainder of the year. Now after four games there are suggestions that the Pirates should trade their top hitting prospect. The rumors came out that the Pirates inquired on Shin-Soo Choo, and that Starling Marte would have...
Buffalo Bison  3,  Indianapolis Indians  2 (Box)   Chase d'Arnaud hands over his protective batting gear to the bat boy when he reaches second base. Shaky control by Indians' pitching combined with a strong performance by Buffalo pitching added up to a loss for the Indianapolis Indians at Victory Field this afternoon.  The Indians were held to three hits in the first 7 innings...
The Altoona Curve saw back-to-back solid starting pitching performances Friday night in Altoona for the doubleheader against New Hampshire. Right-handers Phil Irwin and Brandon Cumpton shined on the bump combining for just one earned run over 13.0 innings. First baseman Matt Curry drove in four runs on his 23rd birthday in game two as the club took both games at People's Natural...
Final: Pirates 4, Astros 3 WP: Chris Resop (1-3, 3.10 ERA) LP: Chuckie Fick (0-1, 6.75 ERA) SV: Jason Grilli (2, 1.86 ERA) Wandy Rodriguez was all over the place in his Pirates debut, but was able to labor through six innings to get a "quality start." I have to imagine that I would feel a little weird and a bit nervous making my debut with a new team against the club I was a...
TOP OF THE SYSTEM A look at how the current top 20 prospects did today.  Note that this list doesn't include players currently in the majors. Rankings are from the mid-season update. 1. Gerrit Cole, RHP, Altoona (2-4, 4.85) –  DNP 2. Jameson Taillon, RHP, Bradenton (5-7, 4.37) –  DNP 3. Alen Hanson, SS, West Virginia (.318) - 1-for-4, 3B 4. Josh Bell, RF, West Virginia...
The Pirates found another way to win (or the Astros found another way to lose, depending on how you want to look at it) as they defeated Houston for the third straight night to improve to sixteen games over .500. SIXTEEN! Wandy Rodriguez's Pirates debut was "meh." He was uncharacteristically wild (five walks despite averaging just 2.2 per nine innings) but pitched out of trouble...
HOUSTON (AP) -- Rod Barajas hit a tiebreaking single in the eighth inning and the Pittsburgh Pirates rallied past Houston 4-3 on Saturday night, sending the Astros to their club-record 12th straight loss. Wandy Rodriguez pitched six innings in his Pittsburgh debut, allowing three runs and six hits with five walks against his former team. The free-falling Astros, who have lost 25...
- Jayson Stark writes that the Pirates are among four teams that are aggressively pursuing Padres 3B Chase Headley, but does add that they are less motivated to make a deal at the current moment than they were before. Headley might be the best available hitter in this year's deadline. His .267/.359/.428 line may not seem all that great, but his .277/.374/.497 road splits are. Keep...
The Pirates have taken care of business against the Astros so far this year, but for the most part it hasn't been easy. A number of their wins over Houston have been close and/or comebacks. Tonight was no different, and possibly the most dramatic of the bunch. Jeff Karstens didn't dominate the Astros like he had in the past. He struck out seven, but allowed six hits and lasted...
As a Pirate fan, you probably know that sometimes the losing team can have a lot more to do with the outcome of a baseball game than the winning team can ever hope to have. That sometimes, a team is going to lose no matter what their opponents do. The Astros were going to lose this game tonight, no matter how many times the Pirates handed the lead back to them. The Astros built a...
MLB News

Delivered to your inbox

You'll also receive Yardbarker's daily Top 10, featuring the best sports stories from around the web. Customize your newsletter to get articles on your favorite sports and teams. And the best part? It's free!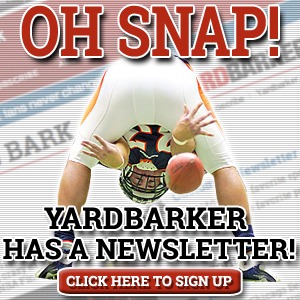 Latest Rumors
The Backyard

Today's Best Stuff

For Bloggers

Join the Yardbarker Network for more promotion, traffic, and money.

Company Info

Help

What is Yardbarker?

Yardbarker is the largest network of sports blogs and pro athlete blogs on the web. This site is the hub of the Yardbarker Network, where our editors and algorithms curate the best sports content from our network and beyond.