Found October 06, 2012 on Love My Bravos:
Still editing pictures from last night, still owe y'all pics from last Saturday night, but I felt a few of these needed to be shared immediately. The entire album is here at the AJC. Lots of Chipper in there, as expected. (Thanks to Sophia for pointing us to the album!) A very snuggly-looking Mac puts his underpants in a box labeled for the bat boy helmets. It was 80° in my part of Atlanta today. How cold was it in the clubhouse? Publix shopping cart. Actually made me tear up a little. It's the last Freddie Hug we'll see for a while...but I'm mostly upset at the idea Ske may not return next year. Hinske says good-byes Veteran bench player Eric Hinske said plenty of heart-felt goodbyes to his Braves teammates Saturday, under the assumption that he likely won't be re-signed. Hinske, 35, struggled in his third season with the Braves, hitting only .197 (26-for-132) with two home runs on the season, both career-lows. Hinske hit .140 (8-for-57) with 17 strikeouts as a pinc...
Original Story:
http://www.lovemybravos.com/2012/10/l...
THE BACKYARD
BEST OF MAXIM
RELATED ARTICLES
Chipper Jones is not just a baseball player, but a psychic as well. On Sept. 21, Jones told the Atlanta Journal-Consititution his feelings on potentially playing in a one-game playoff to determine who plays in the Division Series and who goes home. "I think it's more fair from a standpoint that anything can happen in one game -- a blown call by an umpire, a bad day at the...
Atlanta Braves star Chipper Jones did not end his career the way he wanted as his team was eliminated by the St. Louis Cardinals 6-3 on Friday night in the one-game National League Wild Card playoff. Instead of leading the Braves to a World Series title, he went 1-for-5 and committed a costly error in his final game as a major leaguer. Still, the 40-year-old third baseman is...
In a game that will be remembered for a very long time, a terrible call by an umpire and the fans' unruly reaction will overshadow Chipper Jones' last game and of the awful Braves' defense that threw the game away. Jones, who will end up in Cooperstown in a half a dozen years, was part of his team's problem in this Wild Card game with the Cardinals.The Braves, perhaps...
ATLANTA While ballpark debris and half-empty aluminum beer bottles littered Turner Field's stage, umpire Sam Holbrook stood resolute in his split-second decision. He never second-guessed: Not when he worried for his safety "Yeah, when cans are flying past your head, yeah, you worry a little bit." not when he and his fellow umpires huddled together near the pitcher...
The Atlanta Braves played their NL wild-card playoff game at Turner Field under protest after fans littered the field with trash over a disputed infield fly call that led to a 19-minute delay. Trailing 6-3 in the eighth inning Friday, the Braves appeared to catch a break when a fly ball to short left field dropped between St. Louis shortstop Pete Kozma and left fielder Matt Holliday...
The first wild card matchup on Friday will start at 5:07 PM, and will pit the 94-68 Atlanta Braves against the defending World Champion and 88-74 St Louis Cardinals. The game will be in Atlanta, in front of 50,000 screaming, tomahawk chopping Atlanta fans, where the Braves are 48-33 this season (including 12-3 in September). The Braves seem to be the favorite coming into the game...
ATLANTA (AP) -- David Freese and the St. Louis Cardinals rediscovered their postseason touch. Chipper Jones and the Braves kept throwing the ball away. And the Atlanta fans turned Turner Field into a trash heap. They said anything could happen in baseball's first wild-card playoff. Boy, did it ever. In a game protested by the Braves, Matt Holliday homered and the defending...
ATLANTA -- An improbable eighth-inning infield-fly ruling brought down the wrath of a sellout crowd and a torrent of empty water bottles and not-so-empty beer cans. But after the 19-minute delay Friday, the St. Louis Cardinals celebrated a 6-3 win over the Atlanta Braves in the National League wild card game. Chipper Jones' throwing error in the fourth inning gave the Cardinals...
Umpire Sam Holbrook took his sweet ole time to call the 'infield fly rule' on Andrelton Simmons pop somewhere in the middle of left field during yesterday's Cardinals / Braves game. Braves manager... Full story at Bob's Blitz ~ http://www.bobsblitz.com
The first wild card one-game playoff showdown in Major League Baseball history was held up for about 20 minutes on Oct. 5 when the hometown Atlanta Brave fans showered Turner Field with debris. The fans were reacting to a perceived blown call by the umpires in the eighth inning that may have helped the defending World Series champion St. Louis Cardinals defeat the Braves 6-3. The...
I don't do a lot of posts that don't involve the Mets primarily, and I'm not sure I'll make it a habit. But I got some things on my mind regarding Friday's Cardinals/Braves lunacy, so off we go. (But first off, don't forget that I'm giving away a super-sweet Mets DVD collection. Click that link before you read any of the following nonsense.)Now first off...
Braves News

Delivered to your inbox

You'll also receive Yardbarker's daily Top 10, featuring the best sports stories from around the web. Customize your newsletter to get articles on your favorite sports and teams. And the best part? It's free!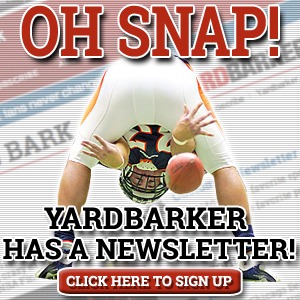 Latest Rumors
Best of Yardbarker

Today's Best Stuff

For Bloggers

Join the Yardbarker Network for more promotion, traffic, and money.

Company Info

Help

What is Yardbarker?

Yardbarker is the largest network of sports blogs and pro athlete blogs on the web. This site is the hub of the Yardbarker Network, where our editors and algorithms curate the best sports content from our network and beyond.