Found November 07, 2013 on Bay Sports Report:
The San Francisco Giants will enter the 2014 season with Madison Bumgarner, Matt Cain, and Tim Lincecum in their starting rotation.  The other two spots however, could fall to a number of different pitchers; several of whom are free agents.  Bronson Arroyo for example, has pitched lights out in San Francisco and is rumored to have shown interest in joining Giants.  The problem with Arroyo is that he is 36 years old, and although he has pitched great in San Francisco over the years, he won't be able to pitch against the Giants if he's playing for them!  Another free agent who could fill a roster spot for the Giants is Ricky Nolasco.  He is only 30 years old and had a solid season in 2013, posting a 3.70 ERA with 13 wins and 11 losses.  Nolasco however, finished the year by allowing 22 runs in 17 innings over his final five starts.  This could be due to fatigue, but for a team like the Giants that expects to be playing meaningful games late in the year, their starters arms cannot fall off in September.  Other free agent starters include: Tim Hudson, who is recovering from a gruesome ankle injury, A.J. Burnett, who is mulling retirement, and Bartolo Colon, who is in the later stages of his career and has a history with performance enhancing drugs.  The good news for the Giants is that they don't even have to look at these free agents if they can lock up certain starters who pitched in San Francisco last year. Although the Giants recently declined the $6.5 million option on Ryan Vogelsong's contract, it would be smart to resign the veteran right-hander.  Vogelsong had a bad year in 2013, but don't forget that he pitched deep into the 2012 post season and started for the United States in the World Baseball Classic.  Vogelsong will not make an excuse for his 5.73 ERA, so I will—he was tired!  Plain and simple, he experienced fatigue which caused him to lose velocity and location.  This year he will be rested, and based off of 2011 and 2012, a rested Ryan Vogelsong is a dominant pitcher.  He recorded ERAs of 2.71 and 3.37 in those years, and in the 2012 playoffs registered three wins with no losses and a 1.09 ERA. The Giants will regret cutting ties with Vogelsong based on one poor year, especially since they could resign him for around $4 million, which is about a quarter of the annual amount they signed Lincecum for. Another 2013 Giant who has gone way under the radar in the free agent market is Chad Gaudin.  It is bewildering why more teams have not shown interest in Gaudin.  He posted a 3.06 ERA for the Giants last season and for a two month stretch was the team's best starter.  Before his injury, Gaudin was throwing 94 mph and was doing so on the corners of the plate.  None of the free agents I mentioned can do that consistently, let alone for the small price that Gaudin will cost. Yusmeiro Petit is another pitcher who should not be forgotten.  He isn't a flame thrower, but last year he showed that he can dominate major league lineups.  Petit recorded four wins in only seven starts, with a 3.56 ERA, and of course came within one strike of throwing a perfect game.  For a guy who makes practically nothing, has a huge upside, and is only 28, Petit should be given a great shot to win a starting job in the spring. If the Giants resign Gaudin and Vogelsong, and give Petit a shot at starting, they will have six pitchers competing for five spots.  That is a potential issue for the pitchers, but a benefit for the Giants.  It gives them the ability to rest a fatigued or injured starter and not have to worry about losing every fifth day.  Not a lot of teams, including the heavy spending Los Angeles Dodgers, will have this ability, and it could pay off down the stretch.    
Original Story:
http://www.baysportsreport.com/2013/1...
THE BACKYARD
BEST OF MAXIM
RELATED ARTICLES
After joining the San Francisco Giants in the middle of 2012, Pence has added some fire to the line up and his teammates. In 221 games with the Giants, Pence has had a split of .267/.325/.458. Not the best yet not the worst by far. Honestly since that faithful day in Cincinnati where "The Speech" was delivered by the Reverend. He has taken his game to a whole new level. Of course...
This should come as no surprise: a lot of teams are interested in signing San Francisco left-handed reliever Javier Lopez. And even though it comes as no surprise, it's not exactly comforting for Giants fans, who were hoping that the team could wrap up a deal with the lefty specialist before free agency, like they did with Hunter Pence and Tim Lincecum. No such luck. And...
getty images The agent of left handed reliever Javier Lopez says that while client would like to return to the San Francisco Giants there have been preliminary talks with other clubs. Chris Haft of MLB.com reports that Lopez's agent, Barry Miester, declined to identify how many teams had declared interest thus far. Lopez, 36, had another fine season for the Giants last season compiling...
A third-place finish in the NL West and a 76-86 record was hardly what Giants general manager Brian Sabean had in mind when he devoted last offseason to keeping his World Series championship team together. But injuries to Matt Cain and Ryan Vogelsong contributed to the Giants' starting rotation performing far below expectations, negating a more productive offense. The lineup...
Yesterday we reported that the San Francisco Giants and Ryan Vogelsong are – temporarily at least – going their separate ways. With three starting pitchers under contract for 2014 (Matt Cain, Madison Bumgarner, and Tim Lincecum), the club opted to give Vogelsong a $300,000 buyout, rather than pick up his pricy $6.5 million option for the upcoming season. For a hot minute...
It's been a busy first week of free agency around Major League Baseball, even though no big deals have been reached. Still, rumors are flying, coaches are being hired, and situations are unfolding. Here are some quick bits to get you caught up on the latest around the San Francisco Giants organization: Ron Wotus and Seattle As we mentioned last week, Giants bench...
Ever since the 2013 season came to an oddly exciting close, Giants fans have been left wondering if the team would make a run at prized Japanese pitcher Masahiro Tanaka. They've long known that Tanaka will cost a very large sum, as he'll require a posting fee (probably $50-60 million), and then a decent sized contract. And considering that the New York Yankees and Los Angeles...
When the Cincinnati Reds did not extend a qualifying offer to Bronson Arroyo, it meant that the Giants would be serious suitors for him, as they wouldn't have to give up their first round pick to sign him. Many teams are interested in Arroyo, including the Twins, but it looks like the Giants have set themselves in front of the Arroyo sweepstakes. The San Francisco Giants are...
Picture courtesy of Marko Realmonte It was reported by David O'Brien of the Atlanta Journal-Constitution (via Twitter) that the San Francisco Giants are one of the teams that have contacted pitcher Tim Hudson. Hudson will turn 39 in July and made $9 million in 2013. The Atlanta Braves did not give Hudson a qualifying offer, so any team that signs him will not have to give...
When the San Francisco Giants first re-signed Tim Lincecum for two years and $35 million, most people seemed to think it was an overpay. Fans, analyst, and anyone else with an opinion thought that the Giants had put way too much money into their former ace. And maybe they did. But it sure looks less like it today than it did then. With qualifying offers being rejected, and...
Giants News

Delivered to your inbox

You'll also receive Yardbarker's daily Top 10, featuring the best sports stories from around the web. Customize your newsletter to get articles on your favorite sports and teams. And the best part? It's free!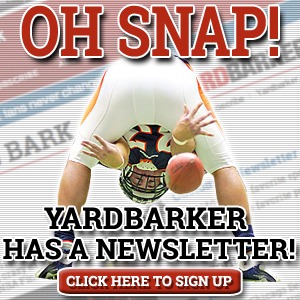 Latest Rumors
Best of Yardbarker

Today's Best Stuff

For Bloggers

Join the Yardbarker Network for more promotion, traffic, and money.

Company Info

Help

What is Yardbarker?

Yardbarker is the largest network of sports blogs and pro athlete blogs on the web. This site is the hub of the Yardbarker Network, where our editors and algorithms curate the best sports content from our network and beyond.