Found December 09, 2011 on Dodger Sims:
I have programmed up my simulator with the 2012 schedule and all of the updated trades and free agent signings (well at least the most significant ones). Still a little house keeping to do on updating my park factors and defensive ratings. Here is a preliminary look at how the simulator likes the 2012 Dodgers, including how it thinks the Dodgers will do on a month by month basis and which starting pitchers will have the most success. MonthWinsLossesWPct April13.4613.540.4984 May14.1112.890.5225 June13.6213.380.5043 July13.1813.820.4880 August13.0813.920.4846 September12.7014.300.4703 Overall80.1481.860.4947 Well, from the looks of this the Dodgers will be right around a .500 team. No real big surprise there as the team has lost one of its better starting pitchers in Hiroki Kuroda. NL Cy Young winner Clayton Kershaw and MVP runner-up Matt Kemp will be hard pressed to repeat their 2011 performances, but the Dodgers should offset their regression with full seasons from Dee G...
Original Story:
http://dodgersims.blogspot.com/2011/1...
THE BACKYARD
BEST OF MAXIM
RELATED ARTICLES
Pitcher Aaron Harang agreed Thursday to a $12 million, two-year contract with the Los Angeles Dodgers, filling out their projected starting rotation for next season. The 33-year-old right-hander was 14-7 with a career-low 3.64 ERA in 28 starts for his hometown San Diego Padres last season. He joins a rotation that includes NL Cy Young Award winner Clayton Kershaw, Chad Billingsley...
No, really. That's what really happened. Ned Colletti actually an older player for younger players.Dana Eveland, last season's September "sensation" was sent to the Baltimore Orioles today for left-handed pitcher Jarret Martin and outfielder Tyler Henson.Eveland threw 29 2/3 innings of solid ball for the Dodgers, and Colletti somehow turned that into two players...
Attorneys for FOX Sports are appealing a Delaware bankruptcy judge's order approving a process for the Los Angeles Dodgers to sell media rights to future games. FOX Sports is asking a federal district court judge in Delaware to immediately halt the implementation of the bankruptcy judge's order while he considers FOX's appeal. The district judge has scheduled a teleconference...
Yesterday we learned that the Dodgers wanted to acquire Daniel Murphy from the Mets during the Winter Meetings but the trade never materialized because the Dodgers' trading partner "satisfied its need elsewhere." The Mets acquired a defensive-first outfielder and three relief pitchers during the Winter Meetings. So, who were the Dodgers offering for Murphy? Tony Gwynn Jr...
LA Dodgers first baseman James Loney was arrested after sideswiping several cars on the 101 Freeway before passing out behind the wheel of his Maserati in the fast lane, police said. The accident took place Nov. 14, but was only reported recently by local media. It occurred just west of the 405 Freeway in Sherman Oaks, according to California Highway Patrol spokesman Leland Tang...
Authorities are awaiting the results of a blood test on Los Angeles Dodgers first baseman James Loney, who was arrested last month on suspicion of driving under the influence of alcohol.
Duquette may not be done making deals as winter meetings wind downThe Orioles have completed a deal for pitcher Dana Eveland, sending a minor league pitcher and a player to be named later to the Dodgers for a journeyman left-hander who had a solid season at Triple-A Albuquerque last year and pitched well after being called up to the majors in September.
WILMINGTON, Del. (AP) -- A bankruptcy judge says he will approve a process for the Los Angeles Dodgers to sell the media rights to future games as part of the team's plan to exit bankruptcy.
The Yankees denied a report on Friday that they had extended an offer to free agent Japanese righthander Hiroki Kuroda, who pitched the last four seasons with the Los Angeles Dodgers.
Authorities are awaiting the results of a blood test on Los Angeles Dodgers first baseman James Loney, who was arrested last month on suspicion of driving under the influence of alcohol. California Highway Patrol spokesman Leland Tang says the 27-year-old athlete was arrested Nov. 14 after his 2009 Maserati hit three cars on a Los Angeles freeway.
The Dodgers traded left-hander Dana Eveland to the Balitmore Orioles on Thursday for Minor Leaguers Jarrett Martin and Tyler Henson, essentially to clear a 40-man roster spot for the signing of starter Aaron Harang.
Dodgers News

Delivered to your inbox

You'll also receive Yardbarker's daily Top 10, featuring the best sports stories from around the web. Customize your newsletter to get articles on your favorite sports and teams. And the best part? It's free!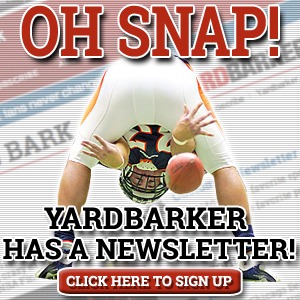 Latest Rumors
Best of Yardbarker

Today's Best Stuff

For Bloggers

Join the Yardbarker Network for more promotion, traffic, and money.

Company Info

Help

What is Yardbarker?

Yardbarker is the largest network of sports blogs and pro athlete blogs on the web. This site is the hub of the Yardbarker Network, where our editors and algorithms curate the best sports content from our network and beyond.