Found January 09, 2013 on Hall of Very Good:
PLAYERS:
Frank Thomas
,
Tom Glavine
,
Greg Maddux
,
Armando Benitez
,
Ray Durham
,
Damion Easley
,
Keith Foulke
,
Eric Gagne
,
Scott Hatteberg
,
Jacque Jones
,
Todd Jones
,
Jon Lieber
,
Esteban Loaiza
,
Trot Nixon
,
Jay Payton
,
Richie Sexson
,
JT Snow
,
Shannon Stewart
,
Mike Timlin
,
Steve Trachsel
,
Rafael Palmeiro
,
Harold Baines
,
Jeff Bagwell
Since it appears that the BBWAA is sticking to its guns and not voting in players who have been linked to steroids, the Hall of Fame Class of 2014 looks to be one of most heralded classes ever.And, yeah, that's with or without all those worthy holdovers from this year's ballot.Either way, the Hall of Fame Class of 2014 looks to be one of most heralded classes ever.  Ever.  Not since 2001, has Cooperstown welcomed three or more first-timers through its doors. 2014 could (and should if you ask me) add four.Here are the players that will be appearing on the Hall of Fame ballot for the first time in 2014.IN.Greg Maddux.What can be said about Maddux that everyone doesn't already know? 355 wins compared to 227 losses, a career 3.16 ERA and 3371 strikeouts. Add to that four straight Cy Young Awards, 18 straight Gold Gloves, eight All-Star Games, having his number retired by two teams…and that's just the tip of the iceberg! Frank Thomas."The Big Hurt" hung up his spikes with a career batting average of .301, 521 home runs, 1704 RBI and close to 2500 base hits. Did you know…the two-time MVP is the only player in baseball history to have seven consecutive seasons of a .300 average, 100 runs, 100 RBI, 20 home runs and at least 100 walks?Tom Glavine. Only in a year where Greg Maddux is up for induction would Glavine be the second-best pitcher on the ballot. With a 305-203 record...dude is easily one of the best lefties over the last 25 years. Five years with 20-plus wins and two Cy Young Awards (four other seasons in the top five voting) stack up nicely alongside his ten All-Star appearances and one World Series ring. Jeff Kent.The "Survivor" contestant and his lip curtain have a long road ahead of them. Is his legendary prickliness toward the media enough to keep him on the bubble…or do his numbers as one of the best second basemen ever win out? The 2000 National League MVP amassed 2461 hits, 377 home runs and a .290 batting average. OUT (in random order).Kenny Rogers.Since it has been close to 20 years since "The Gambler" tossed his perfect game (July 28, 1994), it is only appropriate he gets brought up as a 2014 Hall candidate. Unfortunately, he's going to be watching from home like the rest of us. The guy was a wizard on the bump…five Gold Gloves, 219 wins and close to 2000 strikeouts, but what is most impressive is that he is the all-time leader in pickoffs with 93.Moises Alou.Alou had a much better career than a lot of people realize, but just because he is underrated...he doesn't deserve a plaque in Cooperstown. Over his 17-year career, Alou boasted a .303 career batting average, just under 2200 career hits and 332 home runs. Considering he finally got his crack at the bigs at age 25…it's hard to imagine what kind of numbers he would have had if he broke in five years prior.Armando Benitez, Sean Casey, Jose Cruz Jr., Ray Durham, Damion Easley, Keith Foulke, Eric Gagne, Scott Hatteberg, Jacque Jones, Todd Jones, Jon Lieber, Esteban Loaiza, Paul Lo Duca, Matt Morris, Trot Nixon, Jay Payton, Richie Sexson, J.T. Snow, Shannon Stewart, Mike Timlin, Steve Trachsel and Jose Vidro.ON THE BUBBLE.Mike Mussina.To me, Mussina is an interesting case. On paper, you see a HUGE winning percentage (.638), a brilliant 270 and 153 record and 2813 Ks. His career ERA is 3.68 and one could argue that had he not toiled for more than half of his career in Baltimore…he would be as much of a Hall candidate as Tom Glavine. However, Glavine had five seasons with more than 20 wins. Mussina, while he's hit double digits in wins seventeen straight years, only his 20 once. The Cy Young award has eluded Mussina as well. Unfortunately, six top five finishes and no hardware doesn't make for the best Hall of Fame case.  Although I admit it...I am coming around on "Moose".Luis Gonzalez. In 2001, "Gonzo" hit .325 with 57 home runs and 142 RBI and led the Diamondbacks to a World Series title. Dude finished up with 354 home runs, 2591 hits and 1439 RBI.  There are only four players that are Hall-eligible (Rafael Palmeiro, Harold Baines, Fred McGriff and Jeff Bagwell) that have more RBI and have yet to be enshrined in Cooperstown. There are no Hall-eligible players with more doubles than "Gonzo" that have yet to get called to the Hall.Hideo Nomo.Ask anyone what they think of Nomo and his Hall chances and they'll likely laugh in your face. However, he is the guy who is credited with paving the way for Japanese players to make their way to the Majors. After a brief, yet successful, career in Japan, Nomo hit the states and won the National League Rookie of the Year Award in 1995. He's the only Japanese player to have thrown a no-hitter (he threw two…one in each league) and finished his abbreviated MLB career with four seasons with more than 200 strikeouts and a 123-109 record. But…without Nomo, there would be no Ichiro. Let's not forget how he took the league by storm in 1995 and made it okay for Major League teams to take a chance on Asian players.
Original Story:
http://www.hallofverygood.com/2013/01...
THE BACKYARD
BEST OF MAXIM
RELATED ARTICLES
The best result from a first pitch? Has to be a dribbler to the mound, right? We spend all this time chasing the swinging strike and drooling on triple-digit velocity, and there's a future Hall of Fame pitcher who made his living getting first-pitch sawed-off million-hoppers to the second base side — Greg Maddux. But if you're not Greg Maddux, the first strike is the nexus...
Chicks might did the long ball, but the BBWAA threw a shutout against the 37-player ballot of the 2013 MLB Hall of Fame induction class. This is clearly an aberration due to the taint of the Steroid Era.  However, the 2014 HOF class appears to be stacked with all-time great pitchers.  Greg Maddux, Tom Glavine, and Mike Mussina lead the way with holdover candidates in Jack Morris...
MLB News

Delivered to your inbox

You'll also receive Yardbarker's daily Top 10, featuring the best sports stories from around the web. Customize your newsletter to get articles on your favorite sports and teams. And the best part? It's free!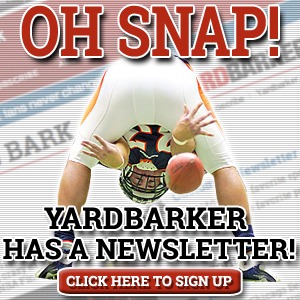 Latest Rumors
Best of Yardbarker

Today's Best Stuff

For Bloggers

Join the Yardbarker Network for more promotion, traffic, and money.

Company Info

Help

What is Yardbarker?

Yardbarker is the largest network of sports blogs and pro athlete blogs on the web. This site is the hub of the Yardbarker Network, where our editors and algorithms curate the best sports content from our network and beyond.