Found December 10, 2012 on isportsweb.com:
PLAYERS:
Rolling Stones
,
Mick Jagger
,
Keith Richards
,
Ned Colletti
,
Zack Greinke
,
Ted Lilly
,
Chris Capuano
,
Clayton Kershaw
,
Chan Ho Park
,
Cal Ripken
,
David Wells
,
Yasiel Puig
,
Hideo Nomo
,
Fernando Valenzuela
,
Aaron Harang
,
Albert Pujols
,
CJ Wilson
,
Joe Blanton
TEAMS:
Los Angeles Dodgers
,
Los Angeles Angels
Maybe Mick Jagger and Keith Richards were wrong. The Los Angeles Dodgers may prove you can get what you want and what you need.  The only question left is whether Dodgers fans will get satisfaction. Ryu Hyun-jin pitched for Korea in the 2009 World Baseball Classic at Dodger Stadium. After the 2012 season ended, Dodgers GM Ned Colletti made it clear he would be looking for a couple of top-notch starters.  Colletti first got what he wanted when he reached an agreement with the grand prize of this winter's free agent list, Zack Greinke. And faced with the prospects of a soon-to-be 37-year old Ted Lilly and 34-year old Chris Capuano as the lefthanded starters who would follow Clayton Kershaw,  the team certainly needed a southpaw to slot in behind the right-handed Greinke. On Monday, the Dodgers introduced starting pitcher Ryu Hyun-Jin(rhymes with Gin).  Say who? Well, considering the team is paying the man $36 million dollars over the next 6 years, it might be a good idea to learn who he is. Ryu is a 25-year old left hander who has been pitching in the Korean leagues for seven seasons. He has a career record of 98-52 with a 2.80 ERA. Of course, Ryu is unproven but the Dodgers are hoping they can repeat the same success they had when they drank from the Korean well 18 years ago. The Dodgers signed Chan Ho-Park from South Korea in 1994.  Park fared pretty well amassing an 84-58 record in nine seasons(1994-2001, 2008) as a Dodger. Park may also hold a special place in the hearts of Orioles fans forever. He made the All-Star team in 2001 and served up a meatball pitch for Cal Ripken to drive over the left field wall in the Iron Man's final All-Star game. In a post-game interview, when asked if the pitch to Ripken may have been more like a slo-pitch softball toss,  Park quipped "think of it as my going away gift to him." The Dodgers released this statement in regards to Ryu(note his name is reversed in the U.S.): "We are excited to welcome Hyun-Jin Ryu to Los Angeles and the United States, continuing the tradition of Korean pitchers with the Dodger organization. The Dodgers continue to show the commitment to signing players from Asia and other international areas where baseball is played at the highest levels. We are looking forward to watching Ryu pitch for the franchise." Ryu is listed at 6'2", 230 and reminds some of David Wells in his physical stature. And like Wells, Ryu isn't an overpowering pitcher but he certainly knows how to strike people out – he's won the Korean League strikeout title five times. Ryu's signing now means that under the new ownership, the Dodgers have committed  $78 million dollars to players that haven't spent one day in the American major leagues.  Cuban outfielder Yasiel Puig signed a $42 million deal earlier this year. Ryu also adds another dimension from a marketing standpoint. The Asian community of Los Angeles really loves it when the Dodgers reach out over the Pacific for talent. Not only was Park popular but Japanese pitcher Hideo Nomo  became almost the second coming of Fernando Valenzuela in 1995.  Just as a Valenzuela start filled the seats with Hispanic fans, a start by Nomo became the hottest ticket for the local Japanese fans.  So maybe we'll witness Ryu-mania next year. Once again, one has to be wondering what is running through Kershaw's mind. He is entering the second year of a three year, $19 million deal and has had to sit back and watch as the Dodgers committed to paying out about $180 million dollars to two pitchers, one of which is 0-0 at the major league level. It seems ironic that last winter, it was the Dodgers who found themselves on page 2 of the sports pages.  While Colletti was hampered by a bankrupt owner, he had to drum up enthusiasm for Aaron Harang. Meanwhile, the Angels had ESPN's "Baseball Tonight" crew drooling over their signings of  Albert Pujols and CJ Wilson. Talk about your 180's. This week the Angels may be relegated to including high school newspapers to get coverage of signing Joe Blanton while the entire baseball world will be all over the news conference that welcomes Greinke. Of course, all the headlines got the Angels nothing more than a nice seat on their sofas when October rolled around.  They got what they wanted but not what they needed. Jagger and company may be right after all. Of course, the Dodgers may prefer Bruce Springsteen-Are the "Glory Days" ahead?  
Original Story:
http://feedproxy.google.com/~r/isport...
THE BACKYARD
BEST OF MAXIM
RELATED ARTICLES
If you think Zack Greinke just signed a big free-agent contract, wait three years. He might get an even bigger deal then. Greinke's six-year, $147 million contract with the Los Angeles Dodgers includes an opt-out clause that enables him to return to the open market midway through the agreement, major-league sources say. Talk about perfect timing: By the time Greinke is eligible...
LOS ANGELES Finally. An honest man. Maybe even two. Zack Greinke said that when it came down to choosing the Dodgers over other teams pursuing him, it was all about the money. The new Dodgers right-hander said that he was leaning toward joining the Texas Rangers before taking the Dodgers offer of 147 million over six years. The negotiations changed, he said. Was it the money...
Mike Petriello of Mike Scioscia's Tragic Illness reported tonight the Dodgers have sent infield prospect Jake Lemmerman to the Cardinals for infielder/outfielder Skip Schumaker. The Dodgers, in need of a bench player, land a versatile player in Schumaker, 32, who can play second base and the outfield (including center field). He isn't going to unseat Mark Ellis as...
On Saturday, the Los Angeles Dodgers gave one of the biggest contracts in baseball history to Zack Greinke. On Sunday, the Dodgers gave a big contract to Ryu Hyun-Jin, who has never before pitched in the majors. The Dodgers still might not even be done, and neither of the moves this weekend came as a surprise, because as we've established, the Dodgers have all of the money. The...
The Dodgers seem to have no limit on their spending this offseason. The team agreed to a six-year, $36 million contract with Hyun-Jin Ryu on Sunday, after winning his negotiation rights in November by submitting a $25.74 million posting fee, according to Jon Heyman of CBS Sports. Ryu will join Clayton Kershaw, Zack Greinke, Josh Beckett and Chad Billingsley in the Dodgers' formidable...
By SBRForum.com It was announced this past Sunday that the Los Angeles Dodgers have signed left handed pitching sensation Hyun-Jin Ryu to a huge, six year contract. With the signing, the team will see a lot more depth in their starting pitching position that will surely make them more dangerous as a team in 2013. Ultimately, this signing makes the Los Angeles Dodgers viable MLB picks...
It must be good to be a Dodger fan nowadays. With Frank McCourt a distant memory, a roster full of talent, and an ownership group willing to use its vast resources to aggressively sign free agents, it seems that optimism abounds once again at Chavez Ravine. Case in point: the Los Angeles Dodgers today announced the signing of left-handed starting pitcher Hyun-Jin Ryu to a six...
South Korean left-hander Ryu Hyun-jin has signed with the Dodgers, who expect him to be part of the rotation next season. Update: The deal is worth 36 million over six years. Ryu can opt out of his contract after five seasons if he has pitched 750 innings. The signing of Ryu comes a day after the Dodgers reached an agreement to sign free agent Zack Greinke for 147 million over...
From Joel Sherman:If it needed any further punctuation, the Dodgers established that they — not the Yankees — are the financial heavyweights of baseball yesterday by reaching agreement with Zack Greinke on a six-year, $147 million contract. Unless the Yankees come out of their economic cocoon, they will not have the largest payroll in the game for the first time since 1998...
So what's next for the 2012-2013 off-season champion Dodgers? Danny Knobler says Anibal Sanchez has been discussed, but Buster Olney says the Dodgers aren't going to be signing any more pitchers. As far as Sanchez goes, I'm inclined to believe Olney, because while I believe the team's budget is comically high, I do believe they have one and that it would simply be overkill...
Well, it happened.  Zack Greinke is staying in Southern California, but he'll be doing so wearing Dodger Blue and all the Angels have to show for it is a wobbly rotation and a giant hole in their farm system where three quality prospects used to be. Some corners of the baseball world are applauding Jerry Dipoto for the restraint he showed in not giving into Greinke's...
The Dodgers could be dealing some starters soon, the Rangers` options are shrinking, and the Yankees will likely be reunited with Ichiro.
MLB News

Delivered to your inbox

You'll also receive Yardbarker's daily Top 10, featuring the best sports stories from around the web. Customize your newsletter to get articles on your favorite sports and teams. And the best part? It's free!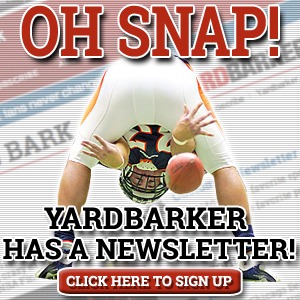 Latest Rumors
Best of Yardbarker

Today's Best Stuff

For Bloggers

Join the Yardbarker Network for more promotion, traffic, and money.

Company Info

Help

What is Yardbarker?

Yardbarker is the largest network of sports blogs and pro athlete blogs on the web. This site is the hub of the Yardbarker Network, where our editors and algorithms curate the best sports content from our network and beyond.