Found November 10, 2011 on isportsweb.com:
The Dodgers are reportedly moving ahead in an effort to sign outfielder Matt Kemp to a long term deal in spite of ownership turmoil. Kemp becomes a free agent after the 2012 season. (LA Times)
The soon-to-be-auctioned-off Los Angeles Dodgers are at least projecting the illusion it is business as usual this off season. Reports are the team has entered into contract talks with superstar outfielder Matt Kemp. Kemp, 27, in the running for the 2011 NL MVP award, is eligible for arbitration this year and becomes a free agent after the 2012 season.
Kemp's last three seasons with the Dodgers have been an emotional rollercoaster of sorts. In his "break out" 2009 season, Kemp batted a sweet .297 with 26 home runs and 101 RBI.  That big year, along with the Dodgers second consecutive run to the NLCS,  translated to big bucks. Kemp went from a 2009 contract that paid him $450,000 to a two year, $11 million deal. But before the ink was dry, Kemp's bright future was darkened by a storm.
Fans started asking if Kemp was getting spoiled by his success when photos of him vacationing with singer Rihanna popped up in the tabloids. Rihanna was coming off the beating she endured at the hands of singer Chris Brown. Then the 2010 Dodgers began sinking in the standings and Kemp was portrayed as the anchor bringing the ship down. After hitting seven home runs with 20 RBI in the first 14 games of the season, Kemp went the next 14 games with goose eggs in those two hitting categories. A war of words between Dodgers management and Kemp's agent, Dave Stewart, soon erupted.
Dodgers GM Ned Colletti went public expressing his displeasure with the team and put a lot of the blame on Kemp's poor play.  Stewart shot back with comments that the failure of the Dodgers should be blamed on a GM who didn't sign the right players, not Kemp. Kemp himself said all the right things by telling writers how much he loved the game and would soon do better. But during one game in June, the television cameras caught him arguing with Dodgers bench coach Bob Schaefer.  Schaefer was upset because Kemp didn't come up from his center field position to back up a throw from the catcher to second base on a steal attempt. Kemp struggled mightily at the plate and endured fans booing him and calling for him to be traded. He finished the season batting just .248 and striking out 31 more times in 2010 than he did in 2009.
2011 was a different story. Kemp and Rihanna broke up while newly hired coach Davey Lopes announced he was going to make Kemp his pet project and get him back on track.  Kemp listened well. He ended up tearing through the 2011 season and nearly won the Triple Crown with his .324 average, 39 home runs, and 126 RBI.
The Dodgers are apparently taking Stewart's "veiled threat" about Kemp's impending free agency very seriously.  He  stated if the Dodgers don't sign Kemp by opening day 2012, then the Dodgers next chance to sign him will be as just another team bidding for a top notch free agent.
Getting an Arm Up
If the Dodgers can take care of Matt Kemp's contract, they will hopefully start worrying about pitcher Clayton Kershaw (above).
A quick signing of Kemp would not only be a step forward in the uncertain future of the franchise but it would allow the team to look ahead to taking care of pitcher Clayton Kershaw. Kershaw, who won 21 games in 2011 and is the front runner for the 2011 Cy Young award, is arbitration eligible for the first time in his 3+ year career.
Reports are Kershaw will be looking for at least 10 times his $500,000 2011 salary. Naturally, a long term deal would make more sense but don't be surprised if GM Ned Colletti doesn't get too carried away. The Dodgers history is full of missteps when it comes to signing pitchers to multi-year deals. Anyone remember names like Darren Dreifort and Jason Schmidt? Yeah, I didn't think so.
Batteries Not Included
The new owners of the Dodgers may have to buy a team with batteries not included. Free agent catcher Rod Barajas, 36, acquired from the Mets in mid-2010 when Russell Martin suffered a season-ending hip injury, signed with the Pittsburgh Pirates. That means the Dodgers will enter 2012 without a "seasoned" major league catcher.
The roster contains just two catchers who have a whopping 95 games worth of major league experience between them. A.J Ellis (.271 in 31 games in 2011) has bounced up and down between the majors and minors the last four seasons amassing a total of 87 games.  Rookie Tim Federowicz, acquired from the Red Sox Triple-A affiliate late last season, has played in all of seven major league games, batting .154.
Original Story:
http://isportsweb.com/2011/11/10/los-...
THE BACKYARD
BEST OF MAXIM
RELATED ARTICLES
Dodgers star Matt Kemp was spotted out in London with his ex- Rihanna last month. But Kemp said there is no reunion, that she's one of his "best friends" and they were just hanging out.     Is it me, or does his answer seem like one a female would give when she's involved with a guy but they don't have an official title… cause he has a lot of "good friends"...
The agent for Los Angeles Dodgers center fielder Matt Kemp said he is upbeat over the team's chances of signing his client to a long-term contract extension. "I don't think that it's going to be difficult, I really don't," agent Dave Stewart told ESPN Los Angeles. "I think we should be able to come to something. I have talked with (general manager...
From "Matt Kemp's agent optimistic for deal" by Tony Jackson at ESPNLA.com: The agent for Los Angeles Dodgers center fielder and National League Most Valuable Player candidate Matt Kemp said Wednesday that talks on a long-term contract extension for his client are moving in a positive direction and that he is optimistic an agreement will be reached. Dave Stewart,...
The agent for Los Angeles Dodgers center fielder Matt Kemp said Wednesday that talks on a long-term contract extension for his client are moving in a positive direction and that he is optimistic an agreement will be reached.
The Dodgers, unlikely to pursue top-tier free agents Albert Pujols or Prince Fielder because the team is for sale, nonetheless are in negotiations on a long-term contract for Matt Kemp.
  So, B-Tommy wants to buy the Dodgers? I hope the scouting department is prepared to do their work an hour at a time on library computers. Matt Kemp's days are numbered.   I try to avoid controversial topics at all costs but sometimes I feel the need to say my piece. One subject has been in the media all week and I think I need to state my opinion. The "F" word was...
Dodgers News

Delivered to your inbox

You'll also receive Yardbarker's daily Top 10, featuring the best sports stories from around the web. Customize your newsletter to get articles on your favorite sports and teams. And the best part? It's free!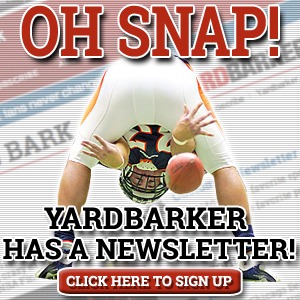 Latest Rumors
The Backyard

Today's Best Stuff

For Bloggers

Join the Yardbarker Network for more promotion, traffic, and money.

Company Info

Help

What is Yardbarker?

Yardbarker is the largest network of sports blogs and pro athlete blogs on the web. This site is the hub of the Yardbarker Network, where our editors and algorithms curate the best sports content from our network and beyond.