Found March 31, 2013 on ChadMoriyama.com:
PLAYERS:
Yasiel Puig
,
Corey Seager
,
Paco Rodriguez
,
Zach Lee
,
Joc Pederson
,
Chris Reed
,
Matt Magill
,
Ross Stripling
,
Zachary Bird
,
Rob Rasmussen
,
Chris Withrow
,
Alex Castellanos
,
Tim Federowicz
,
Josh Wall
,
Steven Ames
,
Angel Sanchez
,
Darnell Sweeney
,
Jeremy Rathjen
,
Aaron Miller
,
Andres Santiago
,
Jesus Valdez
,
Hyun-jin Ryu
TEAMS:
Los Angeles Dodgers
Happy Easter! My Dodgers prospects pre-season rankings for 2013 are here, but it's a bit of a short and sweet version. I was planning on re-starting Prospect Profiles again this year, but unfortunately, I got busy and ran out of time. :-( However, since I still have the information I've gathered through watching the games and what not, I think what I'll do is just release scouting reports throughout the year along with fellow writer Dustin Nosler. Hopefully by next year I have the time to do them correctly. Also, if there are any questions or whatever, feel free to e-mail or comment. Note: I'm likely going to edit this with further info and definitions and whatnot later, but I wanted to get the list out before the season, no matter how late, comparatively speaking. —– Abridged Prospect Thoughts Yasiel Puig is now a known commodity among Dodger fans, but I was really close to putting Corey Seager ahead of him. Puig is closer to making an impact, but I think Seager has the potential for a more valuable package after factoring in positional scarcity and overall hitting approach. Hyun Jin Ryu's ceiling is limited, but he's probably the least risky of any prospect besides Paco Rodriguez. I doubt we see Nomomania or Fernandomania (Monstermania?) with him, but above-average is well within reach. Quite frankly, I've liked what I've seen as spring has progressed. He was siting 90-92 towards the end, which is much much much more promising than earlier when he was 86-88. I do like Zach Lee, and I think there's relatively low risk for him, but it's been a couple years and I haven't seen anything electric out of him like people have been hoping. Joc Pederson and Chris Reed didn't do anything wrong, the farm system just got better. A lot of people seem confused as to what Onelki Garcia throws besides a hammer curve and a plus fastball, but he told me himself that he has a three-pitch mix and three variations on the fastball. As such, I'm not sure if there's a rush to pigeonhole him as a reliever already. Certainly he has that floor, but I think there's more here. A solid season from him could see him near the top in 2014 or by mid-season even. As readers who have followed since I started Prospect Profiles know, I've always liked Matt Magill. I had faith in him initially because of his solid mechanics, plus slider, and projectability, and while it did take time, he finally put it all together. With his fastball taking an uptick, I'm obviously high on him. However, he's not a finished product by any means. There's still work to do, but it's the constant improvement that's promising. Relievers aren't extremely valuable unless they are closer material, but it's hard for me to pass on a prospect like Paco Rodriguez, who is basically a lock as a MLB contributor, who comes with a setup man ceiling, and who is rapidly closing in on it. Ross Stripling, Zachary Bird, Garrett Gould, Rob Rasmussen. A quartet of starters, and I like them all in different ways, but 2013 will tell a lot about their futures, I think. They all have promise, but I'd like to see a step forward in terms of results, especially from Gould. Bird reminds me of what I liked in Magill, as they're both projectable and have breaking balls, but he's further along in the sense that he's already sitting high-80s. Stripling is like a college version of Lee to me, where nothing stands out, but I think he could be a mid-rotation type of starter. Rasmussen has a chance to move up if he can miss bats. Normally I wouldn't rank a guy with his peripherals, but his stuff is better than the numbers show and I'm holding out hope he can use his tools to generate more swings and misses. Not gonna pretend I've see a ton of Jesmuel Valentin, but I do like what little I have seen, and other reports have backed it up. I'm not normally a fan of draft prospects initially touted for defensive tools, but after you get past that, he does swing it better than I think some advertised. Chris Withrow is going to dedicate himself to a relief role, and if he can stay healthy, I expect big things from him in 2013. His stuff was immense as a starter, but he just couldn't harness it effectively. He already brought his ERA down in 2012 to ~2.5 as a reliever from ~6.0 as a starter, and the hope is that the relief role will make it easier for him to focus and command better. I expect his stuff to be electric in relief and to miss plenty of bats, so the control will write his story. Still think Alex Castellanos can be a bench bat or a second-division starter. Basically, I think he can hit enough to be solid. A solution for a team with the Dodgers payroll? No, but worthwhile nevertheless. Tim Federowicz is a similar player, just at a more valuable position and probably more of a sure thing as a contributor. I don't think he's better than a backup on a playoff-caliber team, but there's value in a glove-first reserve that might be able to hit a bit. Josh Wall, Steven Ames, Scott Griggs, and Jose Dominguez are all relievers, but I do think they all could be good ones. Wall has a chance to contribute in 2013, and has plus stuff, but could improve his command within the zone. Ames, also a potential 2013 contributor, has lesser stuff but has better control. Griggs has a plus fastball and slider that should miss bats at any level, but it's a matter of control. Think of him as a less advanced version of Withrow. Dominguez's upside speaks for itself as he touches triple digits, and while his control is a concern, I'm more worried about whether his secondary pitches will come along. I was high on Scott Barlow last year because he was sitting in the low-90s and could reach back for mid-90s. Plus, he had four pitches and a breaking ball that flashed plus. The slider and change were works in progress, but there were the makings of a starter in there. Unfortunately, he had Tommy John surgery, so that's obviously a setback, but if he can get back to where he was, there's no reason he can't find his mid-rotation upside again, which would loom large in a system that lacks depth (if you couldn't tell from that reliever run). Angel Sanchez was one of my bigger disappointments, as I really saw him taking steps forward over the course of 2011. Most people are dropping him due to his performance in 2012, but for me, the ERA is whatever. What concerned me is that he was still unable to turn his swing-and-miss stuff into actual results against A-ball competition. I still think he can bounceback though because his arm strength remains, hence the rating here. Darnell Sweeney … lazy comp … must resist … DEE GORDON! Okay, that seems like stereotypical racial profiling, but if you look at him, it's the first thing that comes to mind because of the build. He has holes in his swing, but he can surprise you with his pop and has some projection. Hopefully he actually grows into his body, unlike Gordon. Not sure Jharel Cotton is on a lot of lists, and that's understandable, but I thought I would give my biggest potential 2013 mover a spot. If he can continue to build on his arm strength and remain sitting in the low-90s and touching 94-95, he could open a lot of eyes this year. —– Others To Watch Julio Urias Alex Santana Jeremy Rathjen Aaron Miller Andres Santiago O'Koyea Dickson Jesus Valdez
Original Story:
http://feedproxy.google.com/~r/ChadMo...
THE BACKYARD
BEST OF MAXIM
RELATED ARTICLES
The Dodgers announced the cuts of eight players yesterday, moves that essentially set the Opening Day roster for the team. The club reassigned right-handers Kevin Gregg and Peter Moylan, utility man Alfredo Amezaga and catcher Matt Wallach to Minor League camp. In addition, the Dodgers optioned outfielder Alex Castellanos, right-hander Stephen Fife, utility man Elian Herrera and...
The Dodgers beat the rival Giants on Opening Day at home to begin 2013, but it wasn't so much the win that was surprising as how they did it. Leading off the bottom of the eighth inning of a 0-0 tie game, Clayton Kershaw was left in to hit, and he justified the decision, not with his arm, but with his bat. That was his first career homer, and it made people lose their minds. ...
This hasn't been the greatest month for Zack Greinke leading up to the start of the 2013 season, but Saturday night was the most encouraging sight from him since he signed his mega contract in the winter. Greinke made his final spring training start on Saturday against Angels and fared pretty well. It was just his second start in the last 29 days, so it's understandable...
Justin Sellers (and his tattoos) was somewhat surprisingly named the opening day shortstop. It may have only been "karma" that the Dodgers 2013 roster was made official on Easter Sunday. After all, for millions of people, the day represents rebirth. The same may hold true for the Dodgers since this year represents the beginning of, if you can believe the new advertising slogan...
The Dodgers officially finalized their Opening Day 25-man roster. The 25-man roster, as broken down by position: Pitchers (12): Josh Beckett Ronald Belisario Chris Capuano (L) Zack Greinke Matt Guerrier Aaron Harang J.P. Howell (L) Kenley Jansen Clayton Kershaw (L) Brandon League Paco Rodriguez (L) Hyun-Jin Ryu (L) Catchers (2): A.J. Ellis Tim Federowicz Infielders (6): Luis Cruz...
The light distortion not withstanding, the new hi-def scoreboards were amazing. "Remember when." It is a common phrase we've all used before. Sometimes, you say it to recall the good old days at work before you got a new boss whose job seems to be making your life miserable. Or you could be a Kansas City Royals fans recalling when the word "playoffs" was part of the vocabulary...
Clayton Kershaw is the best pitcher in major league baseball not named Justin Verlander.  He is also five years younger and is currently playing for the new biggest spenders in baseball, the LA Dodgers.  I don't have to spout off Kershaw's stats and accomplishments at such a young age.  If you're reading this blog you probably know that Kershaw is one of the league's...
Image courtesy zimbio.com Clayton Kershaw threw a complete game shutout, scattered 4 hits, struck out 7, and didn't walk a batter. Oh, by the way, he hit a go ahead home run in the 8th to break open the scoring for the Dodgers against the defending World Series Champions. Kershaw was efficient, throwing only 94 pitches, and dominating all at the same time. He throws a low to mid...
Clayton Kershaw launched his first career home run to break a scoreless tie in the eighth inning, then finished off a four-hitter Monday that led the Los Angeles Dodgers over the San Francisco Giants 4-0 on opening day. Kershaw became the first pitcher to throw a shutout and hit a home run in an opener since Bob Lemon for Cleveland in 1953, STATS said. Kershaw struck out seven...
Clayton Kershaw provided the fireworks for the Dodgers on Opening Day. Tonight, the new-look Indians and new-look Blue Jays will face off, with R.A. Dickey`s return to the AL.
Dodgers News

Delivered to your inbox

You'll also receive Yardbarker's daily Top 10, featuring the best sports stories from around the web. Customize your newsletter to get articles on your favorite sports and teams. And the best part? It's free!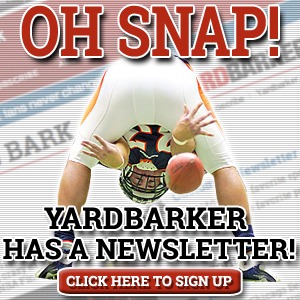 Latest Rumors
Best of Yardbarker

Today's Best Stuff

For Bloggers

Join the Yardbarker Network for more promotion, traffic, and money.

Company Info

Help

What is Yardbarker?

Yardbarker is the largest network of sports blogs and pro athlete blogs on the web. This site is the hub of the Yardbarker Network, where our editors and algorithms curate the best sports content from our network and beyond.