Found November 03, 2011 on isportsweb.com:
The much-beloved former Dodger owner Peter O'Malley has said he wants to once again own the team.
One of the strange things about living in Los Angeles is that you are constantly reminded you live here. Take the front page of the Los Angeles Times Wednesday morning. The headline about the potential collapse of the entire world economy was dwarfed by an even bigger headline – that of Los Angeles Dodgers owner Frank McCourt deciding to sell the team.
Although no one quite knows what to make of the fact Greece may soon collapse and take half of Europe with it, everyone knew what to do after McCourt's announcement. Cheer.
Okay so the wicked witch and warlock are dead now. Jamie McCourt's ridiculous comments about wanting to take the money then-superstar Manny Ramirez was asking for and spending it on building little league fields instead can be forgotten. Frank's idea of raising ticket prices even as the quality of the team declined is history.  The time has come to look at the current situation and what may lie ahead.
If there is a winner in this mess, it has to be Bud Selig. Forget the fact McCourt was a reverse Robin Hood who took from the poor to give to himself. Selig entered into a Battle of the Bulging Wallets with McCourt and emerged looking like General George Patton.
Selig proved he controlled the courts, both the real one and the one of public opinion. First, Selig nixed the reported $3 billion dollar deal McCourt was ready to sign with FOX Broadcasting. Then, Selig said he could prove McCourt funneled about $180 million dollars of team revenues away from the team and into his own checking account. After that, Selig simply had to pull out the "best interests of baseball" and McCourt was gone before he could fire a shot.
Some may call Frank McCourt the loser in this battle. If you consider taking a $430 million 2004 investment into a team and turning it into $1 billion dollars losing, then I'd hate to see your definition of a winner.  But some say that is going to be the magic sales price McCourt is looking for. The hapless Chicago Cubs sold for $850 million a few years ago and that team is back to square one. The Dodgers have a solid nucleus and a  fan base  so dedicated that if someone coughing up a billion dollars to wrestle the team from McCourt means paying $10 for a hot dog, you should expect a mustard shortage. McCourt has lost a team and a wife but he'd better find a Brink's truck big enough to load his money into.
Dodgers fans may have actually had a hand in Frank McCourt's decision to dump the team by staying away from Dodger Stadium.
The 99%-ers have their Occupy Wall Street movement but Dodgers fans may have to take some of the credit for running McCourt out of town with their own Don't-Occupy-Dodger-Stadium movement. Fans stayed away from the stadium in droves as the Dodgers attendance level, on paper at least, was the lowest in almost 20 years. The pivotal moment of truth may have come on September 15th when a game against the Pirates drew a season low attendance of 25,381.  Those who were there say the actual number of people in their seats was maybe half of that number. Now, McCourt probably figured if the Dodgers were still winning, numbers would not have been so low. Well, he may be a jerk but he isn't stupid; he knew the fans were giving him 24 hours to get out of town.
So what is next? As the old joke goes, you need a scorecard to keep track of the names coming up as potential buyers. Former Dodger greats Steve Garvey and Orel Hershiser have said they can get a group together. Former Dodgers owner Peter O'Malley, who may be the most beloved owner in Los Angeles sports history, says he is eager to return. The name Mark Cuban has once again come up, even if it seems Selig wants to tell him to stick to basketball. Actually, a new owner may be caught in a no win situation.
Fans desperately want to see the Dodgers get a big time power hitter. First baseman James Loney, who hit just 12 home runs last season, has been quoted as saying he would move to the outfield if it meant the Dodgers signing Prince Fielder or Albert Pujols. Yet when O'Malley owned the Dodgers, with the team being his sole source of income, he never went out to sign big name free agents and got out of the game partly because he felt it took a corporation to run it. So will fans be upset if the new owner displays restraint and decides to turn the team around from the bottom up the next few years?
In the short term, fans will most likely care more about who takes over rather than what he/they do. They just want to get an owner who cares about the team and cycles the revenue back into the Dodgers rather than houses in Malibu. Or Greece.
Original Story:
http://isportsweb.com/2011/11/03/los-...
THE BACKYARD
BEST OF MAXIM
RELATED ARTICLES
HOLLYWOOD ENDING
The long, painful nightmare that was the McCourt Era in LA will soon be coming to an end, with the news that the embattled owner has agreed to finally put the team up for sale.
Court documents show Los Angeles Dodgers owner Frank McCourt must pay his former wife, Jamie, $131 million by the end of April as part of their divorce settlement. The terms of the binding settlement were filed in Los Angeles Superior Court on Thursday. If he comes up with the money before April 30, 2012, $1 million per month will be shaved from his tab. Frank McCourt and Major...
Very cool news from the Bryan Stow website today. The 42-year old paramedic and father of three, who is in a Northern California rehabilitation center still recovering from the vicious attack he suffered at the hands of two LA gang bangers at Dodger Stadium on Mar. 31, wrote his name for the first time since the incident sparked outrage across the baseball world. "[It] speaks volumes...
Per Bill Shaikin on Twitter. It's hard, now, to come up with the right words to express what this means to me, but it's a happy day, tempered with the knowledge that once I was pleased to see Fox sell, too. It's every bit as important that the next owner of the Dodgers be fiscally sound and competitively minded. Hallelujah and amen. Update: Here's the longer-form...
It's a rare day you'll hear me agree with almost any elected official, but it's hard to dispute LA County Supervisor Mike Antonovich: "Frank McCourt's pathetic legacy from shirking responsibility in the Bryan Stow beating case was further soiled by the inference that Bryan had culpability in his own severe beating," he said. "As a Dodger fan and an...
LOS ANGELES -- Frank McCourt has agreed to sell the Los Angeles Dodgers, surrendering the team he fought to retain for two years and in two courts.
Days of Our Lives, the McCourt Season is nearing a close. The rollercoaster ride that is the Los Angeles Dodgers franchise has been sold, and the villainous owner Frank McCourt is being shipped out of LA as we speak. We cannot confirm if his ex-wife's limo driver will be taking him to the airport, but, we did catch a glimpse of the custom U-Haul's that Bud Selig has sent to...
Dodgers headed to bankruptcy court auction
Embattled owner Frank McCourt has finally relented and agreed to sell the Los Angeles Dodgers.
Dodgers fans weren't sure this day would ever arrive.I always enjoy seeing that old 1958 photo of Walter Alston riding in the Edsel down Broadway in the welcoming parade. Hey, why don't we get that Edsel out of mothballs and present it to Frank McCourt for his drive back to Boston? It's the least we can do to show our appreciation.
In a divorce settlement filed Thursday, Jamie McCourt keeps two homes in Malibu, one in Holmby Hills and one in Vail, Colo. Frank keeps two Massachusetts homes.Within 48 hours of agreeing to sell the Dodgers, team owner Frank McCourt officially surrendered his claim to what had been his Los Angeles homes.
LOS ANGELES (AP) -- Los Angeles Dodgers owner Frank McCourt must pay his former wife and ex-team CEO Jamie McCourt $131 million by the end of April as part of their divorce settlement, according to a binding settlement filed Thursday.
Dodgers News

Delivered to your inbox

You'll also receive Yardbarker's daily Top 10, featuring the best sports stories from around the web. Customize your newsletter to get articles on your favorite sports and teams. And the best part? It's free!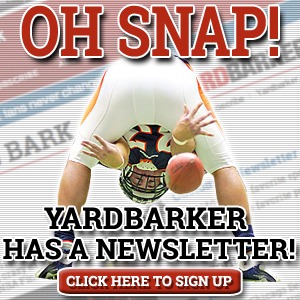 Latest Rumors
The Backyard

Today's Best Stuff

For Bloggers

Join the Yardbarker Network for more promotion, traffic, and money.

Company Info

Help

What is Yardbarker?

Yardbarker is the largest network of sports blogs and pro athlete blogs on the web. This site is the hub of the Yardbarker Network, where our editors and algorithms curate the best sports content from our network and beyond.