Found February 26, 2012 on Mike Silva's New York Baseball Digest:
PLAYERS:
Lucas Duda
,
Albert Pujols
,
Joey Votto
,
Mike Piazza
,
Todd Helton
,
David Wright
,
Darryl Strawberry
,
Edgardo Alfonzo
,
Lenny Dykstra
,
Gregg Jefferies
,
Jeremy Lin
,
Ike Davis
,
Jason Bay
TEAMS:
New York Mets
,
Los Angeles Angels
,
Cincinnati Reds
,
Colorado Rockies
,
New York Knicks
Lucas Duda isn't Albert Pujols, not yet. But I am sure Mets fans could only dream that he will be 75% as good as Pujols. As Michael Salfino wrote at the Wall Street Journal, "Duda's second-half rookie surge puts him in the company of MVPs Albert Pujols, Ryan Howard, Joey Votto and Ryan Braun plus perennial All-Stars Mike Piazza and Todd Helton….  The Mets outfielder had an on-base plus slugging percentage of .957  in 205 at bats after the All-Star Break. That's 100 percentage points better than what David Wright posted in the second half of his 2004 rookie season and it's the 11th best among all rookies since 1990 (minimum 200 at bats)."
Duda's total second half numbers were:
Split G GS PA AB R H 2B 3B HR RBI BB SO BA OBP SLG OPS
2nd Half
64 56 242 205 30 66 14 1 10 38 27 39 .322 .411 .546 .957 Provided by
Baseball-Reference.com
:
View Original Table
Generated 2/26/2012.
Our good friends at Baseball Think Factory used advanced metrics to also put his performance in perspective when you rank his season versus the all-time best offensive seasons in Mets history for players 25 years of age and under:
Best years by War Batting Runs, by Mets 25 and under:
1 Darryl Strawberry 51 1987
2 David Wright 50 2007
3 David Wright 43 2008
4 David Wright 35 2005
5 Darryl Strawberry 33 1985
6 David Wright 32 2006
7 Lee Mazzilli 31 1979
8 Darryl Strawberry 28 1986
9 Edgardo Alfonzo 27 1997
10 Edgardo Alfonzo 25 1999
11 Lee Mazzilli 25 1980
12 Lenny Dykstra 22 1986
13 Lee Mazzilli 20 1978
14 Jose Reyes 19 2008
15 Darryl Strawberry 19 1983
16 Steve Henderson 19 1977
17 Cleon Jones 18 1968
18 Lucas Duda 16 2011
19 Jose Reyes 16 2006
20 Gregg Jefferies 16 1990
21 Darryl Strawberry 16 1984
Here are all Met seasons, 25 and under, ranked by OPS+ (25 and under)
1 Darryl Strawberry 164 470
2 Darryl Strawberry 162 640
3 David Wright 149 711
4 David Wright 141 735
5 David Wright 139 657
6 Darryl Strawberry 139 562
7 Cleon Jones 137 552
8 Lucas Duda 136 347
9 Lee Mazzilli 135 693
10 Darryl Strawberry 134 473
There is a lot to be concerned about when it comes to the 2012 Mets. Depth, particularly starting pitching, is an issue. If this team faces the "Black Plaque" of injuries they suffered in 2009 (20 of 25 members of the roster spent time on the DL), then this could get 1993-type ugly.
The baseball gods are tough but fair, and I suspect the last five years of suffering has garnered good will for the organization. I caution, however, banking on that since it was nearly a decade of foul ups till the basketball gods bestowed Jeremy Lin on the Knicks.
In all seriousness, there are enough reasons to believe Duda's process is sustainable. In the minors, Duda's OBP was .398. He was a top hitter at every level, but the problem has been position and defense. He is blocked at first base (Ike Davis), his best position. He also has yet to show he is a competent everyday corner outfielder. The concern is you have an elite hitter that plays a position already filled or, worse yet, a DH in the wrong league.
In the end, the best case scenario would be Jason Bay tearing the cover off the ball for a half a season, trading him in July, and giving Duda the everyday job in left field – a position that he might be best suited to play.
Whether you watched Duda play or look at the advanced stats, there is plenty of reason to believe the Mets may have not found their version of Jeremy Lin, but they certainly have a productive offensive player they didn't count on just a year ago.
Original Story:
http://nybaseballdigest.com/2012/02/2...
THE BACKYARD
BEST OF MAXIM
RELATED ARTICLES
When Sandy Alderson was asked what his expectations were for Lucas Duda last week on Twitter, he responded, "OPS, High OBP and big power. He put on another show in BP today." I loved Terry Collins' take much better. After watching his right fielder take a few pitches over the fence and out of the park he said, "This guy is going to be a monster." Last week I had a little...
TEMPE, Ariz. -- Albert Pujols stepped inside the netted cage, clawed the dirt with his cleat and eyeballed left-hander Brad Mills, who was about to get rocked. Pujols exhaled and waited. Then, everything changed. With a few magnificent swings, Pujols sent Mills' pitches screeching into the outfield of Tempe Diablo Stadium and delighted owner Arte Moreno, who is paying the...
Albert Pujols hasn't connected for his first homer and he's already having a powerful impact on the Los Angeles Angels. The superstar slugger, who signed a $240 million free agent contract with the club in December, has impressed his new teammates with an unparalleled work ethic so far in spring training. Pujols has been one of the first players to report each morning and...
Albert Pujols hasn't connected for his first homer with the Angels, and he's already had a powerful impact on them.
Lucas Duda is coming into his own at Mets camp, which includes a lot of balls sent over the right-field fence.
Each off-season seems to have something happen that we've never seen before, but this off-season has been different. We've seen sluggers change teams, prospect for prospect deals, suspensions over turned, and much more. I'll be looking at the 10 craziest stories that fueled baseball this week. First up, Albert Pujols and Yu Darvish. Letting the Greatest Hitter Walk Every hot...
Before the clubhouse got crowded, before many of the television cameras showed up and before the Angels would conduct anything that closely resembled a real practice, Albert Pujols had been here -- in the backfields of the Tempe Diablo Stadium complex, getting his work in with very little fanfare, as he prepares for a 10-year career with the Angels.
(Eds: APNewsNow. With AP Photos.) By TOM WITHERS AP Sports Writer The offseason departures of sluggers Albert Pujols and Prince Fielder has left the NL Central wide open for the taking. There's no clear-cut favorite to win the division title in 2012. It's up for grabs. And the Cincinnati Reds just might be the ones to snatch it. With a revamped pitching staff, star first...
Coming off a year where they didn't make the postseason but they got back in the mix, the Angels have a very good team.  They have been one of the better teams in the American League over the past decade but had seen a decline in the last couple of years.  They are back in a big way with the signings of Albert Pujols and C.J. Wilson.  This is a look at their 40 man roster in...
Nothing that happens in the Angels' camp this spring will be more closely scrutinized than every step Kendrys Morales takes on his attempted comeback. Morales has not played since suffering a fractured ankle in May 2010. But his return to full health could further transform an Angels lineup that has already added first baseman Albert Pujols. In the first week of camp, Morales...
Torii Hunter arrived at Angels camp Sunday, greeted by a pile of new spikes and prime locker placement -- Albert Pujols on one side, Vernon Wells on the other.
As the old Abbott and Costello bit goes, "Who's on first?", that may very well be the question this season when it comes to whom might be the American League starting first baseman at the All-Star Game in July. The offseason saw more money flying around than Hugh Hefner has girlfriends. During the offseason, Albert Pujols was signed for the rest of his life by the Los ...
MLB News

Delivered to your inbox

You'll also receive Yardbarker's daily Top 10, featuring the best sports stories from around the web. Customize your newsletter to get articles on your favorite sports and teams. And the best part? It's free!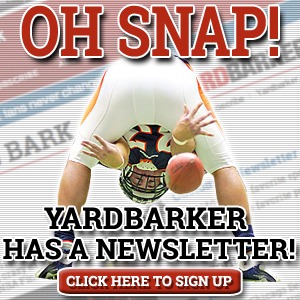 Latest Rumors
Best of Yardbarker

Today's Best Stuff

For Bloggers

Join the Yardbarker Network for more promotion, traffic, and money.

Company Info

Help

What is Yardbarker?

Yardbarker is the largest network of sports blogs and pro athlete blogs on the web. This site is the hub of the Yardbarker Network, where our editors and algorithms curate the best sports content from our network and beyond.