Found May 07, 2013 on World Series Dreaming:
Cubs legend-in-the-making third baseman Luis Valbuena has been hitting the snot out of the ball since spring training.  It's about time to give up on the Ian Stewart dream, given that Stewart is probably emo and can't stay healthy, and when healthy, can't even hit a pinata.  We've been waiting for a while for the shoe to drop, but Valbuena is actually heating up a bit.  He's still only at 99 plate appearances for the year so we are definitely still in "small sample size" land, but with good defense (last night's garbage-time error notwithstanding) and a keen eye for the plate when he decides to take a few pitches, Valbuena's doing what we would hope the 3B position would do when we put our eggs into the Ian Stewart basket. This isn't to say that we were necessarily wrong to hope for Ian Stewart to kick ass.  Stewart still had some track record and was still young and cost-controlled, and with only $2MM invested, he was one of those low-risk/high-reward deals.  However, maybe it's true that he didn't have the attitude (he's been MIA for a couple days now) and sometimes, players just lose "it" and never get "it" back. On the other hand, this year represents the first arbitration-eligible season for Valbuena, where he's being paid only $930K.  He is Super Two eligible, which means he gets three more arb seasons after this one.  As of this posting, he has a line of .271/.374/.494, good for a 135 OPS+ and on this 2013 Cubs squad is tied with Nate Schierholtz for third in runs driven in if you care about that stuff.  And for whatever reason (good home cooking?) he's also second behind Anthony Rizzo in home runs with five on the season.  Pretty productive for the money. You can't predict baseball, and Valbuena's track record was such that you don't really see him doing this consistently.  Here's hoping it will last, especially since Valbuena can also play second base (where Darwin Barney is great defensively but can't hit for ****).  With another three years of control after this one, this is a great value find considering he was a last-minute waiver claim just last season.  Imagine what could happen if Valbuena keeps up this torrid pace and the Cubs can actually splurge to trade for Chase Headley…but hey, that's another story for another time.
Original Story:
http://worldseriesdreaming.com/2013/0...
THE BACKYARD
BEST OF MAXIM
RELATED ARTICLES
The Chicago Cubs have purchased the contract of outfielder Ryan Sweeney from their Triple-A Iowa minor league affiliate. While he won't play a major role in the majors, he is a career .280 major league hitter. To make room for him the Cubs designated right-handed pitcher Kameron Loe for assignment. He will have to clear waivers if Chicago wants a shot at retaining his services...
The Cubs have added outfielder Ryan Sweeney and reliever Rafael Dolis from Triple-A before their game against the Texas Rangers. To make room for them Monday, Chicago designated reliever Kameron Loe for assignment and optioned outfielder Dave Sappelt to its affiliate in Iowa. The 28-year-old Sweeney has spent time in the majors with the White Sox, Red Sox and Athletics. In 23 games...
Maureen Oleskiewicz, 28, a teacher and huge Chicago sports fan, died after choking on a hot dog on Sunday at Wrigley Field. The Chicago Sun-Times reports Oleskiewicz and her brother were eating before the game when she suddenly fell. "They're sitting there eating lunch before the game, looking at the field and the next thing she's on the floor," Maureen's...
With the summer trade deadline on the horizon, one arm to keep an eye on is Chicago Cubs right-handed starting pitcher Scott Feldman, according to Buster Olney of ESPN. With the Cubs clearly still rebuilding, Feldman is likely to become a trade chip if his impressive start continues. The Cubs signed several veteran arms -- including Feldman, Edwin Jackson and Scott Baker -...
Yesterday Mr. Boylan was kind enough to give us an account of Tom Ricketts' lunch with the Lakeview Chamber of Commerce, where he discussed the Wrigley renovation stuff for the bazillionth time since he took over as owner of the Cubs.  Given the fat packet application and the signs of impending construction that Anno has observed while walking around Wrigley, it seems very apparent...
So yay, the Cubs won!  Woohoo!  And just as in every other sport, performances in one game, whether it's in a 16-game, 82-game or 162-game season, is enough to make broad sweeping statements about players.  Take this, for example:   Sveum called Wood the best pitcher in baseball which stunned Wood to hear — Jesse Rogers (@ESPNChiCubs) May 8, 2013   Wow!  That is some epic...
Cubs fan and friend of WSD Anthony Boylan wrote a press release for the Lakeview Chamber of Commerce today and wanted to share it with us so we could share it with you: Tom Ricketts laid out his vision for the Cubs Tuesday saying the plan aims to rack up wins for the team and the fans, as well as for the city and the neighborhood. "Wrigley is a beautiful park, but it comes with...
Travis Wood pitched impressively into the seventh inning to outduel Lance Lynn, Nate Schierholtz hit a two-run homer and the Chicago Cubs snapped the St. Louis Cardinals' six-game winning streak with a 2-1 victory Tuesday night. The Cardinals' streak was their longest since an eight-game run July 11-21, 2010. Wood (2-3) allowed one run and five hits while striking out eight...
John Andreoli, pictured, led the Florida State League in walks last year and is near the top of FSL leader board in on-base percentage this season. And while the Chicago Cubs continue to struggle in those two categories at Wrigley, progress is being made at the minor league level.
Serena Dai published an article this evening about the Cubs inching closer to getting more night games. The gist of the article is that Mayor Rahm Emanuel introduced an amendment to allow the Cubs to schedule more night games. Here are some of the important snippets of the article. Emanuel's ordinance allows for 35 scheduled night games and five more in case of MLB asks. Any additional...
You always hate to hear about things like this and WOTG's thoughts and prayers are with Maureen Oleskiewicz's family. A 28-year-old teacher has died after choking on a hot dog while attending a Chicago Cubs game Sunday. Officials tell WLS-TV in Chicago that Maureen Oleskiewicz of Orland Park was sitting in the bleachers Sunday around 12:55 p.m. when [...]
YAOWA EMAILZ: worldseriesdreaming@gmail.com iTunes Twitterz: @WSDreaming_Cubs @CubicSnarkonia @MRubio52 Por favor, send us emails and iTunes reviews. INTROS EMAILZ LOLs AngeLOLs BasebLOL Interleaguez, lots of fun! Roy Halladay, please be ok CHEATING Matt Kemp is cool and **** BREAK Dale Sveum Ian Stewart quits based ballz for three days What comes after the pitcher's era?...
MLB News

Delivered to your inbox

You'll also receive Yardbarker's daily Top 10, featuring the best sports stories from around the web. Customize your newsletter to get articles on your favorite sports and teams. And the best part? It's free!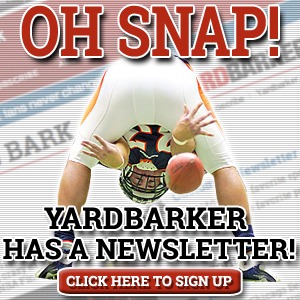 Latest Rumors
Best of Yardbarker

Today's Best Stuff

For Bloggers

Join the Yardbarker Network for more promotion, traffic, and money.

Company Info

Help

What is Yardbarker?

Yardbarker is the largest network of sports blogs and pro athlete blogs on the web. This site is the hub of the Yardbarker Network, where our editors and algorithms curate the best sports content from our network and beyond.