Found December 13, 2011 on Dempsey's Army:
"I should be in Atlanta..."OF/DH Luke Scott has been non-tendered by the Orioles and is now a free agent.
Scott has been an underrated slugger (in my opinion) for several years. Despite derision from some fans for his "streakiness", he always ended up his seasons as one of the better hitters on the club and did it at reasonable salaries. But a serious shoulder injury has put his future in question and the Orioles did not feel comfortable paying him $6M or more in 2012.
That is an understandable decision. What is less understandable is why Scott was on the club in 2011 and why they have to make this decision in the first place.
I'll never fully understand the free agent strategy during the 2011 offseason. The club signed a mediocre reliever for $10M and a 2-year commitment (I will not speak his name...). They signed not one, but two aging veteran reclamation projects in 1B Derrek Lee and DH Vladimir Guerrero committing more than $15 million on the gamble. (The only signings that kind of made sense were low money deals to SS Cesar Izturis and SP Justin Duchscherer. Neither worked out for the club but they weren't bad risks to provide potential depth.)
I've beaten the horse well past dead explaining how signing Lee in conjunction with Guerrero was unnecessary at best and would block promising (and cheap) prospects like Nolan Riemold at worst.
But lets say that you did want to sign those two and that you felt Guerrero still had enough left in his bat to be a serviceable DH.
Why keep Luke Scott?
Scott was coming off a career season at age 32. His trade value had been and never would be higher. With Lee and Guerrero on board, Scott was going to be pushed to leftfield where he was going to be only a fair fielder in the best of scenarios. The O's had Reimold and Felix Pie to platoon in left. Once you've made those other signings, Scott was a luxury that a rebuilding team could no longer afford.
Surely Scott could have brought back a couple of middling prospects. Maybe a cheap major league reliever. That would not be an ideal scenario but once you've pulled the trigger on Vlad, why not? As it stands now, Scott can sign with any team and the Orioles will receive nothing.
I just don't get it. Sign Lee. Or sign Vlad. Or sign both and trade Scott. But to sign both and keep Scott in 2011? It just didn't make sense. It was almost as if Andy MacPhail was gearing up for a playoff run. But could anyone look at last year's roster and truly believe this was a contending club? It was a stretch to view them as a winning one. There was so much that needed to go right for just a shot at a .500 record. But The Warehouse didn't treat the club as a rebuilding entity. Were they pandering to the fan base? Did they really believe the team was better than it was?
They needed to get some value for a guy that was made redundant by free agent signings but the Orioles refused to sell high.
Non-tendering Scott now makes a lot of sense. But keeping him a year ago, given the other free agent signings, certainly did not.
Original Story:
http://dempseysarmy.blogspot.com/2011...
THE BACKYARD
BEST OF MAXIM
RELATED ARTICLES
The Baltimore Orioles have declined to tender a contract offer to outfielder Luke Scott, who becomes a free agent after an injury-plagued season in which he played only 64 games. The 33-year-old Scott was acquired by Baltimore in the December 2007 trade that sent Miguel Tejada to the Houston Astros. Scott was voted the Orioles' most valuable player in 2010, but he was hindered...
The Orioles and approximately ten other teams have expressed some level of interest in signing Luke Scott, according to Dan Connolly of the Baltimore Sun (on Twitter). The 33-year-old became a free agent Monday night when the Orioles declined to tender him a contract.  Scott, who battled a shoulder injury in 2011 and underwent surgery this summer, projected to earn $6MM through...
As expected, the Orioles have non-tendered Luke Scott, opting against offering a contract to the outfielder -- who is coming off season-ending surgery -- but not completely closing the book on his return.
The Baltimore Orioles attended to some business last night as they will probably tender contracts to several of their players who are eligible for arbitration – including Brad Bergesen (a mild surprise); meanwhile, they have decided to cut slugger Luke Scott and pitcher Jo-Jo Reyes loose. Neither Scott nor Reyes being cut was a huge surprise. Scott was hurt for much of last year...
The Orioles decided Monday not to tender a 2012 contract to outfielder Luke Scott, allowing their 2010 Most Valuable Oriole to become a free agent, according to an industry source.
NEW YORK (AP) - Former All-Star pitchers Joe Saunders and Hong-Chih Kuo, and Baltimore outfielder Luke Scott became free agents Tuesday after their teams declined to offer 2012 contracts.Atlanta reliever Peter Moylan and St. Louis infielder Ryan Theriot also were among the 30 players set free when their teams failed ...
Former All-Star pitchers Joe Saunders and Hong-Chih Kuo, and Baltimore outfielder Luke Scott became free agents Tuesday after their teams declined to offer 2012 contracts.
Former All-Star pitchers Joe Saunders and Hong-Chih Kuo, and Baltimore outfielder Luke Scott became free agents Tuesday after their teams declined to offer 2012 contracts.
The buzzer has sounded and time is up for teams to tender contracts to their arbitration eligible players.  Why do we care so much about this deadline?  Because the market is about to get flooded with a few dozen new free agents. Most will be marginal players destined to spend next season just fighting to get onto a big league roster, but there will also be handful of players...
MLB News

Delivered to your inbox

You'll also receive Yardbarker's daily Top 10, featuring the best sports stories from around the web. Customize your newsletter to get articles on your favorite sports and teams. And the best part? It's free!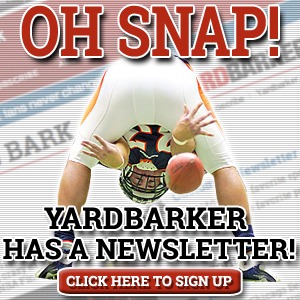 Latest Rumors
Best of Yardbarker

Today's Best Stuff

For Bloggers

Join the Yardbarker Network for more promotion, traffic, and money.

Company Info

Help

What is Yardbarker?

Yardbarker is the largest network of sports blogs and pro athlete blogs on the web. This site is the hub of the Yardbarker Network, where our editors and algorithms curate the best sports content from our network and beyond.