Found June 29, 2012 on SF Giants Nirvana:
PLAYERS:
Madison Bumgarner
,
Brandon Phillips
,
Joey Votto
,
Mike Montgomery
,
Johnny Cueto
,
Buster Posey
,
Melky Cabrera
,
Brandon Belt
,
Matt Cain
TEAMS:
San Francisco Giants
,
Cincinnati Reds
,
Kansas City Royals
,
Los Angeles Dodgers
It's rather surprising, but coming into tonight, Madison Bumgarner had never thrown a complete game. 67 starts, most of them good, and yet none of 'em lasted nine innings. He had pitched into the ninth inning on a couple occasions, but never a complete game. In any event, his first career complete game finally came tonight, and he was really as good as ever. Miguel "how is he still in baseball?" Cairo started at second base instead of Brandon Phillips, but this was nevertheless a dangerous lineup — one that has done a lot of damage against southpaws this season. The Reds, you see, have a 117 wRC+ against left-handed pitching this season, which is the best in all of baseball.
And Bumgarner held them to one hit, a single, through nine innings. He only needed to face 29 batters to record 27 outs. Joey Votto, the best hitter on the planet, went 0 for 3  – as did hitters four through seven. The final line: 9 IP, 8 K, 2 BB, 1 H, 0 R. After performances like these, it's fun to go look at that contract extension. And then to remember that Bumgarner is still only 22 years old.
The Kansas City Royals have this left-handed starting pitching prospect named Mike Montgomery. I admittedly don't know much about him, but he's made Baseball America's top 100 prospect list three years running, so he's supposed to be pretty good. Interestingly enough, he pitched tonight. He's struggled at Triple-A the past couple seasons, and tonight was no exception: he lasted 1.1 innings, allowing 11 runs (four earned). Mike Montgomery was born on July 1, 1989, exactly one month before Madison Bumgarner was born.
Anyway, thanks to another brilliant performance from Bumgarner, the Giants have now held their opponents scoreless for 36 consecutive innings. Four straight shutouts. The Giants had never done that before, and it hasn't been accomplished by any team in nearly two decades. It's easy to take this pitching staff for granted, but they're still magnificent. Over the last four years, no team has been better than the Giants at run prevention. It's been a great run, and they certainly aren't showing signs of slowing down…
As for the offense, they continue to be competent. Johnny Cueto has been the best starter in the majors over the past couple seasons, if you go by ERA-. The Giants didn't light him up or anything, but they roughed him up for a few runs, and he was out of the game by the seventh inning. So that was pretty exciting to see. I had a lot of concern about the Giants' offense coming into the season. I wasn't sure how Buster Posey would hit after missing most of 2011; I didn't know if Melky Cabrera was a one-hit wonder; I didn't know if the Giants would find a way to get Brandon Belt into the lineup on a regular basis, and furthermore, I didn't know if he'd finally adjust to the majors; and the middle infield just looked like a black hole of sub-mediocrity. Anyway, I'm feeling a lot better about this team's ability to hit baseballs, especially in comparison to how I felt this offseason.
The Dodgers lost today, so the Giants now have sole possession of first place. The offense has looked fine. The pitching has looked untouchable. And with Matt Cain going up against the Reds tomorrow night, the Giants have a chance of recording their fifth-straight shutout — which would tie a major-league record. In other words, things are rolling.
Original Story:
http://feedproxy.google.com/~r/Splash...
THE BACKYARD
BEST OF MAXIM
RELATED ARTICLES
Cincinnati kicked off its longest road trip of the season with a thud, managing only three baserunners against Giants starter Madison Bumgarner. Then again, no one's been having much luck offensively against San Francisco these days. Ryan Hanigan's leadoff single in the sixth inning was the only hit by the Reds in a 5-0 loss to the Giants on Thursday night, San Francisco...
Madison Bumgarner is quick to remind Brandon Belt who hit the first home run between them this year. Yes, the pitcher won that one. And it is Bumgarner taking the credit for getting Belt back on track, too. All but gone are those constant ''Baby Giraffe'' references to Belt and his long neck that he dealt with all of last season as a rookie, when someone even sent...
SAN FRANCISCO (AP) -- Madison Bumgarner took a no-hitter into the sixth inning and finished with a one-hitter and the San Francisco Giants beat the Cincinnati Reds 5-0 Thursday night. Bumgarner (10-4) completed his first career game with his first shutout as the Giants tossed four consecutive shutouts for the first time in franchise history. Bumgarner walked one and struck out eight...
Wow. Tonight's game was so masterful, I'm almost at a loss for words to describe it. Madison Bumgarner was the best I've ever seen him, shutting down a good lineup like they were the Rangers on Halloween. He pitched in, out, up, down, and made one simple mistake of not intentionally walking Ryan Hanigan. But man, that slider. It deserves a postgame wrap of its own. Bumgarner...
Brad Penny is back in the big leagues, via Japan and Fresno. The Giants purchased the contract of the right-hander Friday to give manager Bruce Bochy a versatile reliever in the bullpen. He can pitch two innings. Penny takes the spot of Shane Loux, placed on the 15-day disabled list after he strained his neck during a workout Thursday. He underwent an MRI exam Friday that revealed...
SAN FRANCISCO -- Tim Lincecum picked a good time to rediscover his Cy Young Award form. The slumping San Francisco right-hander pitched seven strong innings, leading the Giants to a 3-0 win over the Los Angeles Dodgers that completed a three-game sweep at AT&T Park. The Giants pulled even with the Dodgers for first place in the National League West by throwing shutouts in all...
I'm not gonna lie to you guys and say I watched all of this game. Danny and I both had to work today and there was no way to get my employer to shut off the 57-inch HD TVs to prevent spoilers. But my DVR skim stops include: The Lincecum-Billingsley collision, the Hector Sanchez dive, Uribe's at-bat in the 7th, and the 9th inning. Oh and every run-scoring play. I just love those...
Tim Lincecum won for the first time in nearly two months to end the worst drought of his career, throwing four-hit ball over seven innings, and the San Francisco Giants held the Dodgers scoreless for the third straight game in a 3-0 win Wednesday. Angel Pagan added an RBI single and drew a bases-loaded walk to back Lincecum (3-8) as the Giants moved into a first-place tie in the...
The Giants threw their fourth straight shutout last night, beating the Reds 5-0 behind a complete game one-hitter from Madison Bumgarner. Combined with three straight shutouts against the Dodgers earlier this week, the Giants are just on an unreal roll right now. Their bullpen has gotten some time off as well, throwing a total of just six innings over the past four games...
Hanigan recorded the Reds' only hit off Bumgarner. The West Coast never seems to be nice when the Redlegs visit, and Thursday evening turned into a very unfriendly welcome. The Reds (41-34) and Giants (44-33) met up as Cincinnati began an 11-game road trip on the left coast. San Francisco won 5-0. Johnny Cueto (L 9-4, 2.26) struggled with command a bit, but still ended...
The Cincinnati Reds' Johnny Cueto and San Francisco Giants' Madison Bumgarner both have a chance to go unbeaten in the month of June. While Cueto has experienced great success against the Giants, the same can't be said for Bumgarner versus the Reds. With Cueto looking to win a career-best fifth straight start and Bumgarner seeking a fifth consecutive winning decision...
The Giants set a new San Francisco-era record with Madison Bumgarner's one-hit shutout of the Cincinatti Reds: they have gone 36 straight innings without giving up a run. The streak snaps the previous record of 35 scoreless innings pitched, set by the 1960 squad, from May 10-14 and is the longest such streak since the Giants rotation pitched 31 scoreless from September...
MLB News

Delivered to your inbox

You'll also receive Yardbarker's daily Top 10, featuring the best sports stories from around the web. Customize your newsletter to get articles on your favorite sports and teams. And the best part? It's free!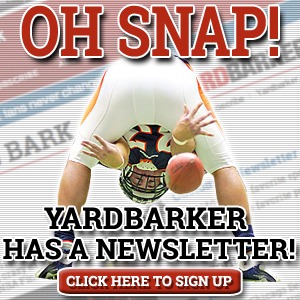 Latest Rumors
The Backyard

Today's Best Stuff

For Bloggers

Join the Yardbarker Network for more promotion, traffic, and money.

Company Info

Help

What is Yardbarker?

Yardbarker is the largest network of sports blogs and pro athlete blogs on the web. This site is the hub of the Yardbarker Network, where our editors and algorithms curate the best sports content from our network and beyond.