We all came into this game expecting a pitching duel. Clayton Kershaw, reigning Cy Young Award winner, 24 years old, going up against the just-turned-23-year-old Madison Bumgarner. This wasn't the first time the two had faced — they'd met once before, in April 2011. But that wasn't much of a battle. Today's head-to-head, unlike the previous one, did not disappoint. Bumgarner scattered four hits across eight innings; each of those hits was a single, and Kershaw, interestingly enough, had two of them. That fourth inning sequence of events, in which Bumgarner breezed past the heart of the Dodgers' order, just blew me away:
He worked around Matt Kemp for six pitches, mostly staying out of the strikezone, and eventually gothim to ground out.
Then after falling 2-0 to Hanley Ramirez, he came at him with four straight sliders, freezing him on a high-and-inside pitch for a called strike three.
And then to top it all off, after Andre Ethier fouled off a few pitches, Bumgarner got him to swing right through the high heat.
Of course, Bumgarner was on top of his game all night long. And that was the most amazing part, really. Even with his pitch count running well past 100, and the Dodgers' hitters having gotten to see him a couple times, he was still untouchable in those final two innings. Kershaw himself dominated the Giants' lineup, though he wasn't able to keep them entirely quiet — thanks to some timely hitting. Angel Pagan led off the game with a double, and came around to score on a sac fly; and then with two outs in the sixth inning, the Giants managed to string together back-to-back-to-back singles for the second (and final) run. The final pitching lines: Kershaw – 8 IP, 6 H, 2 ER, 10 K, 0 BB.
Bumgarner – 8 IP, 4 H, 0 ER, 10 K, 0 BB. Surely you notice the symmetry in the two lines. Both went eight innings, notching ten strikeouts with zero walks. How often do you see that? Well, I dug through Baseball-Reference's Play Index and the answer is: never. Only twice before, at least dating back to 1918, have two opposing pitchers in the same game tallied ten or more strikeouts while not walking anybody. The last occurrence was on April 9, 2003, with Mark Prior and Javier Vazquez doing the pitching. But Vazquez failed to go past the seventh. Before that, the only other occurrence was on July 12, 1997, in a duel between Roger Clemens and Aaron Sele. But again, Sele only went seven innings. So, as I tweeted earlier: This was the first occurrence in baseball history in which both starters have gone at least eight innings with 10+ strikeouts and zero walks. In other words, we just witnessed an absolutely remarkable pitching duel. And the best part is that the Giants came out on top. Although not before making things a little more interesting… Sergio Romo was one strike away from securing the win for the Giants, at which point Hanley Ramirez unloaded on a 1-2 pitch and promptly sent it into the stands. If anything, this should serve as a reminder that Hanley Ramirez is still a dangerous hitter, and has channeled his younger self during his brief stint with the Dodgers. This was his fifth homer (and 12th extra-base hit) in 25 games with LA. So that's certainly something to be concerned about. Anyway, Javier Lopez came in and finished off Andre Ethier, giving the Giants a 2-1 victory. And now they're back in first place.
Original Story:
http://feedproxy.google.com/~r/Splash...
MORE FROM YARDBARKER
MLB News

Delivered to your inbox

You'll also receive Yardbarker's daily Top 10, featuring the best sports stories from around the web. Customize your newsletter to get articles on your favorite sports and teams. And the best part? It's free!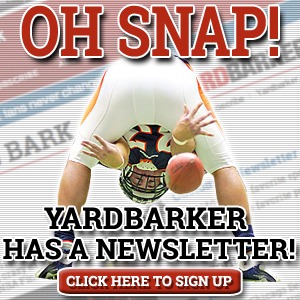 Latest Rumors
Best of Yardbarker

Today's Best Stuff

For Bloggers

Join the Yardbarker Network for more promotion, traffic, and money.

Company Info

Help

What is Yardbarker?

Yardbarker is the largest network of sports blogs and pro athlete blogs on the web. This site is the hub of the Yardbarker Network, where our editors and algorithms curate the best sports content from our network and beyond.