Found November 11, 2012 on Fox Sports Detroit:
PLAYERS:
Justin Verlander
,
Jered Weaver
,
Fernando Rodney
,
Matt Harrison
,
Chris Sale
,
Felix Hernandez
,
Miguel Cabrera
,
CC Sabathia
,
Zack Greinke
,
Tim Mccarver
TEAMS:
Detroit Tigers
,
Los Angeles Angels
,
Tampa Bay Rays
,
Texas Rangers
,
Chicago White Sox
,
Seattle Mariners
,
New York Yankees
DETROIT -- Justin Verlander deserves to win his second consecutive American League Cy Young Award. He's unlikely to get it, though, when the results of voting by the Baseball Writers Association of America are announced Wednesday night. Tampa Bays David Price is the favorite, and Jered Weaver of the Angels also could finish ahead of Verlander among those three finalists. Price already got the stamp of approval from his AL peers. They honored him last week with the 2012 Players Choice award for pitchers. Among baseball pundits, one doesn't think Verlander even deserves to be a Cy Young finalist. Harold Reynolds of the MLB Network said he would have picked Tampa Bay closer and ex-Tiger Fernando Rodney over Verlander. So the Tigers ace has his detractors, and Price would be a fine choice for the Cy Young. But lets look at the case for Verlander: He was 17-8 with a 2.64 ERA and a league-leading 239 strikeouts. Verlander, at 7.5, also had the runaway best Wins Above Replacement rating of any pitcher in the league. Rounding out the top five are Price (6.4); Matt Harrison, Rangers (6.2); Chris Sale, White Sox (5.7); and Felix Hernandez, Mariners (4.6). Ratings of 8.0 or above are MVP quality and 5.0-plus is All-Star worthy. This statistic is all the rage with sabermetricians, who have concocted it by pouring oodles of numbers into a formula that takes every player quality under the sun into consideration and spits out a rating that few understand. Angels outfielder Mike Trouts MVP candidacy is being touted largely because of his major league-leading 10.7 WAR rating. Hey, if its being used by some to deny Tigers Triple Crown winner Miguel Cabrera the MVP, why not use it to win the Cy Young for Verlander? Turnabout, after all, is fair play. I have my own formula, just devised, to make an even better case for Verlander: Pitching Quotient. It gives equal weight to wins, earned-run average, strikeouts, WHIP (walks plus hits per inning pitched) and WAR. Im proposing this rating system because most cant agree on which pitching statistic is most important. Based on recent Cy Young voting, wins aren't supposed to matter. Hernandez won it with a 13-12 record in 2010, when CC Sabathia of the Yankees was 21-7. In 2009, Zack Greinke, then with the Royals, won it with a 16-8 mark, while Hernandez, Sabathia and Verlander each won 19 games. So why should Verlander be penalized for a lack of wins this year -- especially after having eight quality starts for a defensively-porous team end up as losses or no decisions? Earned-run average has become the favorite measuring stick in recent years. Five of the last six major league ERA winners won a Cy in their league. But that happend after four consecutive major league ERA leaders didn't win the Cy. There doesnt seem to be any long-term consensus on just how important any one stat matters -- although Hernandez (2.27) and Greinke (2.16) won almost strictly based on ERA. This year, Price (20-5, 2.56, 209 strikeouts) is the AL leader in ERA, with Verlander a close second. Verlander took the other pitching Triple Crown stat, strikeouts. Weaver (20-5, 2.81, 142 strikeouts) tied for Price for most victories and led the league with a 1.018 WHIP. Based on the statistical split decision, the Cy Young race should be a tossup. Thats where the Pitching Quotient comes into play as an evaluation tool. Heres how it works: Award 5 points to the league leader in each of these categories -- wins, earned-run average, strikeouts, WHIP and WAR -- and scale down from there: 4 points for second, 3 points for third, 2 points for fourth and 1 point for fifth. Then total the points for each pitcher and divide it by five, for the number of categories, to get their average point total. A pitcher finishing first in each statistic would rate a 5.0. Verlander, with 3.9 points on the Pitcher Quotient, is the easy winner. Price is second at 3.1 and Weaver third at 2.5. By choosing to focus only on the accepted Triple Crown pitching stats -- wins, earned run average and strikeouts -- Verlander drops to 3.5 on that limited Pitcher Quotient formula, with Price (3.2) and Weaver (2.5) close behind. Even with all that number crunching, were not giving Verlander any formula credit for leading the league with 238 13 innings pitched and six complete games. In fairness to Price, he had seven quality starts in which he either lost or didnt figure in the decision. Thats just one fewer quality start without a win than Verlander had -- athough Price had a far superior defense playing behind him. If youre not into statistics, simply trust your eyes. FOX Sports analyst Tim McCarver did during the postseason and several times called Verlander the best pitcher on the planet. We'll find out Wednesday if the Baseball Writers Association of America agree.
Original Story:
http://www.foxsportsdetroit.com/11/11...
THE BACKYARD
BEST OF MAXIM
RELATED ARTICLES
This week, free agent starting pitcher Anibal Sanchez's contract demands became known: six years, $90 million or seven years, $100 million, according to Jon Heyman of CBS. While that may seem like a lot of money for Anibal Sanchez, all things considered, it might not be all that out of bounds. Since 2010, Sanchez has accumulated 12.0 fWAR, 16th among all starting pitchers in...
Table of Contents Here's the table of contents for today's edition of Daily Notes. 1. Two Comments on the Venezuelan Winter League 2. SCOUT Leaderboards: Venezuelan Winter League 3. Video: Bruce Rondon Attempts a Little Murder Two Comments on the Venezuelan Winter League Comment No. 1: Regarding Possible Detroit Closer, Bruce Rondon There have been indications so far this offseason...
There were 28 other teams that wished they were the Detroit Tigers on October 24, the day of Game One of the World Series. 90% of the ESPN.com "experts" predicted that the Tigers would be hoisting the Commissioner's Trophy (given to the World Series champs).  99.9% of Detroiters expected it too. We know now that it didn't.  We also know that the Tigers are not going to...
The Detroit Tigers have made no secret that they're interested in free-agent outfielder Torii Hunter. Continue reading →
When I hear the name Anibal Sanchez one thing comes to mind…  I would attempt to finish that sentence but I can't.  Now keep in mind Sanchez was an integral pickup for the Detroit Tigers in their run to the World Series, but when I hear sources; Sportsnet, FOX Sports reporting that Sanchez is eyeing $90M over 6-years, I shake my head.  To get a grip on what he is asking...
The Detroit Tigers selected left-hander Joe Rogers in the fifth round of the 2012 MLB First-Year Player Draft. Recently, Rogers was kind enough to check in with us to discuss draft day and his experience with the Connecticut Tigers in short-season ball.
Norm Cash was a well known 1B for the Detroit Tigers, known for his all time 1961 season. He hit .361, 41, 132 with 193 hit and 119 RS. His 124 walks gave him a .487 OBP and 1.148 OPS which makes it amongs one of the best seasons ever. He would have been 78 today, having drowned during a fishing accident on my seventh birthday, 10/12/1986. During the time he played (1958-1974), he...
MLB News

Delivered to your inbox

You'll also receive Yardbarker's daily Top 10, featuring the best sports stories from around the web. Customize your newsletter to get articles on your favorite sports and teams. And the best part? It's free!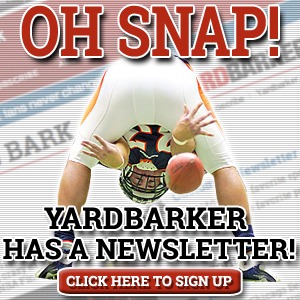 Latest Rumors
The Backyard

Today's Best Stuff

For Bloggers

Join the Yardbarker Network for more promotion, traffic, and money.

Company Info

Help

What is Yardbarker?

Yardbarker is the largest network of sports blogs and pro athlete blogs on the web. This site is the hub of the Yardbarker Network, where our editors and algorithms curate the best sports content from our network and beyond.