Found March 15, 2013 on NorthWest Sports Beat:
PLAYERS:
Kyle Seager
,
Hisashi Iwakuma
,
Tom Wilhelmsen
,
Brandon League
,
Jason Vargas
,
Michael Saunders
,
Jason Bay
,
Raul Ibanez
,
Justin Upton
,
Justin Smoak
,
Cliff Lee
,
Prince Fielder
,
Dustin Ackley
,
Stephen Pryor
,
Carter Capps
,
JJ Putz
TEAMS:
Seattle Mariners
,
Los Angeles Dodgers
,
Atlanta Braves
,
Philadelphia Phillies
,
Detroit Tigers
,
Arizona Diamondbacks
Step up, or get out In 2012, the Mariners saw breakout seasons from guys like Kyle Seager, Hisashi Iwakuma and Tom Wilhelmsen. It also saw the departure of guys like Brandon League and Jason Vargas. With the plethora of players brought in this offseason, the front office has proven that they are not afraid to bring in fresh faces to replace the old. Looking forward to the upcoming 2013 season, here are some players facing make-or-break situations for the Mariners. A good year could keep these guys Mariners for a long time, and a bad one could see them released or shipped off. Michael Saunders, OF At 26 years old, Michael Saunders is entering his fourth season with the Mariners since first being called up during the 2009 season. Saunders has to be more consistent in 2013. A fleet-footed defender, Saunders has played all across the outfield for Seattle, and he's done it quite well. But it's with the bat that he continues to come up short. Saunders did enjoy a breakout year last season, coming within one home run of a 20-20 season. But while the left-hander enjoyed a strong start to the season he fizzled out down the stretch, hitting just .233/.287/.445 in the second half. The big concern with Saunders is patience. His OBP was a putrid .306 by season's end, and sadly enough that's his career high. Seattle wasn't shy about their intentions to upgrade the outfield this offseason. It brought in Michael Morse, Jason Bay and Raul Ibanez, while attempting a trade for Arizona's Justin Upton. Saunders will be a starter come opening day, but unless he can turn things around he may be the Mariner's next piece of trade bait. Justin Smoak There's always been so much potential in Justin Smoak. Acquired as the center piece in the Cliff Lee trade, Smoak was supposed to be the future offensive catalyst of the Mariners. Oh how the mighty have fallen. In 285 games with Seattle, Smoak has just 39 home runs, 120 RBI and an OPS of .686. At times he's been a defensive liability, and his overall disappointing play has caused several demotions to the minors. Yet he continues to flash promise, especially at the beginning and end of the year. Smoak has a career .932 OPS in September, and he's currently hitting .345 with two home runs in Spring Training. Despite the flashes, Seattle looks ready to move on if Smoak doesn't pan out this year. It tried to get the ball rolling last year, making a run at Prince Fielder, and this year has brought in Morse (who can play first) and Kendrys Morales. The message to Smoak has to be clear: your days are numbered, so make the best of them or be gone. Dustin Ackley Despite all the hype, Dustin Ackley has been far from advertised after the Mariners selected him No. 2 overall in the 2009 amateur draft. The 25-year-old enters his third season as the M's starting second baseman, and it could be his last. Despite a meteoric rise to the Majors, Ackley has produced a mere .243/.314/.360 slash line with the Big League club. In 243 games he has just 18 home runs and 19 stolen bases. Last year was a disaster for the left-hander. He finished the year with a .622 OPS, with no development in the second half of the season. In fact, he hit just .217 with a .606 OPS after the All Star Break. With younger options lining up, Wilhelmsen has to prove himself invaluable in 2013. With prospect Stefan Romero on his way up, and Kyle Seager capable of a move to second, it's time for Ackley to prove his ceiling is still there. Tom Wilhelmsen It seems strange to have Tom Wilhelmsen's name on this list. He was arguably Seattle's best reliever last season, posting a 2.50 ERA, 9.9 K/9 and 29 saves in 73 appearances. But at 28 years young, Wilhelmsen is one of the older members of Seattle's stacked bullpen. Two of its younger members, are Stephen Pryor and Carter Capps. Pryor and Capps are your prototypical flamethrowers, and both can be considered the front-runner for the closer of the future. That's tough news for Wilhelmsen, especially given the Mariner's willingness to depart with established closers. One of Jack-Z's first moves as GM was trading J.J. Putz in 2008, and just last year saw the departure of Brandon League to the Dodgers. If Wilhelmsen can net Seattle a reasonable return, it might not be long until we see his name on the trade block. That's why it's imperative that he proves how valuable he is to the team this season. CLICK HERE TO CHECK OUT THE MARINERS BLOG IN OUR CLUBHOUSE TODAY AT NWSB!
Original Story:
http://www.nwsportsbeat.com/mariners/...
THE BACKYARD
BEST OF MAXIM
RELATED ARTICLES
Scratchin My Hat I was originally going to title this article, "5 players who are surprising me in Mariners spring training." The more I thought about it, though, the less surprised I was and the more annoyed I was getting. Most of this annoyance is directed toward the Seattle Mariners' veteran AAA outfielder, Carlos Peguero.  It isn't that I don't like Peguero; in fact...
It is Ackley's Breakout Time! The 2009 number 2 overall pick has been fine, but the Mariners need more than that in 2013. In the land of the rising sun, where the 2012 season began for the Seattle Mariners a year ago, 2B Dustin Ackley kicked off his sophomore season with a bang. In the 4th inning, Ackley took A's pitcher Brandon McCarthy to dead center for his first home run...
The way Jon Garland sees it, he has nothing to lose by going out and throwing as hard as his surgically repaired right shoulder will allow. Garland, out of baseball all of last season after surgery in July 2011, struggled for the first time in four appearances this spring. He allowed five runs and six hits while striking out seven in three innings as the Seattle Mariners lost 8...
The Seattle Mariners continue to play in Peoria, Arizona, yet the tune sounds a bit different as of late. The Mariners have lost 6 of their last 7, which comes after winning 10 straight. Young and old pitchers keep rotating, and the lineups continue to shift and adjust, in hopes of finding a groove; it will take a little longer for the young, old, and new to mesh. A few things...
The veteran, journeyman pitcher Jon Garland may actually make a rotation after all.  Garland, who missed the entire 2012 season after shoulder surgery in 2011, has been a decent pitcher.  Not surprisingly, he has his best success in pitcher parks.  While the Mariners have altered their dimensions, they are still considered to have a pitcher-friendly park. Perhaps the Mariners...
In addition to scouting a trio of young Mariners pitching prospects, a number of top position prospects also made the trip to Goodyear Stadium. Nick Franklin batted second and played shortstop alongside Brad Miller. Franklin struggled at the plate and in the field as he failed to make hard contact and booted two balls on the infield. On one play a few steps to his right, Franklin...
The best of the best For a city that's had more than its fair share of losers, Seattle has been home to some of the most perennial athletes of the past half century as well. From Steve Largent, Jerry Rice, and Shaun Alexander, to Slick Watts, Lenny Wilkens, Shawn Kemp, and Gary Payton, to Kasey Keller, to Alex Rodriguez, Randy Johnson, Ichiro, and Edgar Martinez. But out of all...
As the 2013 MLB season grows closer every day, the Seattle Mariners find themselves with an interesting predicament in the outfield. In the previous 3 to 4 years, the Mariners have struggled tremendously to find 3 competent outfielders to place on the field at one time. Circumstances are different this year. For the first time in years, the M's starting outfield could be one of...
Kendrys Morales hit his third home run of spring training and Erasmo Ramirez tossed six strong innings as the Seattle Mariners beat the Colorado Rockies 5-2 Saturday. Mike Jacobs also homered and Jesus Montero and Carlos Pequero each added two hits, an RBI and a run scored for Seattle. Michael Morse was on base all three times and raised his spring average to .375. Ramirez, projected...
Michael Morse made the Mariners out of camp five years ago thanks to big offensive production in spring training. Now he's back, and even though he's a big league regular, he's still having another fruitful spring for Seattle. Morse hit two home runs and drove in five runs to lead the Mariners back from a six-run deficit for an 8-7 win over the Cincinnati Reds Thursday...
The Mariners went into the winter with the intention of being agressive. After flirting with Josh Hamilton, they really didn't do much. How will this team fare in the AL West? Key Losses: Mike Carp, 1B (Red Sox, Trade) John Jaso, C (Athletics, Trade) Shawn Kelley, RHP (Yankees, Trade) Miguel Olivo, C (Reds, Free Agent) Mauricio Robles, LHP (Phillies, Waivers) George Sherrill,...
He could probably talk to a Buffalo too! The young 3B has been ahead of schedule his entire career; Mariners fans are looking forward to year three. At the ripe age of 25, 3B Kyle Seager is heading into his third season with the Seattle Mariners, his second complete season. Called up in 2011, Seager surprised both fans and experts by arriving at the show only a month after 2B Dustin...
MLB News

Delivered to your inbox

You'll also receive Yardbarker's daily Top 10, featuring the best sports stories from around the web. Customize your newsletter to get articles on your favorite sports and teams. And the best part? It's free!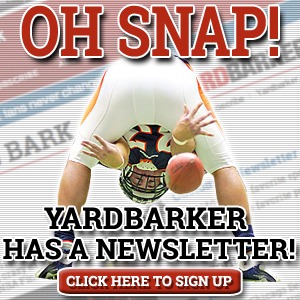 Latest Rumors
Best of Yardbarker

Today's Best Stuff

For Bloggers

Join the Yardbarker Network for more promotion, traffic, and money.

Company Info

Help

What is Yardbarker?

Yardbarker is the largest network of sports blogs and pro athlete blogs on the web. This site is the hub of the Yardbarker Network, where our editors and algorithms curate the best sports content from our network and beyond.