Found August 10, 2012 on NorthWest Sports Beat:
Plenty of bats to go around Seattle is an organization that's been mired in hitting woes. That's why when mega prospects like Nick Franklin and Mike Zunino come along, they're all everybody talks about. Believe it or not, there are some other top bats in the farm system besides those guys.
Their ceilings might not be quite as huge, but they still have the chance to become great players at the MLB level.
Today we're looking at "the other guys." They're not as flashy as the Franklins and Zuninos of the world, but that doesn't mean their upsides aren't as exciting. Brad Miller Miller profiles to be a top of the order hitter. For a team that's been plagued with shortstop woes, it's a pretty deep position in the farm system. (Nick Franklin is of course ahead of him) Drafted in the second round of the 2011 draft, Brad Miller is another Mariner shortstop to keep an eye on. Taken from Clemson, Miller had an impressive college resume. Three year player with a slash line of .339/.452/.485. In his final NCAA season he lead the ACC in average and OBP, as well as his team in most major offensive categories. The 22-year old hasn't missed a beat with his transition to pro ball. In 2011 he hit .415/.458/.528. So far in 2012, Miller is hitting .335/.412/.513 with 13 home runs and 21 stolen bases. His highest level reached has been AA. Miller profiles to be a top of the order hitter. His advanced understanding of the strikezone helps him hit for average and get on base—in fact, Miller might be the most patient hitter in the system. As he rises through the minors home runs should transition more into doubles, but he's got plenty of speed to round out his game. Defense remains the biggest question mark for Miller. If he isn't a long term solution at short, there's plenty of other positions where he could test his glove. At his lowest Miller has all the makings of a solid utility man. Overall, his ceiling is that of an everyday shortstop who will get on base at a .370-.400 clip and steal plenty of bases. Phillips Castillo If you look up Mariner prospect lists your going to see Castillo ranked in a lot of different places. Rankings aside, every writer will say the same thing: huge upside. Castillo is your typical Dominican born super prospect. Signed as an international free agent at the age of 17, Castillo looked like a pro in the 2011 Arizona Fall League—his first venture into pro ball. He posted an .848 OPS with 24 extra base hits (18 doubles, 5 triples, 1 home run) and 8 stolen bases in 48 games. As is the case with these types of players, where there's hype and ceiling there's also inexperience and struggles. Castillo is certainly showing that now, hitting .242/.338/.430 in 2012. He does have 5 home runs, but 0 stolen bases.
Just because he is struggling doesn't mean fans should give up on Castillo. As he learns advanced pitches he could turn into a great player.
Scouts already like his defense, and he looks to settle in a corner outfield spot. He has a great feel for hitting, with the ball coming off his bat perfectly. He's got the power to hit 2o+ home runs, and if he works on his baserunning the speed to swipe 20+. Though his skills are raw, the future remains bright for Castillo. Drafted in 2009, Vinnie Catricala has been a stud at nearly every level. Vinnie Catricala If you ask someone the top three hitters in the Mariner's system they'll first say Nick Franklin. Then, they'll probably say Mike Zunino. Third will be a toss up between Francisco Martinez—my answer—and this guy. Drafted in 2009 from the University of Hawaii, Vinnie Catricala has been a stud at nearly every level. In three seasons of college ball, he hit .313/.396/.479. In his first taste of pro ball he posted a .856 OPS with 8 home runs in 59 games. Last season between A and AA he hit .349/.421/.601 with 25 home runs, 106 RBI and 17 stolen bases. Did I mention he's a stud with the glove, with an ability to play either corner infield positions or the outfield? Unfortunately, gaudy minor league stats don't always profile MLB success. In 2012 Catricala finally seems stumped, hitting a forgettable .238/.304/.359 with 8 home runs in 104 games with Tacoma.
That's why Catricala is so hard to rank. Is he a AAAA player, or a legit MLB prospect?
For now, Catricala's track record shows plenty of promise. Chances are his 2012 woes are just growing pains. If Catricala finishes the season strong, a good showing in Spring Training could garner a starting job come 2013. Did you read my Mariners pitching prospects report last night? CLICK HERE TO CHECK OUT THE MARINERS BLOG IN OUR CLUBHOUSE TODAY AT NWSB! © Jonathan Irwin for North West Sports Beat, 2012. | Permalink | No comment | Follow NWSB on Twitter or join US on Facebook for real-time updates OR... | Share This on Twitter | Share NWSportsBeat.com on Facebook Post tags: Arizona Fall League, Brad Miller, Clinton LumberKings, Francisco Martinez, Jackson Generals, Mariners prospects, Mike Zunino, MLB, Nick Franklin, Phillips Castillo, Seattle Mariners, Seattle Mariners blogs, Seattle Mariners farm system, Tacoma Rainiers, Top prospects, Vinnie Catricala
Original Story:
http://www.nwsportsbeat.com/mariners/...
THE BACKYARD
BEST OF MAXIM
RELATED ARTICLES
What about relievers? A lot of stock is put into the Mariners Big 3 pitching prospects of James Paxton, Danny Hultzen and Taijuan Walker. With their phenomenal upsides it's hard to not get excited. That's why, to date, they've been the only three covered in this column. Today, we're taking a different path. We're going to be examining another pitching Big 3 in the Mariner's...
The Seattle Mariners had a lot of confidence before departing on their most recent road trip.  They were on a season-high seven game winning streak after sweeps of the Kansas City Royals and Toronto Blue Jays at home.  Before going on the road, they had improved to 50-57, their best mark since they went to 27-33 after their combined no-hitter over the Los Angeles Dodgers.  However...
Seattle Mariners outfielder Eric Thames caused sparks to fly, literally, as he collided with a metal garage door in the outfield fence during Wednesday night's game at Camden Yards against the Baltimore Orioles. It happened in the bottom of the third inning as Thames was chasing a foul ball in deep right field hit by Orioles batter Chris Davis. After being unable to catch...
This really looks like it hurt the fence. Seattle Mariners outfielder Eric Thames collided with a metal garage door in the outfield fence during Wednesday night's game at Camden Yards against the Baltimore Orioles. Here's the video. Video courtesy MLB.com.
Your browser does not support iframes. Who would have ever imagined baseball cleats could be a fire hazard? All I can say is Eric Thames is lucky there was no gasoline or dry grass under his feet during the third inning Wednesday night, otherwise he may have had to stop, drop and roll. Thames went into the right field corner to chase a foul ball during a game against the the Orioles...
ELECTRIC ATMOSPHERE
While chasing down a foul ball off the bat of Chris Davis during a game against the Baltimore Orioles at Camden Yards on Wednesday, Seattle Mariners right fielder Eric Thames provided a literal "spark" with his effort. After colliding with a gate in the right field corner, a cascade of sparks were clearly produced off [...]
I'm Going to Disneyland! August 10-12 The Seattle Mariners finish up their road trip and hope to regain their dignity. Pitching match ups: Game 114: Mariners RH Felix Hernandez (10-5, 2.63 ERA) vs. Angels RH Ervin Santana (5-10, 5.83) Matchup | Preview Angels Felix has faced the former National League slugger Albert Pujols for 3 at bats and he has 2 hits a strike out and a...
This week in Mariner-land was a time of births, plane rides, and great baseball. A bunch of good stuff happened. The Mariners first faced the Blue Jays at home, and then flew to New York to face the Yankees for the second time in as many weeks. They faced their now friendly foe, Ichiro, who has gotten a hit for his Yankees in every game that he's started for them; this week he...
Hisashi Iwakuma took a four-hitter into the eighth inning, John Jason homered and the Seattle Mariners ended a five-game skid with a 7-4 victory over the Los Angeles Angels on Saturday night. Angels rookie phenom Mike Trout robbed Miguel Olivo of a two-run homer in the eighth inning, timing his leap perfectly at the fence in straightaway center field and throwing to first base to...
Mariners News

Delivered to your inbox

You'll also receive Yardbarker's daily Top 10, featuring the best sports stories from around the web. Customize your newsletter to get articles on your favorite sports and teams. And the best part? It's free!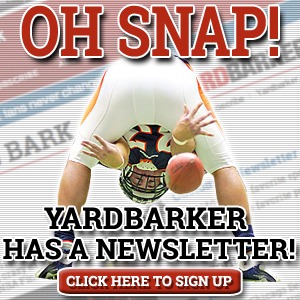 Latest Rumors
Best of Yardbarker

Today's Best Stuff

For Bloggers

Join the Yardbarker Network for more promotion, traffic, and money.

Company Info

Help

What is Yardbarker?

Yardbarker is the largest network of sports blogs and pro athlete blogs on the web. This site is the hub of the Yardbarker Network, where our editors and algorithms curate the best sports content from our network and beyond.