Found February 14, 2013 on NorthWest Sports Beat:
M's make headlines It's been a crazy week for the Mariners, and things reached an apex Wednesday. Here's the big headlines from Seattle's exciting day. Seattle finalizes deal with King Felix After some minor bumps in the road, the Seattle Mariners have finalized a contract extension with ace pitcher Felix Hernandez. It was originally reported early last week that the Mariners had agreed to extend Hernandez to a seven-year, $175 million contract extension that would take the place of his remaining two years with the M's. But, the two sides reached a hiccup, when it was reported that the Mariners had concern over Hernandez's pitching elbow. Despite the bump in the road, both sides were determined to get a deal done, and it has officially been finalized. As MLB Trade Rumors reported Wednesday, both sides have finalized the new deal. The outline remains the same—making Hernandez the most paid pitcher in MLB history. The only major changes is that now the deal has a full no trade clause, and if Hernandez misses significant time due to an elbow injury (120-130 days within a season) an eighth year that will pay King Felix $1 million gets tacked on. In a team released statement, general manager Jack Zduriencik said: "Felix is committed to this franchise, and to the city of Seattle, and is a key part of what we are building here. As we take necessary steps to reach the next level as a team, Felix will be a key component. We have had a plan since I arrived in Seattle: to build this organization to play at a championship level on a consistent basis. As I have said before, when we get to that level we will need, and want a pitcher, and a person, like Felix." Shawn Kelley is on his way to New York. (Photo: Getty Images) Despite the issues, it seemed inevitable that both sides would find some common ground. All-in-all a great move for everyone involved. Seattle trades Shawn Kelley to New York Overshadowed by the big Felix news today was that the Seattle Mariners and New York Yankees have completed a trade. As reported by MLB Trade Rumors, but sides completed a deal in which reliever Shawn Kelley will head to New York in return for prospect Abraham Almonte. Kelley put up a 3.25 ERA in 44.1 innings last season, but he was incredibly inconsistent. At one point the 28-year-old saw himself back at Triple A, where he pitched 20 innings. Almonte isn't a huge prospect, but he has an ability to play all outfield positions—where the M's lack depth. The 23-year-old owns a .340 OBP and 176 stolen bases in seven minor league seasons. He'll most likely start the season at Triple A, and could see time at the MLB level in the case of an injury or cup of coffee. CLICK HERE TO CHECK OUT THE MARINERS BLOG IN OUR CLUBHOUSE TODAY AT NWSB!
Original Story:
http://www.nwsportsbeat.com/mariners/...
THE BACKYARD
BEST OF MAXIM
RELATED ARTICLES
Photo: Christian Petersen/Getty Images The New York Yankees made their first roster move of the spring earlier tonight, announcing the acquisition of a new relief pitcher. The team has picked up RHP Shawn Kelley from the Seattle Mariners. The release from the team is below: The New York Yankees today announced they have acquired right-handed pitcher Shawn Kelley from the Seattle...
$175 Million. The Seattle Mariners walked through every door and jumped through every hoop that they had to.   By the end of last-minute elbow evaluations and the like, they ensured that their $175 million investment in pitcher Felix Hernandez was a wise one. On Wednesday both Hernandez and the team made the pact official and he is now the highest paid pitcher in the history...
Despite some snags in the recent days, the Seattle Mariners and SP Felix Hernandez have reached a deal on his new contract worth a reported $175 million dollars. The two parties will hold a news conference on Wednesday to announce the deal making Hernandez the highest paid pitcher in Major League Baseball. As originally reported last week, Hernandez's deal rolls the last two years...
The Yankees exiled 23-year-old OF Abraham Almonte to Seattle yesterday for pitcher Shawn Kelley, a 28-year-old bullpen cotter pin who been designated for assignment, leaving the Mariners near zero leverage in cutting another sweet Jesus deal. It's hard to spin these sub-atomic particle movements, which can only be seen through River Ave electron microscopes, or the Scranton Tribune...
An elbow "issue" was reportedly behind the delayed and ultimately adjusted agreement reached between the Seattle Mariners and right-hander Felix Hernandez. While this unknown ailment that was discovered during Hernandez's MRI following the initial agreement, the former Cy Young Award winner has now received a clean bill of health from team doctors, general manager Jack...
On Thursday, the Seattle Mariners and starting pitcher Felix Hernandez agreed to a seven-year, $175 million contract extension (an extension that is now in limbo due to issues with his physical). Well, NESN reported the extension this weekend as a one year, $175 million deal on their bottom line... which would be an all-time record in any sport. $175 million for one year? That'...
After hemming and hawing for a few days, the Seattle Mariners and ace right-hander Felix Hernandez have reportedly finalized the seven-year, $175 million contract the two sides essentially agreed to last week. Over the weekend it was reported that the deal was being held up because of concerns about the soundness of Hernandez's pitching elbow. The alleviate concerns about his arm...
Felix Hernandez has officially agreed to a record contract extension with the Mariners that will keep him in Seattle through (at least) the end of the 2019 season. We take a look at the face of the M's franchise.
Well Felix Hernandez can breathe a little easier now.  Not that he couldn't before, seeing that he had two years remaining on his current contract. As we reported over the weekend, Hernandez and the Mariners had agreed to the structure of a seven year $175 million contract making him the highest paid pitcher in MLB history.  Then reports surfaced that elbow issues that Hernandez...
Finalizing his record extension with the Mariners hit a bit of a snag, but Seattle and Felix Hernandez have made their new pact official, guaranteeing King Felix $175 million over the next seven seasons in the Pacific Northwest. It seems risky to lock up so much money to a starting pitcher, but it's clear that Mariners GM Jack Zduriencik wants to make his ace the centerpiece of...
The pitchers and catchers of the Seattle Mariners reported to sunny Arizona yesterday. Felix Hernandez was tweeting pictures of himself in cars and planes on his way to the 70 degree weather, and fans were going crazy. Not only is he showing up to begin a new season, he's beginning a new era - a 7-year era that comes after a Perfect Game (Felix got a contract extension until 2019...
In Seattle, all eyes are (justfiably) always on Felix Hernandez. He's one of the best pitchers in baseball, he's close to agreeing to a huge contract extension with the team, and he's the face of the franchise. There's also a lot of attention being placed on new acquisition Michael Morse, former top prospects Justin Smoak, Dustin Ackley, and Jesus Montero, and on...
MLB News

Delivered to your inbox

You'll also receive Yardbarker's daily Top 10, featuring the best sports stories from around the web. Customize your newsletter to get articles on your favorite sports and teams. And the best part? It's free!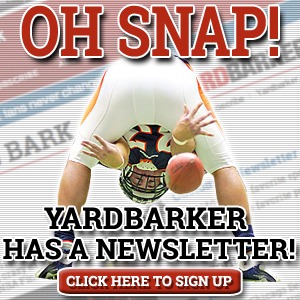 Latest Rumors
Best of Yardbarker

Today's Best Stuff

For Bloggers

Join the Yardbarker Network for more promotion, traffic, and money.

Company Info

Help

What is Yardbarker?

Yardbarker is the largest network of sports blogs and pro athlete blogs on the web. This site is the hub of the Yardbarker Network, where our editors and algorithms curate the best sports content from our network and beyond.