Found August 10, 2012 on NorthWest Sports Beat:
I'm Going to Disneyland! August 10-12 The Seattle Mariners finish up their road trip and hope to regain their dignity. Pitching match ups: Game 114: Mariners RH Felix Hernandez (10-5, 2.63 ERA) vs. Angels RH Ervin Santana (5-10, 5.83) Matchup | Preview Angels Felix has faced the former National League slugger Albert Pujols for 3 at bats and he has 2 hits a strike out and a home run.  Now that Felix is in his stride lets see who will win the celebrity death match.
Current Line: 10-5 / 2.63 ERA / 43 BB / 159 SO / 1.11 WHIP
Santana has only 1 win in his past 7 starts and this game against the Mariners may be the straw that breaks the camel's back if he loses.  His ERA against Seattle for the season is 10.24 with the biggest issue being the 13 walks he has issued in his 2 starts against their division rivals. Happy Felix Day!
Current Line: 5-10 / 5.83 ERA / 46 BB / 81 SO / 1.40 WHIP
Game 115: RHP – Hisashi Iwakuma vs. LHP – Dan Haren Iwakuma has transitioned to the starting rotation quite well, and although he got a bit knocked around against the Yankees, he has been showing some pretty quality stuff and could be surprising to the Angels.
Current line: 2-3 / 4.20 ERA / 30 BB / 54 SO / 1.41 WHIP.
Haren missed a start with a sore back, but he pitched on Sunday with seemingly no ill effects.  Haren has not allowed the Mariners to score a run against him so far this season, but instead has 14 strike outs.
Current Line: 8-8 / 4.44 ERA / 30 BB / 99 SO / 1.35 WHIP
Game 116:  LHP – Jason Vargas vs. RHP – Jared Weaver As has been typical in his career Vargas pitched well but received no run support in his last outing.  Hopefully he can inspire his team on to more against the Angels.
Current Line: 12-8 / 3.69 ERA / 42 BB / 102 SO / 1.14 WHIP
Weaver has been absolutely dominate this season, he has 9 wins in last 10 starts.  I wish I could say something good about the Mariners chances in this match-up, but I simply can't think of any. Behind Felix tonight the M's should be able to get off enough good swings against Santana
Current Line: 15-1 / 2.13  ERA / 27 BB /  101 SO / 0.92 WHIP
M's vs Angels Series Predictions Game 1: Felix has got this and the M's should be able to get off enough good swings against Santana to score enough runs for a win. Prediction:  Win (Mariners 5 – Angels 2) Game 2: This pitching match up is probably a bit more evenly matched than it first seems, the difference being that the Angels have difference makers in their batting order and the M's simply do not. Prediction: Loss (Mariners 2 – Angels 6) Game 3: My mom always said if I can't say something nice, I shouldn't say anything at all. Prediction: Loss (Mariners 0 – Angels 4) Notes Felix Hernandez is just 2-5 in 13 career starts at Angel Stadium. The Angels have won only two of their nine series since the All-Star break. Los Angeles has captured 21 of its last 27 home meetings with Seattle. CLICK HERE TO CHECK OUT THE SEATTLE MARINERS CLUBHOUSE AT NWSB! © Danny Ferguson for North West Sports Beat, 2012. | Permalink | No comment | Follow NWSB on Twitter or join US on Facebook for real-time updates OR... | Share This on Twitter | Share NWSportsBeat.com on Facebook Post tags: Albert Pujols, Dan Haren, Eric Wedge, Ervin Santana, Felix Hernandez, Hisashi Iwakuma, Jared Weaver, Jason Vargas, L.A., L.A. Angels, Mariners blog, Mariners Predictions, Mariners vs. Angels, MLB Series Preview, Seattle Mariners Blog, Seattle vs. L.A., Series picks, Stephen Pryor
Original Story:
http://www.nwsportsbeat.com/mariners/...
THE BACKYARD
BEST OF MAXIM
RELATED ARTICLES
The Seattle Mariners had a lot of confidence before departing on their most recent road trip.  They were on a season-high seven game winning streak after sweeps of the Kansas City Royals and Toronto Blue Jays at home.  Before going on the road, they had improved to 50-57, their best mark since they went to 27-33 after their combined no-hitter over the Los Angeles Dodgers.  However...
This really looks like it hurt the fence. Seattle Mariners outfielder Eric Thames collided with a metal garage door in the outfield fence during Wednesday night's game at Camden Yards against the Baltimore Orioles. Here's the video. Video courtesy MLB.com.
Your browser does not support iframes. Who would have ever imagined baseball cleats could be a fire hazard? All I can say is Eric Thames is lucky there was no gasoline or dry grass under his feet during the third inning Wednesday night, otherwise he may have had to stop, drop and roll. Thames went into the right field corner to chase a foul ball during a game against the the Orioles...
The August 9th, 2012 edition of daily news for the Los Angeles ...
This week in Mariner-land was a time of births, plane rides, and great baseball. A bunch of good stuff happened. The Mariners first faced the Blue Jays at home, and then flew to New York to face the Yankees for the second time in as many weeks. They faced their now friendly foe, Ichiro, who has gotten a hit for his Yankees in every game that he's started for them; this week he...
For most of the season's first four months, outfielder Mark Trumbo was the Angels' most consistent offensive producer. But the young slugger has slipped into a deep slump recently. With an 0-for-4 in Friday's 6-5 win over the Mariners, Trumbo has just six hits in his past 43 at-bats and is batting .200 (16-for-80) over 21 games since July 18. The slump has dragged...
The Los Angeles Angels might be in trouble if Ervin Santana can't go deep into the game. With Felix Hernandez set to take the mound, the Seattle Mariners' bullpen might get another night off. Los Angeles, which hasn't scored in 23 straight innings at home, will try to rebound from a rough road trip when it faces a red-hot Hernandez on Friday night. With LaTroy Hawkins...
It's no secret that newly-acquired Angels' pitcher Zack Greinke throws pretty hard.  If you're looking for first hand evidence of the power behind Greinke's fastball, just ask umpire Bill Miller.  Miller called Wednesday's game between the Angels and A's from behind the plate. In the first inning, Greinke and Angels' catcher Chris Iannetta got crossed up on signals...
I know that I'm supposed to be an objective reporter of the games I cover. I'm supposed to assess the situation rationally and try to take the fanatic aspect of my recaps. SCREW THAT...I'm freaking out over here. What the hell is going on with this team? Can someone please explain how a collection of highly paid ballplayers can deliver such a heaping pile of dung on...
Rookie sensation Mike Trout tied a career high with five RBIs, including a three-run homer and a rare two-run sacrifice fly, and pinch-runner Peter Bourjos scored on a wild pitch in the ninth inning to give the Los Angeles Angels a 6-5 victory over the Seattle Mariners on Friday night. Kendrys Morales led off the ninth against Josh Kinney (0-2) with his second double of the game...
Coming off of a tough, but ultimately successful series against the hard-hitting Los Angeles Angels, the Oakland A's take on another steep challenge in the form of the powerful Chicago White Sox. Can the A's pitchers limit the homer-happy Sox or will they succumb to the hitter-friendly US Cellular Field? Chris Biderman previews the series.
MLB News

Delivered to your inbox

You'll also receive Yardbarker's daily Top 10, featuring the best sports stories from around the web. Customize your newsletter to get articles on your favorite sports and teams. And the best part? It's free!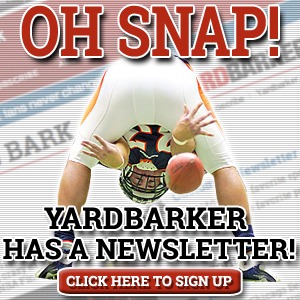 Latest Rumors
Best of Yardbarker

Today's Best Stuff

For Bloggers

Join the Yardbarker Network for more promotion, traffic, and money.

Company Info

Help

What is Yardbarker?

Yardbarker is the largest network of sports blogs and pro athlete blogs on the web. This site is the hub of the Yardbarker Network, where our editors and algorithms curate the best sports content from our network and beyond.