Found May 01, 2012 on NorthWest Sports Beat:
Tampa's Pitching Reigns Supreme The Headline: in a pitcher's duel to the end, the Seattle Mariners Brandon League lets the game slip away in the 12th.
Seattle Mariners 2, Tampa Bay Rays 3
When: 7:10 ET, Monday, April 30, 2012
Where: Tropicana Field, Tampa Bay
Temperature: Indoors
Umpires: Home — Alan Porter, 1B — Ron Kulpa, 2B — Jim Wolf, 3B — Derryl Cousins
Attendance: 9,458
Love 'em 1. Middle of the Order Clout
Despite the loss and low score, the middle of the order did their best job tonight trying to keep Seattle in this one.
Tonight, the three through seven hitters went a combined 9-24. Those hits brought in the games 2 RBI, one of which was Jesus Montero's 11th inning blast. 2. Basepaths Shutdown Tampa Bay is one of the MLB's best running teams, and Seattle has had a tough time shutting down runners this season. Tonight the Rays only nabbed one bag, but Olivo did catch Longoria in the act and finished the night without any errors. 3. Olivo Staying Hot Miguel Olivo had a slow start to the season, but it seems things are finally turning around for the Ms backstop. Olivo finished tonight 2-4 with a home run. On that note he is now hitting .310 over his last 7-games, including 3 home runs and 4 RBI. Hate 'em 1. Woeful Figgins Chone Figgins started the season off so well, but has been in a bad slump lately. The Marinersleadoff man is hitting a pathetic .138 over his last 10 games. In that time he has 1 stolen base, 3 walks, and 12 strikeouts. Not exactly what you hope for from your table setter. Miguel Olivo left in the ninth with a right groin strain...He will be going on the disabled list with what he called a significent injury. Things continued for Figgy tonight. He finished the game 0-6 with 2 Ks. 2. Imperfect League Brandon League has been solid all season long, and the Mariners bullpen has certainly needed it. Things didn't go over so well for the closer tonight. League pitched 1.1 innings tonight, giving up 2 runs on 4 hits. The first run kept Tampa Bay in the game — after Seattle went up 2-1 in the 11th — while the second ended up representing the winning run for the Rays in the 12th. Those runs rose his ERA to 2.77 on the season, while rewarding League with his 2nd loss of the season. 3. Pity for the King This game was a true pitchers duel, and it's tough to see Felix Hernandez get a no decision. The King went 8 strong, giving up 1 run and striking out 9 on 106 pitches.
Here's the BOXSCORE | and Our Managing Editor "Q" has his RECAP
NoteBook Evan Longoria appeared to injure himself when he was thrown out attempting to steal second base.
After sliding awkwardly and catching his foot on Seattle shortstop Brendan Ryan's cleat, he walked back to the dugout with a slight limp.
League's blown save was his second in eight opportunities in 2012. … Mariners starter Felix Hernandez has 76 strikeouts in 75 career innings against the Rays. CLICK HERE TO CHECK OUT THE MARINERS BLOG IN OUR CLUBHOUSE TODAY AT NWSB! © Jonathan Irwin for North West Sports Beat, 2012. | Permalink | No comment | Follow NWSB on Twitter or join US on Facebook for real-time updates OR... | Share This on Twitter | Share NWSportsBeat.com on Facebook Post tags: boxscore, Game 1, Game One, Love Em Hate Em, Mariners post game, Mariners vs. Rays, Matchup, MLB, MLB recap, Recap, Rogers Centre, Seattle Mariners, Seattle Mariners blogs, Seattle vs. Tampa Bay, Stats, Tampa Bay, Tampa Bay Rays
Original Story:
http://www.nwsportsbeat.com/mariners/...
THE BACKYARD
BEST OF MAXIM
RELATED ARTICLES
Hot News for C Miguel Olivo
Tampa Bay Rays third baseman Evan Longoria is headed to the disabled list with a partial tear of his left hamstring. The three-time All-Star is expected to be out of action for four to eight weeks, the team said Tuesday. Longoria was pulled from the Rays' lineup in the third inning Monday night against Seattle after getting thrown out trying to steal second. He complained of...
Whoever came up with Milton Bradley's tag line for Gator Golf clearly never dealt with a real life alligator. If you ask 75-year-old Albert Miller, he'll tell you a lot of things are greater than golf with a gator. That's because he was bitten and dragged into a pond by a 9-foot alligator while playing golf last week, according to The Ledger. "You'll never get...
Tim Beckham, the No. 1 overall pick in the 2008 MLB draft and the Tampa Bay Rays top prospect has been suspended 50 games after failing the minor league drug program for a second time. Beckham was hitting .204 in 13 games for the Rays' Triple A team, Durham.  Beckham released a statement through the Rays: "I regret that my poor judgment resulted in me letting my teammates...
The Rays were being optimistic after Evan Longoria hurt his leg last night, but tonight, the mood is much less upbeat in Tampa Bay.   #Rays say Longoria has partial tear of left hamstring. Out 6-8 weeks. — Marc Topkin (@TBTimes_Rays) May 1, 2012   This is absolutely not what the doctor ordered for the Rays. Longoria had played in all 23 of the Rays games so far, and...
Tampa Bay Rays minor-league shortstop Tim Beckham has been suspended for 50 games for a second violation of the Minor League Drug Prevention and Treatment Program for a drug of abuse, Major League Baseball announced Tuesday. Beckham, 22, is currently on the roster of the Triple-A Durham Bulls of the International League. He is hitting .204 with no homers for Durham this season...
ST. PETERSBURG So now what? Just when everything seemed to be clicking on all cylinders for the Tampa Bay Rays, the monkey-wrench-in-the-engine news hit late Tuesday afternoon: Evan Longoria is out for six-to-eight weeks with a partial tear in his left hamstring. One moment he was sprinting toward second on an attempted steal Monday night, the next he was standing outside the...
TAMPA BAY- The Rays just brought age and wisdom to their lineup with the announcement that they have inked Hideki Matsui to a minor league contract. Please click the link below to read the rest of this article and watch a touching video that documents Matsui's struggle.
Tampa Bay Rays shortstop prospect Tim Beckham, the #1 overall pick in the 2008 draft, was suspended for 50 games today for violating the minor league substance abuse policy, as tweeted by the official MiLB account. Former No. 1 overall pick Tim Beckham of Tampa suspended 50 games for drug of abuse -- second violation. More to come. — MiLB.com (@MinorLeagues) May 1, 2012 ...
The Tampa Bay Rays worst fears regarding 3B Evan Longoria were realized on Tuesday when the team learned that the club would be with 3B Evan Longoria up to eight weeks. An MRI revealed that Longoria suffered a partial tear of his left hamstring after taking an awkward slide into second base on Monday night. The team has decided that they will platoon various players...
David Price beat Texas for the first time in 10 career starts and the Tampa Bay Rays won 5-2 Sunday night, becoming the first team to take a series from the Rangers this season. Ben Zobrist had three hits and an RBI and Price earned his fourth victory in five starts. Tampa Bay touched up starter Derek Holland (2-2) for five extra-base hits in a nine-hit outburst. Price (4-1) struck...
Following a brief road trip, the Tampa Bay Rays get the chance to add to the best home record in the majors. Another superb start from Jeremy Hellickson at Tropicana Field might help, but he'll have to outperform Seattle Mariners ace Felix Hernandez to win a third straight start in Monday night's four-game series opener. Playing its only road series in a span of more than...
MLB News

Delivered to your inbox

You'll also receive Yardbarker's daily Top 10, featuring the best sports stories from around the web. Customize your newsletter to get articles on your favorite sports and teams. And the best part? It's free!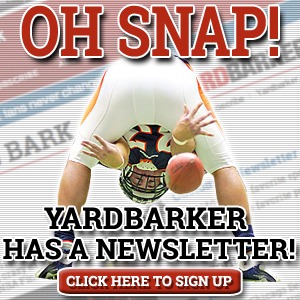 Latest Rumors
Best of Yardbarker

Today's Best Stuff

For Bloggers

Join the Yardbarker Network for more promotion, traffic, and money.

Company Info

Help

What is Yardbarker?

Yardbarker is the largest network of sports blogs and pro athlete blogs on the web. This site is the hub of the Yardbarker Network, where our editors and algorithms curate the best sports content from our network and beyond.