Found January 20, 2013 on Waiting For Next Year:
My uncle stumbled across this article yesterday on Baseball Prospectus, and I was in absolute disbelief when he sent it to me. The article, written by Sam Miller at BP, hypothesizes that newly signed Tribe corner infielder Mark Reynolds has a significant (diagnosed or not) vision impairment. "As a pop-up lands at the edge of the infield dirt, he walks directly away from it, with his head down, toward the dugout. Then, as if dazed, he turns and walks back to where his teammates are. It is undoubtedly a challenge to pass as a person with sight, a challenge that requires nearly constant focus and attention to the other senses. In this small moment, Reynolds likely becomes disoriented by the fans screaming increasingly loudly at the fielders attempting to catch the pop-up, and his focus lapses. Struggling to locate his position in the cacophony, he loses his direction. Once the catch is made, the crowd quiets and he again hears his teammates' chatter, and he turns to join them.  Do the people around Reynolds know about his handicap? The motion by the umpire, Adrian Johnson, suggests that any conspiracy that might exist doesn't extend to the umpires. "Over there," he tells Reynolds, with a point. If he knew that Reynolds can't see, Johnson probably wouldn't have pointed.   Unless that's just part of the deception.  Unless Adrian Johnson is in on it by appearing to be not in on it. "   The article goes on to show .gif evidence of hit by pitches, horrific strikeouts, busted fly balls, and running into non-moving objects in the field of play (like umpires and walls) that suggest there has to be something to this.  Remember when Jhonny Peralta vastly improved after he admitted he was having trouble seeing the ball and had laser eye surgery? Anthony Castrovince back in 2007 at Indians.com has the details.   "I could feel it for myself," Peralta said Tuesday. "I didn't see the ball very good and, when I was playing shortstop, I couldn't see the signs at home plate. I knew I had a problem with my eyes." Peralta was right. He had been diagnosed with myopia (near-sightedness) earlier in the year, but he opted not to wear the contacts given to him, because he didn't like the way they felt in his eyes. For the last two weeks of the season, however, he began wearing the lenses, and his performance at that tail end of a difficult year drew praise from manager Eric Wedge. It's too soon to tell whether Peralta's improvement was a direct result of the vision correction or just the lessons of a long '06 season finally sinking in. But Peralta, taking no chances, had LASIK surgery performed on his eyes in December to have them permanently corrected." If true, this is certainly a troubling development that we'll have to monitor all season as Reynolds mans first base and hits near the middle of the Tribe lineup. Related: How Improved Are The 2013 Indians?
Original Story:
http://www.waitingfornextyear.com/201...
THE BACKYARD
BEST OF MAXIM
RELATED ARTICLES
The IBI's 2013 Indians Top 60 Prospect countdown continues on with right-handed reliever Rob Bryson. So far the IBI listing has been a run of interest right-handed pitchers, and Bryson is another in a long line of good right-handed relief prospects in the system. He continues to perform each year with impressive strikeout totals, and Tony goes in depth with a detailed report...
On one of the first podcasts that I did with Craig I was trying to explain why I thought the Indians simply had to trade Chris Perez before the 2013 season started. "You DO NOT spend one-tenth of your payroll on a pitcher who might throw 60 innings," I argued.  "If we keep Perez, there is a chance he will be our highest paid player.  There is just no reason to allow that...
Welcome to this week's edition of the IBI Power Poll. The Poll will take a look at a relevant topic of the time, an all-time list, or just something that we're talking about here at the IBI home offices. There's nothing like a list to spur a debate, so join us in our lively banter with our weekly polls! Today's poll focuses on the best Indians' third baseman of...
What a great Indians weekend as the widely popular Tribe Fest was jam packed on Saturday and is expected to have big crowds again today. On the news front, it was a slow week for the Indians other than a few players being named to World Baseball Classic rosters and several arbitration eligible players having their 2013 contracts finalized. Tony discusses the arbitration deals and...
Paolo Espino had another outstanding start in the Winter League, striking out eight in seven innings of five-hit baseball. While he's not considered a top prospect, he certainly can turn heads with outstanding starts. Quincy Latimore continued his hit streak in Australia, while Asdrubal Cabrera is slumping in the Caribbean. Join Jim Pete with another weekend edition of ATF.
The Winter Leagues are heading towards the end game, and several Indians prospects and players remain active down the stretch. Rob Bryson made an appearance on Saturday night looking to continue his scoreless innings streak, along with Paredes, Carrera and Cabrera in the Caribbean leagues, while Quincy Latimore continued to heat things up down under, along with Andrew Campbell. Jim...
It was an eventful night in the winter leagues on Friday as both the Dominican and Puerto Rican League Championship Series began. Roberto Perez and Delvi Cid were among the Indians in action, plus Andrew Campbell and Quincy Latimore continue to impress in the Australian Baseball League. The IBI's Steve Orbanek recaps all the action as he takes you Around the Farm.
Jordan Bastian at Indians.com informs us that the Indians are close to agreeing to terms with former Tiger utility man Ryan Raburn on a minor league contract that includes an invitation to Spring Training. Raburn, 31, struggled mightily last season, posting a .171/.226/.254 split with 1 homer and 12 RBI in 66 games. Prior to that, the right-handed hitter had a string of success as...
He also updated his Twitter profile. He's just 25-years-old and has only played in 9 games for the Indians last season, hitting .207/.250/.261 with 2 RBI in 24 plate appearances.
Ryan Raburn has a long run with the Detroit Tigers.  He spent seven seasons with the Tigers before eventually being released after the 2012 season.  He didn't have to wait long before potentially finding his new home.  The Cleveland Indians are reportedly close to finalizing a deal with Raburn. Jordan Bastian of MLB.com says the Indians plan to sign Raburn to a minor league...
Here's video of former Boston Red Sox skipper Terry Francona talking with ESPN's Jeremy Schaap about his upcoming book. Follow Ian on Twitter @soxanddawgs. And be sure to like us on Facebook as well.
The IBI Digest catches you up on anything you might have missed over the past week at Indians Baseball Insider and also notes some of the more popular columns posted at the major news sites and blogs.
MLB News

Delivered to your inbox

You'll also receive Yardbarker's daily Top 10, featuring the best sports stories from around the web. Customize your newsletter to get articles on your favorite sports and teams. And the best part? It's free!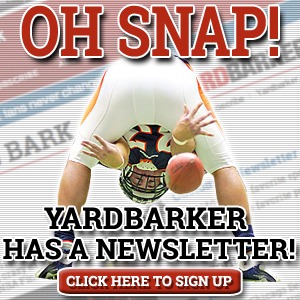 Latest Rumors
Best of Yardbarker

Today's Best Stuff

For Bloggers

Join the Yardbarker Network for more promotion, traffic, and money.

Company Info

Help

What is Yardbarker?

Yardbarker is the largest network of sports blogs and pro athlete blogs on the web. This site is the hub of the Yardbarker Network, where our editors and algorithms curate the best sports content from our network and beyond.