Found March 23, 2013 on Fox Sports Ohio:
GOODYEAR, Ariz. -- Mark Reynolds shrugged it off as just another spring training at-bat. But his manager wasn't shrugging off anything. "It was fun to watch," Terry Francona said Saturday before the Cleveland Indians headed to Peoria to play Seattle. "I'll take that anytime." As in, anytime is a good time to hit a 500-foot home run that cleared a scoreboard of unspecified dimensions in left field. Reynolds took a high fast-ball on a 1-0 count and drove it over the scoreboard in left. Exact distance of the blast was not available, but the scoreboard starts 25 feet above field level, at the top of the hill in the outfield built for spectators. It then goes up perhaps 40 feet. Reynolds' home run -- dare it be called a prodigious blast -- easily cleared the right side of the scoreboard. The team's official web site called it a "moonshot." Nick Swisher called it a "freaking bomb." Vinnie Pestano posted to Twitter: "That's not gonna get old at any point this year reynolds." And Francona said simply: "He took a gorgeous swing." Reynolds never saw the ball, never saw it land. Told it cleared the scoreboard, he merely said: "That's what I heard." He was happy his three-year-old son Jacob was in the crowd to see it. And he smiled when his son told him after the game "You hit it and nobody caught it." "I run into them every now and then," he said. "You know my game." His game is pretty self-explanatory. And it almost seems as if Reynolds hits a home run or he strikes out. Reynolds has averaged 33 home runs the last five seasons, two with Baltimore and three with Arizona. But he's also averaged 199 strikeouts in those seasons -- leading the league four times. But he walks a lot, and gets on base (career .332), which combined with his home runs puts his OPS often above .800 (which is good) and usually above .750 (which is better than average). So the Indians will live with the strikeouts, because Reynolds with any at-bat can change the game. "The dude can hit a baseball a mile," Swisher said. "It's nice to have him in our lineup." Francona said he won't try to change Reynolds because that's the kind of hitter he is. He told the story of a leadoff hitter he had who rarely walked but got 200 hits. When he tried to get more walks, he dropped to about 150 hits. "The hope is there's production there (with Reynolds)," Francona said. "Because there's going to be strikeouts. But I don't think you try to mess with changing him. Because that's not who he is." Francona said the idea is to use a player's strengths, and Reynolds' are his power and his ability to get on base. "We don't want him to turn into a No. 2 hitter," Francona said. "But when his approach is to cover the whole field he can do what he did (Friday), where he's on balance and he can backspin the ball and hit it 500 feet." Five hundred feet was a fair estimate of the home run. Reynolds quipped that it was nice to hit one against the team where he started playing and off Dave Hernandez, the guy Arizona acquired when it traded him to Baltimore. The pitch Hernandez threw was 96 miles per hour. "He missed earlier in the game at a 92," Francona said. "And then he it a 96 a mile. He's geared for that for sure." "You don't feel it," Reynolds said. "Normally eight times out of 10 you'll hit a ball and it will hurt your hands. You get a couple swings here and there where you don't feel it. It feels good to know that you're on time with somebody throwing 96, 97." Reynolds is not a loud guy, but he has a dry sense of humor. The Indians added him to a one-year, 6 million contract in the offseason after Baltimore did not pick up his option after he had hit 66 home runs for the Orioles in two seasons. "I was kind of surprised," Reynolds said. Francona reached out to Reynolds personally. He's the kind of power bat that the team has not had the past couple years. Reynolds was actually the first to agree to terms in the Indians offseason binge, but he signed a day after Swisher. "Everybody followed me here," he quipped. He said he's a notoriously slow starter, but he's hitting .350 with three home runs this spring. He didn't even stop to watch the biggest one. "Nah," he said. "Just run. Maybe if it was to win the game or something. But in a spring training game, down 7-3 "
Original Story:
http://www.foxsportsohio.com/mlb/clev...
THE BACKYARD
BEST OF MAXIM
RELATED ARTICLES
INTO ORBIT
Your browser does not support iframes.New Cleveland Indians slugger Mark Reynolds put his tremendous power on full display Friday night at Goodyear Ballpark against the Arizona Diamondbacks.With two outs and a man on board during the bottom of the sixth inning, Reynolds proceeds to absolutely unload on a 1-0 offering from D'backspitcher David Hernandez, lifting the ball high...
On Friday, we posted a spectacular video of Justin Upton launching a homer over the scoreboard at Champion Stadium in Orlando. Well, last night in Goodyear, Arizona, Mark Reynolds of the Indians showed the world that he can do it too. In the sixth inning of the Indians-Diamondbacks game on Friday night, Reynolds took a belt-high fastball from Arizona reliever David Hernandez and...
The Cleveland Indians have released right-handed pitcher Daisuke Matsuzaka. By releasing Matsuzaka the Indians can avoid paying him a $100,000 bonus. Matsuzaka was reunited with former Red Sox manager Terry Francona in Cleveland but dealt with cramping in his right calf. He was told last week th......
According to Paul Hoynes of the Cleveland Plain Dealer, Asdrubal Cabrera injured a muscle in his back in the batting cage this morning and was subsequently scratched from the lineup for Sunday afternoon's game against the Chicago Cubs.  Manager Terry Francona indicated that Cabrera would be out of the lineup both Sunday and Monday, but given that back injuries often linger, there...
Spring Training is finally on its final leg and the MLB season begins for the Cleveland Indians in just nine short days. It certainly has been an exciting offseason, for once, in Cleveland, so Opening Day at Progressive Field another six days later should be a delight. In typical Sunday fashion, I'll break down a handful of items that have been on my mind recently when it comes...
The bats were as scorching hot as the Arizona sun Saturday in Peoria as the Indians and Mariners combined for 15 runs off 34 hits with the Tribe doubling up Seattle 10-5. Scott Kazmir struggled for the first time in Cactus League play this spring, but isn't expected to lose much ground in the race for the fifth starting rotation spot, which is expected to be decided between him...
LINEUP Bourn -  CF (Carrera) Aviles - SS (played whole game, later moved to LF) Kipnis - 2B (Raburn) Swisher - 1B (McGuiness) Brantley - LF (Hernandez - SS) Santana - C (Jeroloman) Reynolds - DH (Gomes) Chisenhall - 3B (Antonelli, Phelps - PH in 9th only, did not take field) Stubbs - RF (Holt) PITCHERS Jimenez - 7+ IP Allen - 1 IP Shaw - 1 IP The story of the day was clearly Ubaldo...
When we go to any baseball game, we want to be entertained by the action. Sports is entertainment, after all. What makes a day at the ballpark even more memorable, however, is when you come away from a game impressed by what you saw. Players can impress with one standout tool, like a power hitter or a power pitcher. They can also impress with their well-rounded five-tool game. No...
  Scott Kazmir's comeback with the Indians has been one of the feel-good stories of the spring. But whether the veteran left-hander's Cactus League success will translate to major-league performance remains to be seen.   One scout who saw two of Kazmir's recent starts expressed skepticism, saying that the pitcher is not throwing his breaking ball for strikes and that his...
Scott Kazmir gave up 13 hits over five innings while trying to earn a spot in the Cleveland rotation, and the Indians beat the Seattle Mariners 10-5. Kazmir gave up five runs, struck out five and walked none. Jason Giambi and Cord Phelps homered for Cleveland. Raul Ibanez homered and drove in three runs for the Mariners. Seattle starter Blake Beavan allowed nine runs and 16 hits...
While We're Waiting serves as the early morning gathering of WFNY-esque information for your viewing pleasure. Have something you think we should see? Send it to our tips email at tips@waitingfornextyear.com. 20 years ago yesterday. Nice story from our friends at DTTWBL: "Whenever a loved one is lost, the memory of that moment seems endless. It's hard to believe that it was...
On to the teams I have in the playoffs for the 2013 season. Since we are now talking wild card, the last spot should come down to the last week of the season with teams like the Mariners, Rangers and Orioles being in it until the end. The Indians fill the bill of the team that had much more talent on it than it showed on the field. I thought the Indians were a little overrated coming...
Indians News

Delivered to your inbox

You'll also receive Yardbarker's daily Top 10, featuring the best sports stories from around the web. Customize your newsletter to get articles on your favorite sports and teams. And the best part? It's free!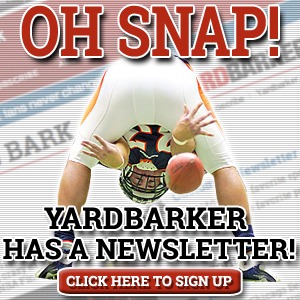 Latest Rumors
The Backyard

Today's Best Stuff

For Bloggers

Join the Yardbarker Network for more promotion, traffic, and money.

Company Info

Help

What is Yardbarker?

Yardbarker is the largest network of sports blogs and pro athlete blogs on the web. This site is the hub of the Yardbarker Network, where our editors and algorithms curate the best sports content from our network and beyond.