Posted May 06, 2012 on AP on Fox
A week ago, the Miami Marlins were considered one of the biggest disappointments in baseball. Now, they're one of the hottest teams and on the brink of their longest single-season road winning streak in almost eight years. The Marlins look for a seventh straight win as they arrive for the last stop of their nine-game trip Monday night against Wandy Rodriguez and the Houston Astros. Miami (14-14) was reeling last Monday with eight losses in nine games, as the club was struggling to live up to its lofty expectations after spending big in free agency and bringing in former White Sox manager Ozzie Guillen. It's only taken a week for that to begin changing. The Marlins have won the first six games of this trip after beating San Diego 6-3 on Sunday. Giancarlo Stanton drew a bases-loaded walk to force in the go-ahead run in a four-run eighth inning. "From where we came from, we are actually catching a lot of breaks," Guillen said. Miami last won seven in a row as the visitor bridging 2008 and '09, but hasn't put together a streak that long during a single season since Aug. 21-Sept. 10, 2004. Matching those streaks might not be easy with Rodriguez (3-2, 1.64 ERA) on the hill. Rodriguez is 3-0 with a 1.64 ERA in five starts against the Marlins at Minute Maid Park since they beat him there Sept. 13, 2005. Miami missed the left-hander while taking two of three at home April 13-15. He's allowed four total runs over his last four starts and has won each of his past three. Rodriguez - who won a career-high four straight starts from July 2-21, 2009 - yielded one run and six hits in seven innings of an 8-1 win over New York at Minute Maid on Wednesday. While the Marlins are putting their disappointing first month behind them, the Astros (13-15) are trying to keep a surprising start going. Their season-high five-game winning streak was halted with Sunday's 8-1 loss to St. Louis, but Houston has shown some major improvement after going 56-106 last season to set a club record for futility. Even after Sunday, only the Cardinals and Braves have better run differentials in the NL than the Astros (plus-14). "I think we need to focus on what we need to do (Monday) and keep going from there," manager Brad Mills told the team's official website. "We can't let too many things out of our control get too far ahead of us. These guys have done a good job of doing that, keeping their focus on the now." Jose Altuve is hitting a team-high .352, and he went 4 for 9 with two doubles and two RBIs in the last two meetings with the Marlins. Carlos Zambrano (0-2, 2.53) could use some more help from his teammates in order to end his longest win drought to start a season since going seven in 2006 with the Chicago Cubs. The right-hander has allowed three runs or fewer in each of his last four starts, getting charged with losses in two of them while getting no supporting runs. He didn't need much help Wednesday, as he tossed seven scoreless innings in San Francisco before closer Heath Bell couldn't hold the lead for a third time in one of Zambrano's starts. The Marlins won 3-2 in 10. "I feel that I'm a new Carlos Zambrano," he said. "The old Carlos Zambrano would be throwing his chair and screaming at his teammate." Zambrano is 4-1 with a 2.75 ERA in his last six starts away from home against the Astros, including his Sept. 14, 2008, no-hitter that was moved from Minute Maid to Milwaukee's Miller Park due to Hurricane Ike.
Original Story:
http://msn.foxsports.com/mlb/story/Ma...
THE BACKYARD
BEST OF MAXIM
RELATED ARTICLES
BLIZZARD OF OZZ
A follow-up question about the Fidel Castro incident set off the Marlins manager, causing him to do what he does best: curse up a storm.
Well, it didn't take long for Ozzie Guillen to return to the Ozzie Guillen of old. We hadn't heard much from Guillen, other than an apology, since being suspended for his Fidel Castro comments. So it actually could be argued that Guillen has finally gotten it. But just as you begin to think that we may be seeing a new and improved Ozzie Guillen, the same old Ozzie Guillen rears...
Last month, Miami Marlins manager Ozzie Guillen found himself at the center of an intense controversy in his new place of work when he told Time Magazine, "I love Fidel Castro."  A firestorm ensued and there was a time we wondered whether or not Ozzie would be able to keep his job.  There are still likely many fans of the team and residents of Miami that would like...
After the incredibly insensitive remarks he made about Fidel Castro about a month ago, many of us wondered if we would see a more reserved Ozzie Guillen going forward. The blogosphere hoped we would not. While we certainly do not condone what he said about Castro, we love the way Guillen always speaks his mind and has a tendency to fly off the handle. Is he still going to do that...
So it seems Ozzie Guillen is finished being quiet about the Fidel Castro fiasco and will take out his anger on Houston sports radio hosts. Up first, Paul Gallant. This bro had the balls to ask Ozzie if the firestorm back in Miami had settled down. Pretty straightforward question and seemed innocent enough. A simple, "Yeah, you know, I think things are much better. Now we just...
Marlins PR Guy – "Okay, Mr. Guillen. Now if they ask you any questions about the Castro comments – just say, "No comment." Can you do that for me, Mr. Guillen?" Ozzie Guillen – "Oh **** You. Grow up, ************." Marlins PR Guy – "Well, as long as you don't say that we should be alright."
Tune into FOX Sports Florida at 7:30 p.m. to watch the Miami Marlins take on the Houston Astros. A week ago, the Miami Marlins were considered one of the biggest disappointments in baseball. Now, they're one of the hottest teams and on the brink of their longest single-season road winning streak in almost eight years. The Marlins look for a seventh straight win as they arrive...
The Monday Takeaway When the Marlins embarked on their nine-game road trip to San Francisco, San Diego, and Houston, manager Ozzie Guillen's team was a disappointing 7-15. Seven games in, Miami has improved to 14-15, going from an early afterthought to within 3 ½ games of the division-leading Nationals. Here are the Marlins' runs allowed totals during this road trip: 1...
SAN DIEGO (AP) -- Ozzie Guillen hardly had the look of a manager whose team had just won its season-best fourth straight game. From winless ace Josh Johnson to struggling closer Heath Bell, the Miami Marlins have major issues. "There's a lot going on," Guillen said. "We have a lot of concerns." Still, after blowing an early five-run lead, Miami managed...
SAN DIEGO (AP) -- For one night, Miami Marlins manager Ozzie Guillen found someone to close out a win for his team. Mark Buehrle threw a complete-game five-hitter to lead Miami to a 4-1 win over the San Diego Padres on Saturday and its season-high five consecutive win. Earlier in the day, Guillen demoted struggling closer Heath Bell, who has four blown saves this season. Bell is...
SAN DIEGO (AP) -- One day after Heath Bell blew a save for the fourth time this season, the Miami Marlins demoted him from the closer role. Manager Ozzie Guillen, who hinted at the move in recent days, said Saturday he couldn't wait any longer for the struggling Bell to correct his problems. "Right now, we are going through a tough time," Guillen said. "It happens...
We hear from managers all the time about how they are "hired to be fired." Well, we're still early in the 2012 season but here are a half-dozen who already have earned a pink slip and a free pass out of town. Ozzie Guillen is a head-case.  He has been a one his entire career. Combine that with his pro-Castro rant coupled with his penchant for being a loose cannon and his team...
MLB News

Delivered to your inbox

You'll also receive Yardbarker's daily Top 10, featuring the best sports stories from around the web. Customize your newsletter to get articles on your favorite sports and teams. And the best part? It's free!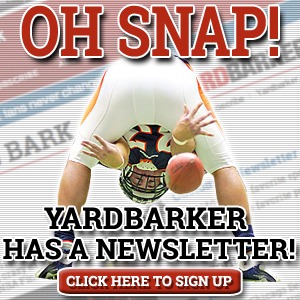 Latest Rumors
The Backyard

Today's Best Stuff

For Bloggers

Join the Yardbarker Network for more promotion, traffic, and money.

Company Info

Help

What is Yardbarker?

Yardbarker is the largest network of sports blogs and pro athlete blogs on the web. This site is the hub of the Yardbarker Network, where our editors and algorithms curate the best sports content from our network and beyond.