Found November 19, 2012 on Fox Sports Florida:
PLAYERS:
Jose Reyes
,
Mark Buehrle
,
Josh Johnson
,
John Buck
,
Emilio Bonifacio
,
Yuniel Escobar
,
Adeiny Hechavarria
,
Henderson Alvarez
,
Jeff Mathis
,
Bud Selig
,
Hanley Ramirez
,
Omar Infante
,
Anibal Sanchez
,
Heath Bell
TEAMS:
Miami Marlins
,
Toronto Blue Jays
,
Los Angeles Dodgers
,
Detroit Tigers
,
Arizona Diamondbacks
MIAMI (AP) -- The Miami Marlins finalized their big salary dumping trade that sends All-Star shortstop Jose Reyes to the Toronto Blue Jays with pitchers Mark Buehrle and Josh Johnson, catcher John Buck and outfielder Emilio Bonifacio for seven relatively low-priced players. Miami received infielders Yunel Escobar and Adeiny Hechavarria, pitchers Henderson Alvarez, Anthony DeSclafani and Justin Nicolino, catcher Jeff Mathis and outfielder Jake Marisnick under the deal, which was agreed to last week and completed Monday. The Marlins also are sending Toronto cash. The trade was finalized after baseball Commissioner Bud Selig decided not to block it. "This transaction, involving established major leaguers and highly regarded young players and prospects, represents the exercise of plausible baseball judgment on the part of both clubs (and) does not violate any express rule of Major League Baseball and does not otherwise warrant the exercise of any of my powers to prevent its completion," Selig said in a statement. "It is, of course, up to the clubs involved to make the case to their respective fans that this transaction makes sense and enhances the competitive position of each, now or in the future." The players traded by the Marlins have combined guaranteed salaries of 163.75 million through 2018, including 96 million due Reyes. The net coming off the Marlins' books is 154 million, which does not account for the cash involved in the trade. Since flopping during the first half of their first season at their new ballpark, the Marlins also have traded former NL batting champion Hanley Ramirez, second baseman Omar Infante, right-hander Anibal Sanchez and closer Heath Bell. The Marlins have been criticized for jettisoning veterans after moving into a ballpark largely funded by public money. "I am sensitive to the concerns of the fans of Miami regarding this trade, and I understand the reactions I have heard," Selig said. "Baseball is a social institution with important social responsibilities and I fully understand that the Miami community has done its part to put the Marlins into a position to succeed with beautiful new Marlins Park. Going forward, I will continue to monitor this situation with the expectation that the Marlins will take into account the sentiments of their fans, who deserve the best efforts and considered judgment of their club. I have received assurances from the ownership of the Marlins that they share these beliefs and are fully committed to build a long-term winning team that their fans can be proud of."
Original Story:
http://www.foxsportsflorida.com/11/19...
THE BACKYARD
BEST OF MAXIM
RELATED ARTICLES
MISSING IN MIAMI
Remember earlier this year when a dozen or so Miami Dolphins fans showed up to Joe Robbie Pro Player Sun Life their stadium to protest the ongoing employment of general manager Jeff Ireland and everyone was like, "Awwwww, those poor fans think they can make Stephen Ross make good decisions"? Well, Miami Marlins fans just made those Phins fans and their "Fireland" signs look...
If you hadn't already heard, Jamie Moyer turned 50 on Sunday and, naturally, the internets are a buzz with some fun facts about the lefty.  For example, should Moyer make an appearance in 2013, he'd join Satchel Paige and Jack Quinn as the only pitchers to ever appear in the bigs after their 50th birthday. And since Quinn's last appearance was just six days after...
The Blue Jays, reaching back for a familiar name, have hired John Gibbons as their new manager, according to a major-league source. Gibbons, who managed the Blue Jays from Aug. 2004 to June 2008, replaces John Farrell, whom the Jays traded to the Boston Red Sox at the end of last season. Jays general manager Alex Anthopoulos was assistant GM during part of Gibbons' tenure and...
Pack your bags for Canada, former Marlins. On Monday, after several days of hemming and hawing, Major League Baseball commissioner Bud Selig decided not to block the pending trade that will send Josh Johnson, Jose Reyes and Mark Buehrle to the Blue Jays. The commissioner had reportedly been reviewing the trade and whether it should be blocked under the "best interests of baseball"...
Baseball commissioner Bud Selig on Monday approved the big trade of last week that sent Jose Reyes, Mark Buehrle, Josh Johnson, John Buck, and Emilio Bonifacio from Miami to Toronto in exchange for Adeiny Hechavarria, Yunel Escobar,Henderson Alvarez, Jeff Mathis, Justin Nicolino, Jake Marisnick, and Anthony Desclafani. There had been some speculation Selig might reject the deal...
Sorry Miami fans, there was no stay of completion granted in baseballs best interests or yours. The 12-player deal between the Marlins and Toronto Blue Jays is official. Commissioner Bud Selig signed off on the controversial trade Monday, meaning shortstop Jose Reyes, right-hander Josh Johnson, left-hander Mark Buehrle, outfielderinfielder Emilio Bonifacio and catcher John Buck are...
No. The Marlins didn't kill publicly-financed ballparks. Or arenas. Or stadiums. Not in Florida. Not anywhere. Sure, the Marlins' fire-sale trade with the Blue Jays — which came less than a year after the opening of the publicly-financed Marlins Ballpark — won't help the cause of those seeking public monies to build new sports facilities. But teams will continue to seek...
The Toronto Blue Jays hired John Gibbons as their manager for a second time.
Sports If you're a Miami Marlins fan, you'll feel these teams' pain.
It shouldn't be surprising that on Monday, Commissioner Selig approved the blockbuster trade between the Marlins and the Blue Jays (see details on why at the bottom of the article here on Baseball Prospectus). The move by the Marlins, widely panned as it is seen a salary dump after their new ballpark just opened, has taken longer than most to approve. While Selig approved the deal...
            The Toronto Blue Jays surprisingly announced the return of former manager John Gibbons (2004-2008) after talk had former MLB managers Manny Acta and Mike Hargrove as favorites. I threw my two cents in yesterday when I suggested Jim Riggleman, who apparently never got a call. CLICK TO READ MY ENDORSEMENT OF RIGGLEMAN     Since 1961, 30 managers have managed...
MLB News

Delivered to your inbox

You'll also receive Yardbarker's daily Top 10, featuring the best sports stories from around the web. Customize your newsletter to get articles on your favorite sports and teams. And the best part? It's free!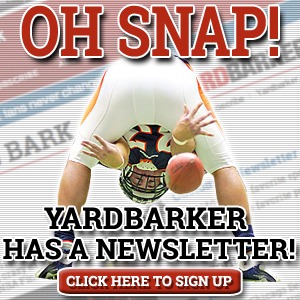 Latest Rumors
The Backyard

Today's Best Stuff

For Bloggers

Join the Yardbarker Network for more promotion, traffic, and money.

Company Info

Help

What is Yardbarker?

Yardbarker is the largest network of sports blogs and pro athlete blogs on the web. This site is the hub of the Yardbarker Network, where our editors and algorithms curate the best sports content from our network and beyond.