Found February 01, 2013 on Fox Sports:
Jim Hendry was under strict orders. This was in August 1992, nearly 10 years before Hendry became general manager of the Chicago Cubs. Hendry, who had left his job coaching at Creighton University to join the Florida Marlins, an expansion team, was in Wichita, Kan., scouting amateurs at the National Baseball Congress World Series. "You've got $10,000 for the week," Hendry recalls then-Marlins scouting director Gary Hughes telling him. "I don't care if you give 10 guys $1,000 each or one guy $10,000. Sign anybody you want. Go find somebody and learn how to scout." Hendry found somebody -- somebody good. Somebody who would play seven seasons with the Marlins and serve a backup catcher on their 2003 World Series championship team. Somebody who would enjoy a 13-year career, then return to the Marlins, after a brief minor league apprenticeship, as their new manager. Mike Redmond turned out to be a pretty good signing, except for one slight problem at the outset. Hendry didn't listen to Hughes. He gave Redmond $15,000. More than 20 years have passed. Hendry is a special assistant with the New York Yankees now, Hughes a scouting consultant with the Boston Red Sox. Orrin Freeman, who was Hendry's immediate supervisor with the Marlins, is still with the club as a senior advisor. Each of the principals recalls the signing of Redmond somewhat differently, but all are in agreement on one thing: Hughes was ticked off that Hendry had defied his orders. Ticked off at both Hendry and Freeman. Cell phones were not in widespread use then. Hendry says he informed Freeman and Hughes of the Redmond deal through voicemails. Freeman, who had seen Redmond play at Gonzaga, responded that night by calling Hendry at his hotel and leaving a congratulatory voicemail. Hendry went to bed, tickled over what he had done. "At 6 o'clock in the morning, the phone rings in the Hilton," Hendry recalls. "I get greeted from Gary Hughes. 'Hey, when I tell you $10,000, you son of a *****, that doesn't mean 15.' Gary proceeds to rip me for giving him five grand more." Freeman heard from Hughes, too. "Gary got us both on the phone (separately), just screaming at us, 'Who do you think you are?'" Freeman recalls. "Then he looked up the reports we had. And we had the reports to justify what we had done." Hendry had started the week by contacting an old friend, Wichita State pitching coach Brent Kemnitz, looking for recommendations. Several of Kemnitz's players were members of the Wichita Broncos, a summer collegiate team playing in the National Baseball Congress World Series. Kemnitz told Hendry that he also liked one of the other kids on the team -- Redmond, who had just completed his junior year at Gonzaga, but had not been drafted. Hendry saw Redmond play the next day, noted that he could catch and throw, and thought it odd that no team had drafted him. He introduced himself to Redmond after the game. The next night, they went out again to a sports bar and talked again. Redmond, after initially failing to impress Hendry as a hitter, got hot during the tournament. The two stayed in touch over the next several days. "By the end of the week, I said, "This is the guy I want to sign," Hendry recalled. Redmond, though, had interest from other clubs as well. As Redmond recalls, the Cleveland Indians had made him offer, and another club was preparing a proposal. But he thought that the Marlins, as an expansion team, offered greater opportunity. At that point, they had not yet signed catcher Charles Johnson, their No. 1 draft pick. Hendry says he initially offered Redmond the Marlins' prescribed limit, $10,000. But Redmond told him that the Indians had offered $17,000. The rest of the negotiation, Hendry says, went like this: Redmond: "I'd rather go with you. If you give me $15,000, we're done." Hendry: "You've got it!" The two returned to the sports bar one more to finalize the signing. Kemnitz met them to join the celebration. "We worked out the notorious deal on a napkin," Redmond says, laughing. "The rest is history." But as it turned out, Hughes wasn't the only one who got upset. Late August was not the most opportune time for Gonzaga to lose its catcher. Classes were about to begin, and the team's coach at the time, Steve Hertz, says it was too late to recruit a replacement. Redmond's decision infuriated Hertz -- infuriated him so much, the two did not speak for several years afterward. "It was probably the hardest phone call I've ever had to make," Redmond said. "I didn't sleep for a couple of days before I had to make that phone call, tell him I wasn't coming back. "He was mad, man. He was disappointed because he was expecting me to come back to school. I was trying to do what I thought was best for me. The whole point of going (to Wichita) was to get someone to look at me and to give me a shot. That's all I wanted -- somebody to give me a shot." All Hertz wanted was his catcher. "I'll never forget the call," said Hertz, now Gonzaga's associate athletic director. "We were going to be pretty good. He was, no question, going to be the Player of the Year in our league (the Pac-10 at that time). "He was going to be our leader. He was a sensational guy in the clubhouse. He was everything. And boom! I get a call in late August. I heard that sheepish voice on the other end of the phone. I thought right away, 'Oh, no.'" As it turned out, Hertz quickly identified a new catcher -- Redmond's fraternal twin, Patrick Michael (Redmond is Michael Patrick). It took time, but Redmond says that he and Hertz eventually "buried the hatchet" after an alumni game, sitting in a bar, having a few beers. Initially, Hertz also was upset with the Marlins. But Freeman, who played high school baseball against Hertz in Los Angeles, says that one reason Redmond didn't get drafted is because Hertz communicated to teams that Redmond wanted big money to forego his senior year. "If you had told the truth that he would sign, he could have been drafted and you could have replaced him," Freeman said he told Hertz later, only half-joking. Whatever, everything worked out for the best. "What started out as a big blow personally to me, not getting drafted, ended up being the best thing that ever happened to me," Redmond says. "In all honestly, not getting drafted made me tougher, made me appreciate it more, gave me that extra drive to make it, that extra motivation." Today, Hertz is Redmond's biggest fan, certain that his former player will become a successful manager. "He has remarkable charisma," Hertz said. "You just like him. When he leaves you, you go, 'Wow.' It's authentic and it's genuine. "I don't put anything past him, what he might achieve." The phone rang in the visiting clubhouse after Game 7 of the 2003 National League Championship Series. The Bartman series. The one in which Redmond's Marlins defeated Hendry's Cubs, winning Game 7, 9-6. Hendry was on the line, calling to congratulate Redmond. "I know he was devastated," Redmond said. "But he was happy for me. That's just the kind of guy he is. "I told him, 'Thanks for giving me opportunity. Thanks for believing in me when nobody else did. You told me I'd make it to the big leagues. Now I'm getting a chance to go to the World Series. I couldn't have scripted it any better.'" All for an initial investment of $15,000. The day Redmond made his major league debut, on May 31, 1998, Hendry called Hughes, "How's that (extra) $5,000 looking now?" By then, Hendry was with the Cubs. Two years before, as the team's scouting director, he had hired Hughes' son, Sam, as a scout. After becoming GM in July 2002, he hired Hughes -- his old boss, then with the Cincinnati Reds -- as his special assistant. Hendry still remembers the phone conversation that reunited him with his old friend. He thanked Hughes for bringing him into pro ball with the Marlins. Hughes said, "Can you believe this? I hired you. You hired Sam." "It was starting to get a little emotional," Hendry said. "Then all of a sudden, I don't know why, I interrupted and said, 'One more thing, you son of a *****, if I tell you $10,000, that doesn't mean 15." To this day, it's a running gag between all of them. "Every time I see those guys, we laugh and we talk about it," Redmond said. "Jim used to always tell me when I got to the big leagues and he saw me on TV, he'd called Gary Hughes and go, 'How about that 15 grand now?' and hang up on him." That 15 grand turned out to be a pittance. The Marlins not only got a player, but also their future manager.
Original Story:
http://msn.foxsports.com/mlb/story/mi...
THE BACKYARD
BEST OF MAXIM
RELATED ARTICLES
John Sickels has published his 2013 farm system rankings and the Cubs are 10th. That's 10 spots better than a year ago. The Cubs system has improved quite a bit. 10) Chicago Cubs (20): Another system that has improved quickly. Strengths: hitting at the top: Javier Baez, Albert Almora, Jorge Soler, Dan Vogelbach is a very impressive quartet and there is depth beyond them. Good...
Bad news concerning Carlos Marmol: According to a report in the Domincan Republic, Cubs closer Carlos Marmol is being accused of Domestic Violence. — David Kaplan (@thekapman) January 31, 2013 More on this as it develops, but if true this could be a hairy situation. I've been debating whether or not to throw a control issues joke in here, but decided against it. I'm...
I know I said I probably wasn't going to do these this year, but I am going to change the format a little bit. I won't be combining 5, 6 or 7 projections to create an average. I will just stick to two: CAIRO and ZiPS. I doubt the average between these two will be that much different than they'd be if we added in several other other projection systems so it's really ...
A woman in Carlos Marmal's native Dominican Republic has accused the Chicago Cubs' reliever of abusing her.  Marmol has denied the allegations and filed a counter claim against her.  Marmol has not yet been charged with a crime. The Chicago Tribune relayed the story from ListinDiario.com.  Marmol and his attorney, Nelson Pimentel say that the woman in question has...
Organizational Talent Rankings via Baseball America 2012 (14) | 2011 (16) | 2010 (14) | 2009 (27) | 2008 (18) 2012 Affiliate Records MLB: [61-101] NL Central AAA: [53-87] Pacific Coast League – Iowa AA: [72-68] Southern League – Tennessee A+: [59-74] Florida State League – Daytona A: [63-75] Midwest League – Peoria (Kane County beginning 2013) A(ss): [37-39] Northwest League...
Mark Grace ((azfamily.com)) What is that saying about "When it rains is pours"? Former Chicago Cubs and Arizona Diamondbacks player Mark Grace was sentenced to 4-months in jail Thursday afternoon as part of a DUI arrest plea agreement. It was not his first DUI. Grace, who summarily lost his job as an analyst with the Diamondbacks broadcast team after his...
As most of you probably know, Tom Tango now exclusively consults with the Cubs. This is incredible news: Tom Tango, also knows as tangotiger, is one of the greatest baseball minds in the game today. Many of the foundational statistics that we have today come from The Book, the spiritual successor to The Hidden Game of Baseball. Mr. Tango has graciously agreed to answer some questions...
The Chicago Cubs have invited 22 non-roster players to major league spring training, which begins Tuesday, February 12 when pitchers and catchers hold their first formal workout in Mesa, Ariz. Position players are invited to report to camp Saturday, February 16 with the team's first full squad workout Sunday, February 17. The following 11 pitchers have been invited to major league...
Former Arizona Diamondbacks color commentator and Chicago Cubs first baseman Mark Grace has been sentenced to four months in jail following his second DUI arrest in a year. Grace took a leave of absence from the Diamondbacks in August following his arrest, and the team officially dismissed him and play by play man Daron Sutton after the season.  Grace's sentence also includes...
    Throughout the offseason, The Nats Blog will look back at every player's 2012 season to summarize and analyze his performance, and we'll look ahead to his possible role in 2013. We'll go from #1 Steve Lombardozzi all the way to #63 Henry Rodriguez until Spring Training. Enjoy. Edwin Jackson was an interesting case for the Washington Nationals in 2012. Signed...
MLB News

Delivered to your inbox

You'll also receive Yardbarker's daily Top 10, featuring the best sports stories from around the web. Customize your newsletter to get articles on your favorite sports and teams. And the best part? It's free!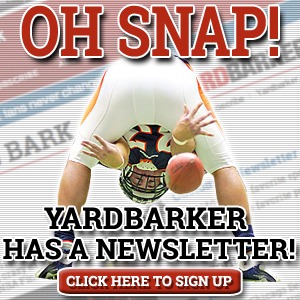 Latest Rumors
The Backyard

Today's Best Stuff

For Bloggers

Join the Yardbarker Network for more promotion, traffic, and money.

Company Info

Help

What is Yardbarker?

Yardbarker is the largest network of sports blogs and pro athlete blogs on the web. This site is the hub of the Yardbarker Network, where our editors and algorithms curate the best sports content from our network and beyond.