Found May 12, 2012 on Fox Sports:
PLAYERS:
Ricky Nolasco
,
RA Dickey
,
David Wright
,
Terry Collins
,
Andres Torres
,
Lucas Duda
,
Ozzie Guillen
,
Brett Hayes
,
Kirk Nieuwenhuis
,
Gaby Sanchez
,
Hanley Ramirez
,
Jose Reyes
,
Mike Baxter
,
Omar Infante
,
Jon Niese
TEAMS:
Miami Marlins
,
New York Mets
,
Chicago White Sox
Control is usually Ricky Nolasco's strong suit, so he was surprised to walk three batters in the first inning. Then he hit two in a row in the fifth, including the pitcher with the bases loaded. Poor command resulted in Nolasco's shortest outing and first loss of the season Saturday, when the New York Mets beat the Miami Marlins 9-3. ''I apologize to my teammates,'' Nolasco said. ''It was pretty ugly, and something I haven't done that ugly before.'' Nolasco (4-1) missed a chance to break the Marlins' record for career victories by earning his 69th win. Instead, he endured his 52nd defeat, allowing six runs in 4 2-3 innings. Nolasco gave up nine hits, walked three and hit consecutive batters, including pitcher R.A. Dickey. ''This one was on me completely,'' Nolasco said. ''I took us out of the game.'' David Wright homered and singled three times in his fourth consecutive multi-hit game, and Dickey earned his fifth victory by pitching six innings. The Marlins lost for only the second time in their past 11 games, while the Mets have won six of seven. Wright singled home a run in the first inning, hit his fourth homer in the third, singled and scored in the sixth, and added an RBI single in the ninth. He pulled his single in the first, and the other hits were to the opposite field with a variety of trajectories. ''Groundballs, home runs, bloopers, line drives,'' Nolasco said. ''He's hot. David Wright is a great hitter, and he has done it for a long time.'' Wright finished 4 for 6 and raised his batting average to an NL-best .402. His on-base percentage of .489 leads the majors. ''At the end of the year, David Wright is going to have some stinking really good numbers,'' Mets manager Terry Collins said. Dickey (5-1) gave up two runs and has allowed only seven in his past four starts. The knuckleballer earned a painful RBI when he was hit on his pitching hand in the fifth inning with the bases loaded. He received a visit from a trainer but stayed in the game and threw another two innings. ''I was thankful that it hit me in the meatier part of the wrist, but you just never know,'' Dickey said. ''We'll see how it feels in the morning.'' Andres Torres had a two-run single in the fifth to knock Nolasco out of the game. Lucas Duda and Daniel Murphy each contributed three of the Mets' 16 hits. The Marlins went 2 for 11 with runners in scoring position and are batting .199 in those situations, worst in the majors. They had two runners tagged out between second and third. ''I hope the kids don't watch this,'' manager Ozzie Guillen said. ''It's not the way to run the bases.'' The Mets have been winning lately with comebacks, but this time they led from the first. Nolasco walked three in the inning and gave up an RBI single to Wright. ''The game started very ugly,'' Guillen said. ''Ricky was very wild. He didn't have any control.'' Catcher's interference by Brett Hayes prolonged the Mets' fourth inning, allowing them to score a run. With runners at second and third with two out, Torres flied out, but his swing knocked the glove off Hayes' hand. Torres was awarded first base, and Kirk Nieuwenhuis followed with an RBI single. Wright singled in the sixth and later scored on Daniel Murphy's single to put the Mets ahead 7-1. The Marlins scored in the second inning when their first three batters singled. Gaby Sanchez's hit drove in the run. Giancarlo Stanton doubled home a run in the sixth and Hanley Ramirez had an RBI double in the seventh. Marlins newcomer Jose Reyes, the reigning NL batting champion, had four hits and hiked his average to .256 after a slow start this season. ''I'm still not where I want to be, but I'm getting close,'' he said. ''When I play at the top of my game, I'm going to help this club win a lot more games.'' Notes: Wright improved his average against Nolasco to .400 (24 for 60) with five homers. ... Wright is batting .478 on the road. ... The Mets' Mike Baxter doubled in the ninth to improve his average as a pinch hitter to .438 (7 for 16). ... Omar Infante is hitting .190 lifetime (4 for 21) against Sunday's starter for the Mets, Jonathon Niese.
Original Story:
http://msn.foxsports.com/mlb/story/ne...
THE BACKYARD
BEST OF MAXIM
RELATED ARTICLES
Miami Marlins catcher Brett Hayes found himself caught in a turnpike traffic jam after a gunman shot and wounded two South Florida law enforcement officers. And the gunman walked past Hayes' car. Hayes said he and his wife were en route to a birthday party during the Marlins' off day Thursday when a traffic snarl in Hollywood left them barely moving. Hayes then spotted...
MIAMI The way the Marlins have been playing lately, they might be most susceptible to injury while celebrating. Greg Dobbs singled in the winning run with two outs in the bottom of the ninth Friday night to give Miami a 6-5 win over the New York Mets at Marlins Park. Then he braced himself between first and second base when a swarm of teammates joyfully ran out to mob him. &quot...
Marlins catcher Brett Hayes found himself ensnarled in a scary situation Thursday when he had a near front-row seat to a deadly police shootout on Florida's Turnpike. Sitting in traffic on his way to a birthday party, Hayes sent out this ominous tweet: Sitting in traffic on the turnpike and a man with a gun just walked by our car.. Not good. The gunman Hayes saw reportedly shot...
And Josh Beckett acts like a d*ck to media when they ask about how he spends his 18 off days per MLB season. How about what happened to Marlins catcher Brett Hayes yesterday on the Florida Turnpike. As you can see from the tweet, Hayes watched a dude with a gun walk by his car and that guy eventually shot two officers before shooting himself. Suck it, Becket. According to the Miami...
MIAMI -- Marlins Park has been notorious for keeping hard-hit balls inside the fence.   But Giancarlo Stanton left no doubts about where his smash would end up.   Stanton hit a walk-off grand slam to left-center field to give the Miami Marlins an 8-4 victory over the New York Mets on Sunday.   "That was one of those no-doubters right off the bat," Stanton said of...
Giancarlo Stanton hit a two-out grand slam to cap a ninth-inning rally by the Miami Marlins, who beat an angry Frank Francisco and the New York Mets 8-4 Sunday. The walk-off victory was the second in the three-game series for the Marlins, who have won 10 of their past 12 games. The Marlins trailed 4-2 when Emilio Bonifacio led off the ninth with his second triple of the game against...
After an off day on Thursday the New Y0rk Mets will get back to action and hopefully back to their winning ways tonight against the Miami Marlins in Marlins Park.  Johan Santana will tangle with Mark Buehrle as the Mets go for their sixth straight win and look to continue their domination over their NL East brethren in 2012. Santana picked up his victory of the season in his last...
Well that was a doozy of a blown save, wasn't it? Even Armando Benitez slow clapped that one for that one.The parallels have all been pointed out: Francisco, Benitez. Benitez, Francisco. The build, the stare, the strut, the fastball, the blown saves ... all eerily the same between Francisco and Benitez. And you might think that the Mother's Day Meltdown would cement their...
The New York Mets (19-14) look to win their series against the Miami Marlins (17-16) today at 1:10 PM at Marlins Park in Miami. Starting Lineups: #Mets Sunday lineup at Miami: Torres-CF, Nieuwenhuis-LF, Wright-3B, Duda-RF, Murphy-2B, Davis-1B, Cedeno-SS, Johnson-C, Niese-LHP — New York Mets (@Mets) May 13, 2012 Sunday #Marlins lineup vs. #Mets: Reyes 6, Infante 4, Ramirez 5, Kearns...
MLB News

Delivered to your inbox

You'll also receive Yardbarker's daily Top 10, featuring the best sports stories from around the web. Customize your newsletter to get articles on your favorite sports and teams. And the best part? It's free!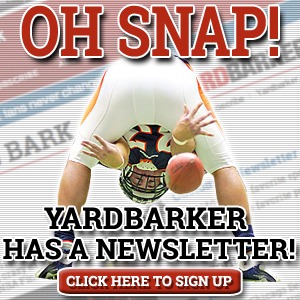 Latest Rumors
The Backyard

Today's Best Stuff

For Bloggers

Join the Yardbarker Network for more promotion, traffic, and money.

Company Info

Help

What is Yardbarker?

Yardbarker is the largest network of sports blogs and pro athlete blogs on the web. This site is the hub of the Yardbarker Network, where our editors and algorithms curate the best sports content from our network and beyond.