Found February 23, 2012 on The Victory Formation:
h/t Doug Padilla Professional athletes getting tattoos aren't new. Many have seen the extensive permanent artwork on Josh Hamilton, but his former teammate and current Chicago Cub, Marlon Byrd, decided to have a much more historical tattoo put on his arm. Byrd had part of President Theodore Roosevelt's 'Man in the Arena' speech placed on his arm. Not just a line or two, but an entire section from the speech, the most widely known:
"It is not the critic who counts; not the man who points out how the strong man stumbles, or where the doer of deeds could have done them better. The credit belongs to the man who is actually in the arena, whose face is marred by dust and sweat and blood; who strives valiantly; who errs, who comes short again and again, because there is no effort without error and shortcoming; but who does actually strive to do the deeds; who knows great enthusiasms, the great devotions; who spends himself in a worthy cause; who at the best knows in the end the triumph of high achievement, and who at the worst, if he fails, at least fails while daring greatly, so that his place shall never be with those cold and timid souls who neither know victory nor defeat."
Well, that is quite the way to motivate yourself. Byrd has dropped nearly 40lbs in preparation to the season. In case you are wondering, Byrd is known for working out with former BALCO owner, Victor Conte.
Original Story:
http://www.thevictoryformation.com/20...
THE BACKYARD
BEST OF MAXIM
RELATED ARTICLES
MESA, Ariz. -- Since the day the Chicago Cubs introduced Theo Epstein as their new president of baseball operations there's been ongoing discussion of the new "Cubs Way." The Cubs want a uniform approach, from Single-A to the majors. They want clear expectations of how things are done. They want a culture of hard work and focus to produce a culture of winning. But...
After taking one of the strangest routes to spring training, Blake DeWitt took the high road Thursday when he arrived at Fitch Park.
Alfonso Soriano's defensive play sometimes leaves fans shaking their heads. There are times when he doesn't react well and gets a late break on the ball, or doesn't run hard enough out of the box. But bad habits are not easy to break.
On his first day at Cubs camp, Trever Miller was simply looking for someone to play catch with. As fate would have it, he found Ryan Dempster, and the two quickly realized they were more than just pitchers. They're also dads with daughters dealing with life-threatening disorders.
MESA, Ariz. — Considering the emphasis on the new direction the Cubs are taking — not to mention a significant de-emphasis of some old clubhouse presences — Alfonso Soriano had a right to be the most surprised Cub to still have a uniform and locker stall at Fitch Park this spring. But the Cubs'...
Chicago Cubs manager Dale Sveum said Thursday he has no plans to address Starlin Castro's off-field situation with the young shortstop when he arrives for spring training, which is expected to be Thursday.
Bryan LaHair, who won the Pacific Coast League MVP Award last season after belting 38 homers and driving in 109 runs for Triple-A Iowa, enters spring camp with a spot on the Cubs' Opening Day roster. Finally.
Cubs manager Dale Sveum said that he does not expect offseason allegations to be a distraction for Starlin Castro, who should be in Cubs' camp on Friday when the team has its first full-squad workout.
Cubs manager will speak to Soriano about running out long fly ballsFor all the tough talk this winter about yanking players for not hustling, manager Dale Sveum didn't sound like he was in any rush to employ left fielder Alfonso Soriano as Exhibit A.
MESA, Ariz. -- Cubs shortstop Starlin Castro met with the media on Thursday but declined to talk about the claim by a Chicago woman that he sexually assaulted her in his apartment in September.
MESA, Ariz. — The Cubs wasted little time deciding not to retire Carlos Zambrano's number. With the ink still wet on the $15.3 million check the Cubs sent to the Miami Marlins to take the problem-child pitcher, the club gave his No. 38 to non-roster backup catcher candidate Jason Jaramillo. Just...
MESA, Ariz. — Get ready for the Cubs' version of Linsanity. Not to mention the pun parade if long-overlooked slugger Bryan LaHair does anything like the New York Knicks' Jeremy Lin has done. Brace yourself for late-inning ''LaHair-oics'' and long home runs that were ''LaHair today...
MLB News

Delivered to your inbox

You'll also receive Yardbarker's daily Top 10, featuring the best sports stories from around the web. Customize your newsletter to get articles on your favorite sports and teams. And the best part? It's free!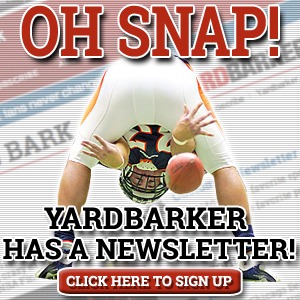 Latest Rumors
Best of Yardbarker

Today's Best Stuff

For Bloggers

Join the Yardbarker Network for more promotion, traffic, and money.

Company Info

Help

What is Yardbarker?

Yardbarker is the largest network of sports blogs and pro athlete blogs on the web. This site is the hub of the Yardbarker Network, where our editors and algorithms curate the best sports content from our network and beyond.