Posted April 07, 2013 on AP on Fox
PLAYERS:
Carlos Marmol
,
Justin Upton
,
Kyuji Fujikawa
,
Anthony Varvaro
,
Cory Gearrin
,
Carlos Villanueva
,
Nate Schierholtz
,
Anthony Rizzo
,
Luis Valbuena
,
Wellington Castillo
,
Dan Uggla
,
Gerald Laird
,
Starlin Castro
,
Ramiro Pena
,
Andy LaRoche
,
Julio Teheran
,
Andrelton Simmons
,
BJ Upton
TEAMS:
Chicago Cubs
,
Atlanta Braves
,
Toronto Blue Jays
Carlos Marmol still believes in himself as a closer. It's hardly safe to say the Chicago Cubs feel the same way. Marmol failed to convert a save for the second time in three chances this week - this time giving up solo homers in the ninth inning to brothers B.J. and Justin Upton as the Cubs blew a four-run lead and lost 6-5 to the Atlanta Braves. ''I'm trying, I'm trying,'' Marmol said. ''I don't lack confidence. They're hitting my pitches, though.'' Only Chicago manager Dale Sveum knows which relief pitcher to try next. Kyuji Fujikawa, who bailed out Marmol to earn the save in Chicago's season-opening win at Pittsburgh, allowed three runs in the eighth that cut the lead to 5-4. Sveum plans to meet with his coaching staff and figure out a plan for the back of the bullpen. ''I think we're definitely going to talk about it now, but Fujikawa struggled, too,'' Sveum said. ''It was unfortunate.'' Sveum was likewise despondent over the Cubs' inability to score off young Atlanta relievers Anthony Varvaro and Cory Gearrin despite having the bases loaded twice in the top of the eighth. Chicago is hitting .143 with runners in scoring position after going 2 for 11 on Saturday. ''We still struggle with those men in scoring position to put the game away there,'' Sveum said. ''To get one out of that would have been nice. The fact of the matter is we had a chance to put the game away and we didn't do it.'' Marmol and Fujikawa wasted what would have been a victory for starter Carlos Villanueva. The Cubs had taken a 5-1 lead on Nate Schierholtz's RBI single, Anthony Rizzo's two-run homer, Luis Valbuena's solo shot and Wellington Castillo's RBI single. Chicago loaded the bases in the eighth off Varvaro, but earned nothing for the effort. After second baseman Dan Uggla threw to catcher Gerald Laird for a forceout, reliever Gearrin retired Starlin Castro on a flyout and struck out Rizzo. That set the stage for Atlanta's three-run eighth off Fujikawa. Freddie Freeman's RBI single scored Justin Upton, and Ramiro Pena followed with a two-run single to make it 5-4. ''(Fujikawa) didn't have his split (fastball) today,'' Sveum said. ''His split was just flat. It wasn't doing anything. He didn't locate his fastball tonight. It was up in the zone.'' Marmol had already been through a tough week. He was pulled from a save situation after facing four batters and not recording an out in Chicago's win at Pittsburgh on opening day, but he earned a save on Thursday against the Pirates despite giving up two ninth-inning runs. Marmol blames poor location of his pitches with his most recent struggles. ''I tried to do my best out there,'' he said. ''I need to locate my pitches more. That's why they're getting hit.'' The Upton brothers, major offseason acquisitions for Atlanta, became the 25th tandem of brothers to homer in the same major league game and the first since Adam and Andy LaRoche accomplished the feat for Pittsburgh on June 17, 2009. Making his first start since signing with the Cubs as a free agent in the offseason, Villanueva gave up six hits, one run and two walks in 6 2-3 innings. He struck out six. Rizzo was 1 for 14 when his second homer of the season gave the Cubs a 4-1 lead. Schierholtz followed with a double and scored from second on Castillo's single to make it 5-1. Villanueva began the game with a 12-18 record and a 5.33 ERA in 44 career starts with Milwaukee and Toronto, but the right-hander settled down after Upton's solo shot made it 1-all in the first. Braves starting pitcher Julio Teheran allowed eight hits, five runs and one walk with two strikeouts in five innings. The 22-year-old right-hander dropped to 1-2 with a 5.79 ERA in five career starts. Valbuena's first homer put the Cubs up 2-1 in the fourth. After the Cubs' three-run fifth, Teheran left for a pinch-hitter. Eric O'Flaherty (1-0) pitched a scoreless ninth despite allowing a hit and walk. Marmol (0-1) gave up two hits, both solo homers, in one-third of an inning. His ERA ballooned to 27.00. Villanueva has spent much of his career as a reliever and knows this is a tough time for Marmol, who has converted just 82 percent of 142 save chances over his last seven years with the Cubs. ''It's tough,'' Villanueva said. ''I've been through it. I just hope that he understands that we've only had five games. I'm more concerned for how he feels.'' NOTES: The teams combined for 25 hits. ... Braves SS Andrelton Simmons was out of the lineup with a sprained left thumb. ... B.J. Upton batted in Simmons' leadoff spot. ... Pena took Simmons' spot in the field and went 1 for 4 as the No. 8 hitter. ... Teheran had his first career hit with a single in the third.
Original Story:
http://msn.foxsports.com/mlb/story/Ma...
THE BACKYARD
BEST OF MAXIM
RELATED ARTICLES
In his second season calling the shots for the Chicago Cubs, Theo Epstein's overhaul of the franchise is in its early stages.  There are only a handful of players on the current roster that Epstein considers to be a part of the team's long term plan.  Many of the players on the 2013 squad are stop gaps who are expected to be replaced by prospects in the near future.  The Cubs...
In nature a peak is always accompanied by a valley. Our fundamental understanding of this fact extends itself into other areas of thought and reason in our lives. We are taught by the natural order of things that the highs are usually followed by the lows, and vice versa. Tall peaks tend to have deep valleys. The rate of descent may vary but eventually everything that rises has to...
Chicago Cubs closer Carlos Marmol has been pulled from his ninth inning role after his first blown save of the year last night in Atlanta. Kyuji Fujikawa will replace Marmol as the Cubs' fireman, according to reports. Marmol is actually reportedly taking the demotion well, stating "You can't complain about it. They say it's better for me and for the team. I&...
It was only a matter of time before the Chicago Cubs made a change.  Carlos Marmol has never proven himself capable of handling Major League closer duties.  He lost his job early last season only to earn it back.  And now, he's lost it again. Jesse Rogers of ESPN Chicago says the Cubs stripped Marmol of his closing duties after three outings that resulted in stressful...
Following Saturday's meltdown the Chicago Cubs have removed Carlos Marmol from the closers role. Marmol blew a save after allowing two solo home runs in the inning. Marmol will be replaced by 32-year-old Kyuji Fujikawa according to Chicago Tribune writer Paul Sullivan. Entering the eighth inning the Cubs held a 5-1 lead over the Braves. Fujikawa pitched the eighth inning for the...
Chicago Cubs manager Dale Sveum says Carlos Marmol is out as closer and rookie Kyuji Fujikawa will take over the role. Marmol blew a save opportunity in Saturday's 6-5 loss to the Atlanta Braves when brothers B.J. and Justin Upton hit solo homers in the ninth inning. Sveum made the decision before Sunday's game. Fujikawa didn't fare much better in a three-run eighth...
Chicago Cubs manager Dale Sveum says Carlos Marmol is out as closer and rookie Kyuji Fujikawa will take over the role. Marmol blew a save opportunity in Saturday's 6-5 loss to the Atlanta Braves when brothers B.J. and Justin Upton hit solo homers in the ninth inning. Sveum made the decision before Sunday's game. Fujikawa didn't fare much better in a three-run eighth...
Carlos Marmol has been the source of much consternation for Cubs fans. One of the worst kept secrets in baseball this season is that the Cubs would love to trade closer Carlos Marmol. They are willing to listen to any and all offers. Unfortunately, the way Marmol has started the season, General Manager Jed Hoyer has to wonder if it's worth paying his phone bill. Through his first...
The Pirates have played five games thus far in 2013 and they've scored six runs. Three of those runs have come against Carlos Marmol, so they probably shouldn't count. Today, they'll face Hyun-Jin Ryu in his second start in America. Last week, he made his Dodger debut against Giants and served up 10 hits in 6 1/3 innings, despite only allowing one earned run. That'...
Here's some bit of good or maybe not-so-good news, depending on how you think of things:   Fuji closing now. He's a little surprised it came this quick : "Came here as a set up man". — Jesse Rogers (@ESPNChiCubs) April 7, 2013   Here's a recap of what happened last night. Kyuji Fujikawa only threw 23 pitches, so he should be okay to go should there be a save situation...
Tonight's guest:  Xavier Cedeno of the Houston Astros.  Everyone knows the Astros are not really trying to win this year so I try to cut them some slack, but this made Carlos Marmol look like Nolan Ryan.  At least Marmol got some people out.  Cedeno has only pitched 30 some innings in the majors and he's going to wish he could start over after tonight.  Cedeno allowed 6...
BJ Upton (left) and Justin Upton became the first brothers in major league history to homer to tie, then win a game Saturday against Cubs closer Carlos Marmol. I mentioned earlier this week how Carlos Marmol has been absolutely dreadful for the Cubs. Now he's so bad he's in the record books. Marmol allowed the game-tying home run to B.J. Upton, then the walk-off winner to his...
MLB News

Delivered to your inbox

You'll also receive Yardbarker's daily Top 10, featuring the best sports stories from around the web. Customize your newsletter to get articles on your favorite sports and teams. And the best part? It's free!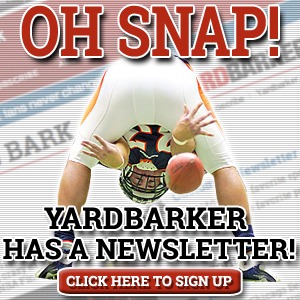 Latest Rumors
The Backyard

Today's Best Stuff

For Bloggers

Join the Yardbarker Network for more promotion, traffic, and money.

Company Info

Help

What is Yardbarker?

Yardbarker is the largest network of sports blogs and pro athlete blogs on the web. This site is the hub of the Yardbarker Network, where our editors and algorithms curate the best sports content from our network and beyond.