Found April 12, 2013 on Fox Sports Ohio:
CLEVELAND -- Nick Swishers cackle preceded him and registered loud and clear as he walked into the postgame interview room Friday night.Swishers single with two out in the ninth had just given the Cleveland Indians and starter Justin Masterson a much-deserved win over Chicago.Swisher bobbed into the room, smiled, sat down and immediately said: Ill give you a whole overview of the game.He continued, breaking down the 1-0 victory quite succinctly as the assembled scribes took it in. Two stars in that game, Swisher said. One, Justin Masterson, aka Nasty Masty, aka Mr. Clean.No disagreement.Masterson gave up just five hits and shut out Chicago in a rare (for these days) complete game. Masterson got 24 of 27 outs via ground ball or strikeout, and is on a scoreless inning streak that stands at 19.Its gonna end sometime, Masterson said.In a season when some starters have struggled, Masterson is now 3-0, with an ERA of 0.41.I could say all you want me to, manager Terry Francona said. He threw an obscene amount of strikes (81 in 113 pitches).Masterson was throwing so well that Francona never hesitated to send him out for the ninth inning even though he had already topped the 100-pitch mark. He even let him face left-handed power hitter Adam Dunn with two outs.That we let him face Dunn in that situation shows how much confidence we have, because we have complete confidence in the bullpen, Francona said. I just felt he deserved to pitch.Masterson was helped by the weather. Its tough to hit when its 40 degrees, especially when a guy throws a hard sinker the way Masterson does.Youre just trying your best to put the barrel on the ball, because if you hit anywhere else youre not feeling your fingers for a couple innings, Swisher said of the chill in the air.Problem for the Indians was that Chicago starter Jose Quintana matched Masterson in his seven innings, giving up only one hit. But unlike Francona, the White Sox went to the bullpen. They got a scoreless eighth from Matt Thornton, then turned to Jesse Crain for the ninth.With one out, Michael Bourn slapped a bloop double down the left-field line, and advanced to third on Asdrubal Cabreras ground ball. There the strategy started.Crain, a right-hander, was facing Jason Kipnis, a left-handed hitter who has started 4-for-32 (.125). The White Sox chose not to bring in a lefty. Crain threw sharp breaking balls that dropped out of the strike zone; Kipnis swung at none. When the count got to 3-0, Kipnis was walked intentionally.To Swisher, Kipnis was the games second star.I was so proud of that at-bat, Swisher said. Because in a situation like that youre not going to get the best pitches to hit. He really showed a lot of maturity in that spot. He took two nasty breaking balls to start out, and then the 2-0 pitch I was thinking to myself, Hes going to give you the same pitch. He did, and Kip took it and he ended up walking him.Catcher Hector Gimenez set up away for Crains first pitch to Swisher, but Crain threw it inside. Swisher was able to turn and hit a line drive just inside the right field line for the game-winner.It would have been a shame for us not to go out and give Masty that win that he deserved, Swisher said.Swishers first game-winner as an Indian led to a wild celebration between first and second, with the effervescent one in the middle.I wound up in right field, Swisher said. I dont know how that happened.It happened because the Indians admitted this one felt a little better than the average win. After getting shellacked twice by the Yankees, and after two rainouts they needed a win.Masterson gave them the pitching performance they needed, and the bats got two of the teams three hits when they were most needed -- with both coming from the two main offseason signings, Bourn and Swisher.That was a good win, Francona said, about as far as a manager ever will go in making one April win significant. We sat for a couple days and we got beat around a little bit before that.Swisher was more to the point.Huge win for us, Swisher said. Just awesome amazingness.Another day and another game await, but this was one the Indians needed, and enjoyed.
Original Story:
http://www.foxsportsohio.com/mlb/clev...
THE BACKYARD
BEST OF MAXIM
RELATED ARTICLES
Every year in the Major Leagues, some players jump out in the early part of the season and astound us in small sample size wonder. This year, John Buck and Chris Davis have been pretty astounding. And yet, when a position player jumps way out ahead of his normal stats, we expect regression. Pitchers sometimes get more of a pass. But what about the case of Justin Masterson, the...
Some news, notes, and thoughts from my Indians notebook… Carrasco lacks mental toughness Right-handed pitcher Carlos Carrasco has been a high profile starting pitching prospect for a long time.  Before the Indians picked him up from the Phillies in July of 2009 in a deal for Cliff Lee he had been one of the Phillies' top prospects for several years. But for as talented as Carrasco...
Trevor Bauer (SP, Columbus Clippers) Game 1: (W, 1-0), 6 IP, 4 H, 1 R/ER, 3 BB, 9 K. Bauer was somewhat underwhelming when he made his Major League debut with the Indians last week, but he certainly was impressive in his Columbus debut on Saturday. The right-hander showed just how good he could be as he recorded nine strikeouts and allowed only one earned run, which came off a solo...
Indians second baseman Jason Kipnis is out of the lineup for Cleveland's game against Chicago with a sore left elbow. Manager Terry Francona expects Kipnis, who is batting .125, to return for Sunday's series finale against the White Sox. Kipnis was bothered by a sore right elbow in spring training. Ryan Raburn is starting at second base. Catcher Carlos Santana was in the...
Michael Bourn's finger is stitched and splinted. It's better, but not well enough to keep the Indians center fielder from going on the 15-day disabled list. Manager Terry Francona said the plan is to put Bourn on the DL in coming days. The leadoff hitter cut his right index finger on Sunday when he dived into first base and got stepped on by White Sox pitcher Matt Thornton...
Around the Farm takes a quick look at some of yesterday's performances by Indians prospects throughout the system. The positions listed below are where the player was playing in yesterday's game. Daisuke Matsuzaka (Columbus, SP) - 2.1, 3 H, 3 R (all earned), 5 BB, 4 K - A rough home opening night for Dice-K in his second outing of the season.  While this follows up an okay outing...
BY Tony LastoriaSpecial to FOXSportsOhio.com By now, every Indians fan has heard of Cleveland Indians shortstop and top prospect Francisco Lindor. Its kind of hard not to know who he is since he has taken the organization by storm since he was drafted in June of 2011. In almost two years time, Lindor has established himself as the heir apparent at shortstop for the Indians and one...
"Minor Happenings" is a bi-weekly column which recaps the important developments and news in the Indians farm system. Information in this report is compiled from my own research and through discussions with industry personnel inside and outside the Cleveland Indians organization. Unless otherwise noted, the intellectual property contained in this report is owned by IndiansProspectInsider...
CLEVELAND (AP) -- Nick Swisher's two-out RBI single in the ninth inning gave the Cleveland Indians a 1-0 win over the Chicago White Sox on Friday. Michael Bourn started the rally with a one-out double off Jesse Crain (0-1). Bourn's blooper landed near the left field line and he beat the throw to second base. After Asdrubal Cabrera's groundout moved Bourn to third, Crain...
One of the key plays in this afternoon's 9-4 Tribe victory over the White Sox was Mark Reynolds's grand slam with nobody out that extended the Indians' lead to 7-2 in the fifth inning. On the very next pitch, Sox starter Chris Sale drilled Michael Brantley, and both benches were warned as a result. Sale was chased from the game that inning, but he explained to our Scott Sargent...
The Cleveland Indians and New York Yankees will play a traditional doubleheader on May 13 at Progressive Field. The doubleheader, which will begin at 12:05 p.m., became necessary when the April 10-11 games in Cleveland were postponed by rain. The May 13 date is one of the few mutual off-days for the two teams. The Indians play in Detroit on May 12 and begin a series in Philadelphia...
Chris Sale has had his way with the Indians in the past. The left-handed may be all arms and legs, but the young bullpen arm turned starter made easy work of the previously left-handed heavy Tribe. In the offseason, the Tribe not only added more speed and power, but they added several right handed hitters for a better balanced lineup. Yesterday, with Jason Kipnis and Carlos Santana...
MLB News

Delivered to your inbox

You'll also receive Yardbarker's daily Top 10, featuring the best sports stories from around the web. Customize your newsletter to get articles on your favorite sports and teams. And the best part? It's free!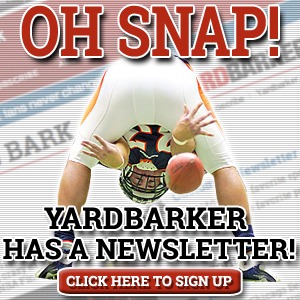 Latest Rumors
The Backyard

Today's Best Stuff

For Bloggers

Join the Yardbarker Network for more promotion, traffic, and money.

Company Info

Help

What is Yardbarker?

Yardbarker is the largest network of sports blogs and pro athlete blogs on the web. This site is the hub of the Yardbarker Network, where our editors and algorithms curate the best sports content from our network and beyond.