Found July 23, 2012 on The Daily Stache:
PLAYERS:
Matt Harvey
,
Jordan Zimmermann
,
Chris Young
,
Ian Desmond
,
Daniel Murphy
,
David Wright
,
Bryce Harper
,
Ryan Zimmerman
,
Adam LaRoche
,
Danny Espinosa
,
Sandy Leon
TEAMS:
Washington Nationals
,
New York Mets
,
Arizona Diamondbacks
This is just wrong LOL.  Photo courtesy of readtheapple.com   Well folks, it's Star Wars night again.  Even Jabba the Hutt, er I mean Snooki, will be in attendance.  Now I have to go shower because I wrote her into this report. Hopefully a bit of "Force" can break the Mets out of this horrendous slump that has put them below .500 for the first time this season.  However, the Mets have to get through the Nats' top three pitchers during this series, which will be no easy task.  Especially when the Mets pitching is starting to crumble.  Johan out again does nothing for the team's morale, although there is one bright spot…the fans' wishes are about to come true as Matt Harvey has been called up and will start on Thursday in Arizona when the Mets face the Diamondbacks.  But they have to get through these 3 games first. The Mets welcome in the Washington Nationals for a 3-game series before heading out on a long west coast road trip.  First pitch is scheduled for tonight at 7:10 pm EST, and the game can be seen on SNY, heard on WFAN660AM and followed on Twitter @MetsWFAN. @dailystache and @Meriwyn. Smooooooth.   Photo courtesy of readtheapple.com   I must say I'm interested to see the Dickey/Gonzalez rematch.  Hopefully it turns out the same way.  The man they face tonight, Jordan Zimmermann, has actually seen his ERA DROP over the course of his last 2 starts, where he has not allowed a run in 12 innings. Chris Young continues to slowly improve, and I'm not going to look a gift horse in the mouth as I personally wasn't expecting much from him coming off surgery.  He has been a pleasant surprise thusfar.  Now, if we could only get him to pitch past the 5th inning, we would get somewhere. The Nats have their own share of injuries of well, the most recent being SS Ian Desmond who is out with an oblique tear.  I don't see much of an issue for them though with names like Espinosa and Lombardozzi filling in. Daniel Murphy had himself quite a series with the Dodgers, going 9-11 with 3 runs, 4 doubles, a triple and 3 RBI's.  I think it's safe to say he's starting to find his groove again.  If he and Ike can keep it up, they will become quite a threat, when you throw David Wright into the mix as well.  Speaking of David, he has now reached base safely in 85 of the 91 games he's played in this season (93.4%), which leads the majors.   Mets Lineup
1. R2-DTejada, SS
2. Lando Valdespin (because he's the man), RF
3. Obi-Wright Kenobi, 3B
4. Ike-3PO, 1B
5. Qui-Gon Murph, 2B
6. Jar-Jar Bay, LF
7. Kirk Skywalker, CF
8. Josh Chewie, C
9. Chris Yoda, SP Nationals Lineup
1. Steve Lombardozzi, 2B
2. Bryce Harper, RF
3. Ryan Zimmerman, 3B
4. Michael Morse, LF
5. Adam LaRoche, 1B
6. Danny Espinosa, SS
7. Roger Bernardina, CF
8. Sandy Leon, C
9. Jordan Zimmermann, SP Pitching Matchup
NYM: Chris Young (2-4, 4.11 ERA).  Two of Young's eight starts this season came against Washington, and the Mets lost both, although Young has pitched well. His last outing was ironically against Zimmermann in DC, where they went toe-to-toe in a 5 inning pitchers duel until Adam LaRoche hit a 2-run homer off Young. WSH:  Jordan Zimmermann (7-6, 2.35 ERA). Zimmermann, is yet another formidable cog in the wheel that is the Nationals' rotation. He has not allowed a run in his last two outings (12 innings). Stache Keys to the Game(s)
Find some way to pick themselves up and get out of this funk.
Starting pitching needs to be stronger now than ever, with this horrendous bullpen and Johan out.
Make up some ground against the Nats.
July 23rd in Mets History Not a hell of a lot. LET'S GO METS!!
Original Story:
http://dailystache.net/archives/2754?...
THE BACKYARD
BEST OF MAXIM
RELATED ARTICLES
"Ummm, hello there. Could you tell me….is this Kingsport, Tennessee?" Charlotte 11, Buffalo 0 By Connor O'Brien The Charlotte Knights beat the Buffalo Bisons last night by a score of 11-0. Matt Harvey took the mound looking to impress the big league club with a solid performance. Instead, Harvey had a very rough night. Harvey was decent early on, allowing only a first-inning...
Oh no, not another Joe D. game recap… Embrace the horror my friends. Nothing we do now will change anything. The time to strike was when the Mets were winning and they needed a general manager who could sustain that glorious run when the Mets never spent a day under ,500 and staked a solid claim on the National League Wild Card. You snooze, you lose. Sandman fell asleep at the...
The Mets announced that Matt Harvey will be on the taxi squad for tomorrows game, he will be activated on Tuesday, and will start Thursday's game against the Diamondbacks in Phoenix. Who Love's Ya Baby! Joe D Original Post 7/21 Many Mets fans who are anxiously awaiting for the team to promote pitching prospect Matt Harvey from Triple-A Buffalo to join the Mets rotation, may...
Congratulations to this week's MMO Player of the Week… Through the use of the scorecard, let's take a look at how Daniel Murphy did during the week ending Sunday, July 22nd: G AB H R 2B 3B HR RBI BB K AVG 6 21 13 4 6 1 0 3 1 1 .615 Murphy showed us again why he is a valuable piece to our club. Aside from David Wright he...
Matt Harvey (credits below) The Mets promote two young hurlers and a rookie has become the most consistent starting pitcher in Cleveland. SP- ZACH McCALLISTER (CLEVELAND)- The 6'6" 24 year old righty has been solid since he was recalled to the majors in late June. In his last five starts he is 3-1 with a 2.61 ERA. For the season Zach is 4-2 with a 3.21 ERA avearaging...
  The New York Mets entered Sunday's game having won one of their previous eight games since the ALl Star Game in Kansas City. The game made it tied into the top of the 12th inning tied at three until the Los Angeles Dodgers scored five times in the inning to win by a score of 8-3. With the loss the Mets fall below the .500 water mark for the first time in 2012 after starting...
They fought as they always do, but this time a ninth-inning rally to tie the game prevent an inevitable loss, or the humbling reality that came along with the defeat. The New York Mets, a feel-good, scrappy story throughout the first half, have fallen below .500 for the first time all season. The players were left grasping for answers after Sunday's 8-3, 12-inning loss to...
NEW YORK -- One hit came after the other in the top of the 10th inning for Washington, suddenly leaving the New York Mets so far from a win it became hard to see how close they once had been. Just like the defeats that have piled up recently, Monday night's 8-2 loss to the Washington Nationals left the Mets trying to recognize the team that once threatened to challenge Washington...
I think it's safe to say the Dog Days have arrived – that all-too-familiar time when one day runs into the next and it seems like no one has any energy. People get edgier this time of year, tempers shorten and frustration lengthens. If you're a fan of the Mets, the Dog Days started just before the All-Star Game. Talk about being edgy and frustrated… The Mets have returned...
The Mets look to return to the win column today as they take on the Dodgers for game three of the series. Yesterday's game was rather "blah" so no point in recapping it. Anyway, Niese gets the start today as he takes on Nathan Eovaldi of the Dodgers: Niese is 7-4 on the season with a 3.58 ERA over 18 starts and 110.2 innings of work. Jon rebounded really nicely in his last...
Rick Ankiel is looking for a new home.  Should the Cardinals bring him back to help out in the outfield? -  (Photo credit: Wikipedia) Rick Ankiel and the St. Louis Cardinals have a very long and interesting past.  The once high-prized pitching prospect turned outfielder has one of the most interesting stories in the history of Major League Baseball and last week his story took...
MLB News

Delivered to your inbox

You'll also receive Yardbarker's daily Top 10, featuring the best sports stories from around the web. Customize your newsletter to get articles on your favorite sports and teams. And the best part? It's free!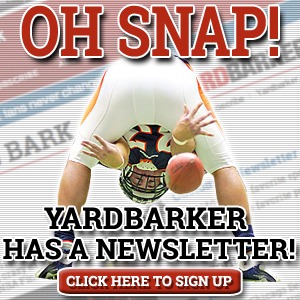 Latest Rumors
Best of Yardbarker

Today's Best Stuff

For Bloggers

Join the Yardbarker Network for more promotion, traffic, and money.

Company Info

Help

What is Yardbarker?

Yardbarker is the largest network of sports blogs and pro athlete blogs on the web. This site is the hub of the Yardbarker Network, where our editors and algorithms curate the best sports content from our network and beyond.