Found May 12, 2013 on Fox Sports Arizona:
PLAYERS:
Brandon McCarthy
,
Gerardo Parra
,
Didi Gregorius
,
A.J. Pollock
,
Heath Bell
,
Matt Reynolds
,
Miguel Montero
,
Trevor Cahill
,
Chase Utley
,
Jimmy Rollins
,
Ryan Howard
TEAMS:
Arizona Diamondbacks
,
Philadelphia Phillies
PHOENIX -- Brandon McCarthy was not consulted, in large part because his answer was obvious. Certainly he would have wanted to remain in the game after pitching eight shutout innings against the Phillies on Sunday. Starting pitchers do not want to stop. But after McCarthy was removed with a 2-0 lead in the ninth inning, the game quickly turned in favor of the Phillies, who ended up rallying for a 4-2 victory over the Diamondbacks in 10 innings. Leaving McCarthy in the game would have made sense. McCarthy had thrown only 88 pitches in eight efficient innings while giving up seven hits, all singles. Only three Phillies had reached second base, and McCarthy had not gotten as far as a three-ball count to any of the 29 batters he had faced while maintaining the 2-0 lead that Gerardo Parra, Didi Gregorius and A.J. Pollock had provided in the first inning. Yet McCarthy was not given a chance to throw his first complete game since Sept. 3, 2011, and the opportunity for first victory since Aug. 30, 2012, went away when the Phillies scored two runs off Heath Bell in the ninth to tie it and two runs off Matt Reynolds in the 10th to win it. McCarthy was surprised, but at the same time made some of manager Kirk Gibsons case for turning to Bell, who had converted three straight save attempts. Yeah. At 88 (pitches), I was kind of a little tired in the eighth, but I felt I was at least shoring some things up. Its an inning that Id always like to go back out, McCarthy said. The last few weeks here, where things havent been smooth and I havent really been a guy to be counted on ... but Id like to get that reputation back, where it has been the last couple of years (where) if I get in that situation there, its a no-brainer I get the ball for the ninth. Gibson said he spoke with pitching coach Charles Nagy and catcher Miguel Montero before reaching his decision to pull McCarthy, who is 0-3 with a 5.63 ERA. "And I guess we just went with the way we thought was the best way to go. It didnt work out. We know now it didnt work out. Even if I had left him in, we dont know how it would have worked out. You make decisions and sometimes they dont work out, Gibson said. Im not going to get specific, but I did what I thought was the right move. It didnt work out. Give the Phillies some credit. We didnt execute the pitches when our relievers came in. Montero said he agreed with the decision, which was similar to the one made when Trevor Cahill was replaced with a runner on first in the ninth inning of a 1-0 game after throwing 88 pitches against the Giants on April 30. The bullpen failed to hold that lead in a 2-1 loss. For that guy, I wouldnt call it scuffling, but hes been giving up runs every outing, Gibson said of McCarthy. "I thought it was good to take him out in the eighth. Thats what we have a closer for. We have guys out there that can get the job done." Chase Utley, who had four hits, doubled and scored on Delmon Youngs one-out double to make it 2-1, and Domonic Brown followed with a hard single to tie the game. It was the D-backs league-leading 11th failed save conversion. After Jimmy Rollins singled and Utley doubled again in the10th, Ryan Howard ended an 0-for-18 drought with a soft single to right field. Howard had been 0 for 17 with nine strikeouts in the series. McCarthy pitched an outstanding, Reynolds said. "Its a tough pill to swallow when you are the bullpen and he pitches a great game like that and we cant come through and finish the job for him. Its tough for him, too. To not get the win out of it is probably pretty disappointing for him, too." McCarthy did not see it that way. The disappointment is with us not getting a win. I really dont care if I dont get a win. It is an inconsequential stat. It has no effect on me one way or the other. Wed like to win that game as a team. Thats what matters, McCarthy said. In a larger lens, McCarthy on Sunday was the pitcher the D-backs believed they had acquired when they signed him to a two-year, 15.5 million free-agent contract in the winter. McCarthy led the NL with 62 hits allowed coming into the game, but he was never in trouble, seldom even behind in the count. The Phillies put two runners on base in only one inning, the second, and McCarthy got out of the inning on a groundout. He got double-play grounders to get out of the seventh and eighth innings in what turned out to be easily his best start of the year. The outing was a continuation of the mindset that established in his last start in Los Angeles, a no-decision in which gave up one run in his last 4 13 innings against the Dodgers. I know that when I feel sharp and I can put the ball where I want it, I can be successful. So there is a lot of that, clearing it mentally and just, 'Im going to try to throw this right here,' and if it does Ill be successful, McCarthy said. Follow Jack Magruder on Twitter
Original Story:
http://www.foxsportsarizona.com/mlb/a...
THE BACKYARD
BEST OF MAXIM
RELATED ARTICLES
PHOENIX -- In a stellar 2012 season that saw him win 16 games and finish second in NL Rookie of the Year voting, Diamondbacks pitcher Wade Miley made command his calling card. He gave up 1.7 walks per nine innings, or roughly one every five innings pitched. But so far this year, Miley's command has betrayed him, as the lefty is giving up more than twice as many walks and has...
PHOENIX (AP) -- Ryan Howard looped a two-run single to right field in the 10th inning after Philadelphia scored twice in the ninth to tie it, lifting the Phillies to a 4-2 win over the Arizona Diamondbacks on Sunday. Shut down by Brandon McCarthy for the first eight innings, the Phillies scored two runs in the ninth against fill-in Diamondbacks closer Heath Bell. Jimmy Rollins...
It has become increasingly clear that Major League Baseball must protect its pitchers. On May 7, 2013, when Toronto Blue Jays pitcher J.A. Happ was struck in the base of the skull by a ferocious line drive that rocketed off of the bat of Tampa Bay outfielder Desmond Jennings, we were given a reminder about one of the genuinely dangerous aspects of playing baseball. Happ had essentially...
On a staff with a couple of other big-name pitchers, Kyle Kendrick has been the unexpected ace for the Phillies so far. The surprising Kendrick will try to win his fourth straight start and lead the Phillies to a winning record on their West Coast swing Sunday when they close it out against the Diamondbacks. Philadelphia (17-21) snapped a three-game losing streak and improved to...
Ryan Howard looped a two-run single to right field in the 10th inning after Philadelphia scored twice in the ninth to tie it, lifting the Phillies to a 4-2 win over the Arizona Diamondbacks on Sunday. Shut down by Brandon McCarthy for the first eight innings, the Phillies scored two runs in the ninth against fill-in Diamondbacks closer Heath Bell. Jimmy Rollins singled with one...
Raise your hand if you missed this guy... Stephen Dunn/Getty Images North America Christian Petersen/Getty Images North America Norm Hall/Getty Images North America Doug Pensinger/Getty Images North America Dustin Bradford/Getty Images North America Elsa/Getty Images North America Christian Petersen/Getty Images North America We miss you too, Marteen. Just sneak onto the Braves team...
With my Philadelphia Phillies currently nearing the end of a west coast road trip, I wanted to post a delectable item that can be found at their current away destination.  With a game Saturday night and Sunday afternoon left to play in a four game series, the Arizona Diamondbacks host the Fightin' Phils at Chase Field.One of the most mouth watering options that this stadium...
After a three-game losing streak, the Phillies finally collected a win behind the arm of Cliff Lee last night. Clifton went seven shutout innings, allowing six hits, two walks while he struck out three to earn his fourth win of the year. The Phillies were able to mount three runs...
After calling Chase Field home for his first six major league seasons, Justin Upton is set to play his first game there as a visitor Monday night. Upton will try to help the Atlanta Braves break out against the Arizona Diamondbacks - his former team - in a matchup of two slumping offenses. The No. 1 overall pick by the Diamondbacks in 2005, Upton drove in 67 runs in 150 games in...
Philadelphia Phillies (17-21) at Arizona Diamondbacks (21-16) Kyle Kendrick (4-1, 2.45) v. Brandon McCarthy (0-3, 6.75) TIME: 4:10, Chase Field TV: PHL 17 Weather: Upper 80′s partly cloudy Media: Twitter and Facebook Happy Mother's Day from Phillies Nation! Today is the day we get to see the pink bats, balls, and gear worn by the players in support of Mother's Day...
MLB News

Delivered to your inbox

You'll also receive Yardbarker's daily Top 10, featuring the best sports stories from around the web. Customize your newsletter to get articles on your favorite sports and teams. And the best part? It's free!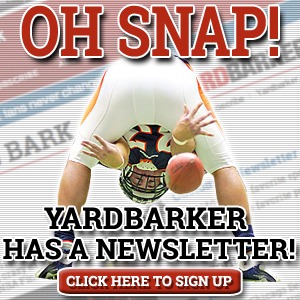 Latest Rumors
The Backyard

Today's Best Stuff

For Bloggers

Join the Yardbarker Network for more promotion, traffic, and money.

Company Info

Help

What is Yardbarker?

Yardbarker is the largest network of sports blogs and pro athlete blogs on the web. This site is the hub of the Yardbarker Network, where our editors and algorithms curate the best sports content from our network and beyond.