Found November 08, 2012 on Fox Sports West:
PLAYERS:
Mark Mcgwire
,
Dave Hansen
,
Tony La Russa
,
Ned Colletti
,
Hanley Ramirez
,
Shane Victorino
,
Adrian Gonzalez
,
Matt Kemp
,
Andre Ethier
,
John Mabry
TEAMS:
Los Angeles Dodgers
,
St. Louis Cardinals
LOS ANGELES -- Mark McGwire is back in Southern California, officially announced to the world Wednesday as the Dodgers' new hitting coach. He replaces Dave Hansen, who was removed from the position following the 2012 season, offered a new job with the team, then took the job as Seattle's hitting coach. All of that was pretty much known last week when the McGwire news first broke. What wasn't known is that McGwire was thinking seriously about leaving not only his job as St. Louis Cardinals' batting instructor, but leaving the game altogether. He said on a conference call that he was weighing his love of the sport and his job against the needs of his family. Had the Dodgers not contacted him, the man who helped coach the Cardinals to a World Championship in 2011 and the best team batting average in the National League last season, would be just another retired ballplayer living once again near his home town. "That was something I was going to really, really consider," said McGwire, who set the then-single season record with 70 home runs in 1998, later admitting he was taking steroids while doing it. "This last year was really difficult. Being away from my boys, missing their games, and being away from my girls, too. It took a little while for them to realize daddy was back when I got a couple of weeks ago. "I probably would have (gone back), because I love working. But I don't know if I could say that to 100 percent. But here it is, and I'm very thankful that the Dodgers called and everything worked out." The former USC standout hit 583 career home runs, retiring after the 2001 season, and basically staying out of the spotlight until resurfacing with the Cardinals in 2010, hired by manager Tony LaRussa. He had refused to admit using PED's in front of a congressional hearing, saying he didn't want to talk about the past. But when he came back with the Cardinals, it was with the caveat that he come clean about his drug use and diffuse any controversy that might have taken away from his job performance. He did it in spring training, and the subject was hardly referred to again during his coaching tenure in St. Louisexcept when Hall of Fame voting time approached each year. Despite his 583 bombs in a career that was spectacular at timesinjury-plagued at othershe received just under 20 percent of the vote last year. To be voted into the Hall, a person must get 75 percent of the vote in any one year. "It's something I did and I'll have to live with the rest of my life," Big Mac lamented. "I understand everything the Hall of Fame is about and I respect that. It's a mistake I made, confronted it head on and moved ahead. I had to go through what I had to go through. I really don't know what else to say." Dodger General Manager Ned Colletti said it for him. "The fact that he apologized for it was very important," Colletti said. "We all make mistakes and we all do things we look back on and think twice about whether we would do it (again). That he admitted to it was important. "He's also done other things in his life of great, high character. He had a contract he had agreed to at one point in time, but physically he didn't think he could continue to play. He walked away from it instead of sitting on the (disabled list and collecting the money). I think there's not a lot of other player who have done that in their life. "I talked to a lot of people who really know him and see how he really lives his life in a lot of different ways, and there's so many other great qualities in him. He owned up to making a mistake, and there's so many other great qualities about him that you forgive the mistake." Obviously Colletti is hoping that McGwire can work his coaching magic with the Dodger offense which, despite an infusion of top-notch talent, was near the bottom in performance last season. Hanley Ramirez, Shane Victorino, and Adrian Gonzalez were picked up in trades, joining Matt Kemp and Andre Ethier, yet the team struggled for most of the season. The Dodgers were 13th in the National League in team batting average and OPS. Even with the best pitching in the world, you have to score at least once to win. McGwire feels the pieces are all in place for the Dodgers to make a racket with the bat in their hands. "This team has really good hitters," said McGwire, who lives in Irvine, about a 30-40 minute ride from Dodger Stadium. "It's up to me to bring out the best in each one of them and I can't wait to start talking with them about their thoughts, watching the video and coaching them. "I really love coaching and everything that goes with it. All the preparation. Everything. I knew when I was playing that I'd like it. I didn't know how much I'd love it. "I can't tell you how happy I am that the Dodgers came calling." NOTES....Colletti and McGwire confirmed that an assistant hitting coach would be named next week. It won't be McGwire's right hand man in St. louis, John Mabry, who was named to replace McGwire with the Cards........
Original Story:
http://www.foxsportswest.com/11/08/12...
THE BACKYARD
BEST OF MAXIM
RELATED ARTICLES
The Los Angeles Dodgers officially named Mark McGwire their hitting coach on Wednesday. General manager Ned Colletti announced that McGwire will replace the fired Dave Hansen. McGwire, a 12-time All-Star who set a major-league record for home runs in a season in 1998, served as the St. Louis Cardinals' hitting coach for the past three seasons but made the move to the Dodgers...
LOSANGELES The Los Angeles Dodgers Wednesday named Mark McGwire as their hitting coach. The announcement was made byGeneral Manager Ned Colletti. Markhas been able to translate his success as a big league hitter into his work ********* coach with the Cardinals, Colletti said. He earned the respect ofboth veterans and young players while in St. Louis and the offensive numbersthe...
By SBRForum.com Things are starting to look interesting in Los Angeles. The Dodgers have put together some intriguing plans over the past week that will leave the rest of the league reeling. Of these recent happenings, the most interesting are the fact that Mark McGwire may become the team's new hitting coach and that the team is eyeing James Shields as their top choice for starting...
A.J. Ellis After toiling in the minors for parts of nine seasons with just a couple cups of coffee to show for it, all the while watching the Dodgers treat the catcher position like it was wholly unimportant (trading Carlos Santana, allowing Joe Torre to run Russell Martin into the ground, and Rod Barajas not only being on the team but starting games as the primary backstop), A.J...
ST. LOUIS - When Mark McGwire returned to the game of baseball in 2010 as the Cardinals hitting coach, he did so with a promise to his wife: After every season, the two would talk and reevaluate whether or not he should continue to coach the following year. The two also had a dream: that he could someday coach for a team closer to their home in Orange County, Ca. He got about as...
INDIAN WELLS The Dodgers are probably unlikely to trade for a starting pitcher this winter and might have to address that need in the free-agent market, General Manager Ned Colletti said. Collettis assessment was based on conversations he had with other teams at the general managers meetings, which started Wednesday. Asked about what hes learned in the last 24 hours about the...
The Dodgers are already in hot pursuit of Zack Greinke, Hiroki Kuroda, and James Shields, now enter Anibal Sanchez. The Dodgers figure to be the busiest team in free agency this winter. The Dodgers have money to spend and are not willing to settle for anything less than a World Series in 2013. The Dodgers have Clayton Kershaw, Josh Beckett, Chad Billingsley, Chris Capuano, Aaron...
The LA Dodgers have hired their fourth hitting coach since 2008 but this one has ties to the LA area and a Hall of Fame pedigree if you can ignore a past scandal. The Dodgers have announced the hiring of Mark McGwire who served as the St. Louis Cardinals hitting coach last season. McGwire, a [...]
The face of performance-enhancing drugs now can't understand why an athlete would engage in their use. Mark McGwire was perhaps the first major leaguer to truly bring PED use into focus. To accomplish that, all he had to do was break MLB's all-time single-season home run record while taking PEDs. After a long exile from baseball and the limelight, McGwire spent the past...
The face of performance-enhancing drugs now can't understand why an athlete would engage in their use. Mark McGwire, of course, was perhaps the first Major League Baseball player to truly bring PED use into focus. To accomplish that, all he had to do was break MLB's all-time single-season home run record while on the junk. After a long exile from baseball and the limelight, McGwire...
Free agent pitcher Todd Coffey deleted his Twitter account because Barack Obama won the election last night. Bye Todd!! RT @toddcoffey60: I'm out I'll be back on twitter in 4 years if we can... Full story at Bob's Blitz ~ http://www.bobsblitz.com
Mark McGwire is one of the most prolific power hitters in baseball history, but the former slugger wouldn't vote himself into the Baseball Hall of Fame and says he has no beef with keeping him out. "No, not by the guidelines that they have now," McGwire said Friday on the Dan Patrick Show. "I'll never fight it. I totally respect the Hall of Fame. I have never...
MLB News

Delivered to your inbox

You'll also receive Yardbarker's daily Top 10, featuring the best sports stories from around the web. Customize your newsletter to get articles on your favorite sports and teams. And the best part? It's free!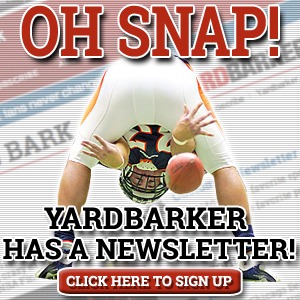 Latest Rumors
The Backyard

Today's Best Stuff

For Bloggers

Join the Yardbarker Network for more promotion, traffic, and money.

Company Info

Help

What is Yardbarker?

Yardbarker is the largest network of sports blogs and pro athlete blogs on the web. This site is the hub of the Yardbarker Network, where our editors and algorithms curate the best sports content from our network and beyond.