Posted May 18, 2012 on AP on Fox
A man testified Monday that he saw Roger Clemens at a 1998 Jose Canseco pool party that the former pitcher has denied attending, which is one of the false statements prosecutors allege Clemens made in his 2008 congressional deposition. Prosecutors showed jurors a photo of the then 11-year-old Alexander Lowrey on the deck of the pool, next to a smiling Clemens who is standing in the shallow end of the water. The former pitcher's hair is bleach-blonde, which is how Lowrey said he recalled it. Lowrey, now 25, said he had been invited to the party in south Florida by a handyman who worked for his family's business as well as Canseco. At the time, Clemens and Canseco were teammates with the Toronto Blue Jays. Lowrey said he played baseball back then and looked up to Clemens as ''one of the best pitchers in the game.'' Brian McNamee, Clemens' longtime strength and conditioning coach, has testified that he overheard a conversation that season between Clemens ...
Original Story:
http://msn.foxsports.com/mlb/story/br...
THE BACKYARD
BEST OF MAXIM
RELATED ARTICLES
NO WAY JOSE
Jose Canseco made his debut last night with the independent Worcester Tornadoes when they faced off against Newark to open their Can-Am League season. Jose has been hyping his triumphant return to baseball recently on Twitter and most of his followers, like myself, were hoping he would fail miserably. Lucky for us, Jose did poorly and finished the game going 0-2 with a walk and...
In case you forgot, the Roger Clemens perjury trial is still going on and it appears that even the jurors aren't interested in it. For the second time during this lengthy trial, one of the jurors has lost interest and was relieved from their duty by falling asleep during the trial: The trial is in its fifth week, and the tedium cost the proceedings another...
So, how was your Thursday night? It was probably a lot better than Jose Canseco's. The new Worcester Tornadoes designated hitter made Can-Am League debut on Thursday night against the Newark Bears. Things started off promisingly for Canseco with a pair of walks, but at some point the Bears pitchers deemed it best to go right at him, handing the slugger a pair of strikeouts. One...
Former Major League Baseball celebrity Jose Canseco made his debut for the Worcester Tornadoes where every pitch was recorded and put onto YouTube. God bless you internet. Despite being walked on his first two at bats, Jose had a pretty dismal performance for the night and did not look pleased. Chants of "Steroids!" filled the front rows and also Canseco's catch phrase of "hug...
Jose Canseco made his heavily anticipated debut with the Worcester Tornadoes (I wonder if their official condiment is Worcestershire Sauce) of the Canadian-American Association of Professional Baseball, an independent professional baseball league, on Thursday evening as his new team played an away game against the Newark Bears. Some enterprising fellow had the foresight to record [...]
Brian McNamee testified Friday that some of the medical evidence he saved in a beer can was not used on former pitcher Roger Clemens. McNamee is the main prosecution witness in the case against Clemens, who's accused of lying to Congress when he denied using performance-enhancing drugs. McNamee testified this week that he injected the seven-time Cy Young Award winner with steroids...
WASHINGTON -- Roger Clemens' lawyer toyed with Brian McNamee's memory and attacked him from several directions at once. The attorney even put an easel next to the witness with the words: "MISTAKE. BAD MEMORY. LIE." Eventually, there came the inevitable question: "Do you sometimes just make stuff up?" McNamee has frequently taken long pauses before answering...
The key witness in the Roger Clemens perjury trial testified Monday about three other baseball players who he said took human growth hormone. Brian McNamee, Clemens' longtime strength and conditioning coach, told jurors that he provided HGH to current Yankee pitcher Andy Pettitte and former Yankee infielder Chuck Knoblauch. McNamee also testified that former Yankee pitcher Mike...
Brian McNamee, the chief prosecution witness in the Roger Clemens perjury trial, conceded he initially lied about his involvement with steroids. Clemens lawyer Rusty Hardin said to McNamee, ''It was a lie wasn't it?'' McNamee said yes. McNamee said he lied both out of self-preservation and to assure Clemens ''I had his back.'' Hardin highlighted...
Gone this week was the absurd circus feel of weeks past. The Roger Clemens' perjury trial just became "Law and Order" serious. The Government's star witness, Brian McNamee, took the stand. "Would you agree that whether or not Roger Clemens used steroids depends upon whether you are telling the truth?" This was 30 minutes into defense attorney Rusty Hardin's cross-examination...
Five things Im dreaming about this weekend while sleeping through the Roger Clemens trial. 1. Something that seems true (and totally is): Being in the Pro Football Hall of Fame is obviously awesome, but being a Houston Hall of Famer is nothing to sneeze at either. Its basically a corporate marketing opportunity, but the insurance company Allstate nonetheless inducted football...
MLB News

Delivered to your inbox

You'll also receive Yardbarker's daily Top 10, featuring the best sports stories from around the web. Customize your newsletter to get articles on your favorite sports and teams. And the best part? It's free!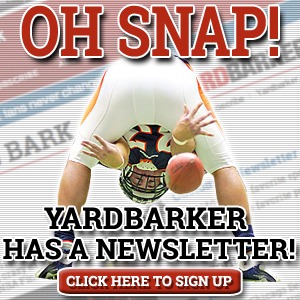 Latest Rumors
Best of Yardbarker

Today's Best Stuff

For Bloggers

Join the Yardbarker Network for more promotion, traffic, and money.

Company Info

Help

What is Yardbarker?

Yardbarker is the largest network of sports blogs and pro athlete blogs on the web. This site is the hub of the Yardbarker Network, where our editors and algorithms curate the best sports content from our network and beyond.