Found February 12, 2012 on Detroit Sports 360:
The 2012 Detroit Tigers are going to be the most exciting team to watch in the majors this year, and it will be almost video game like to watch this year! It seems like Mr. Ilitch and company have assembled a team that is built to bash teams out of the park. The only question is… will it work?
If you take a look at the current roster and batting lineup, you will see nothing short of homeruns and RBI's waiting to happen. With the exception of Austin Jackson, Ramon Santiago and Don Kelly, every single starter has the ability to hit 20+ homeruns this year. One could even say that the Tigers have the best offense in the major leagues this year! Which is absolutely crazy and fun for Tigers fans to say. Anyone that has every played MLB baseball on PS3 can relate to the Tigers having a video game players dream roster. Here is my Tigers projected lineup this year and a short summary on each player. With the help of fellow 360 writer John C with the summaries. Enjoy Tigers fans and go Tigers!
2012 Batting Order and Position (click on name to see 360 Profile) Average Age of starters (27.4)
1. Austin Jackson CF   HT: 6'1    WT: 185    AGE:  24
Jackson is a slick fielding defender with great speed. Jackson is still a very young player that is still learning the game. Jackson's biggest flaw is he strikes out a lot. He has over 300 in his first two-years as a MLB player. Once Jackson figures out how to cut down on his strike-outs and really harnesses his speed, he is going to be a great lead-off hitter, and a potential Gold Glove defender.
2. Brennan Boesch RF   HT: 6'4    WT: 235   AGE: 26
Boesch is a young guy with great power, good speed, and a great throwing arm in the outfield. In 2011 Boesch took great strides at becoming more patient at the plate and taking more pitches; brining his average up from .256 in 2010 to .283 in 2011. Boesch is going to be great for years to come. The sky is the limit for him.
3. Miguel Cabrera 3B   HT: 6'4    WT: 215 (slimmed)   AGE: 28
Cabrera has slimmed up this off season to play 3B for the Tigers and is reported to be 25 pounds lighter then last year! This could be one of the best 3-4 combos ever! Cabrera is one of the deadliest and most feared right handed hitters in the game. Cabrera is the complete package. He can bat for average, hit for power, and every year he comes to Spring Training; you can mark down a .300 average, 30 plus homeruns, and 100 plus RBIs. He will go down with the all-time greats.
4. Prince Fielder 1B   HT: 5'11    WT: 275   AGE: 27
Prince Fielder is an absolute stud! His career numbers speak for themselves, and more importantly is that he plays every game. He has no injury concerns and at 27 years old, is entering the prime of his career. He isn't going to steal you a base, but he will do everything else. At only 27 years old he is already considered one of the best batters in the game. With a 28 year old Cabrera hitting in front of him, they will both put up numbers that rival the original bash brothers in Oakland!




5. Delmon Young  DH   HT: 6'1   WT: 200   AGE: 26
If you give Young a first pitch fastball that touches the strike-zone, I hope you enjoy watching Young trot the bases. Young's best quality is sometimes his biggest flaw. Young is a free-swinger that doesn't walk much and can pile up strike-outs from time to time. He is also a horrible fielder that takes horrible routes to the ball and makes you un-easy ever-time a pop fly comes his way. But he does have an outstanding throwing arm, and if you try to over-power him with fastballs, you will not succeed.
6. Alex Avila C   DH   HT: 5'10   WT: 210   AGE: 24
Avila is a great defensive catcher that has good power, bat for average, and is a work-horse behind the plate. Avila really broke out in 2011; putting up a .295 AVG, with 19 HR, and 82 RBIs. Avila is as tough as they come. He caught over a 150 games and took a beating behind the plate and still played through the pain. Avila struggles against left handed pitchers, and strikes out a lot. He is going to be a great catcher for years to come.
7. Jhonny Peralta SS   DH   HT: 6'2   WT: 215   AGE: 29
Peralta is great short-stop with good power. This year he really broke-out with 21 homeruns and 86 RBIs. He also can bat for average as well, putting up a .299 average this past year. The only real knock on Peralta is he can sometimes fall into long slumps at the plate. He also can rack up some strike-outs as well. Peralta is going to be a great short-stop for the Tigers for years to come.
8. Don Kelly LF   HT: 6'4   WT: 190  AGE: 31
9. Ramon Santiago 2B   HT: 5'11  WT: 175  AGE: 32
If you liked this article, Ccheck out more Tigers 360 related Tigers Pages 
DS360 Tags:
Detroit Tigers
,
Miguel Cabrera
,
Prince Fielder
Original Story:
http://feedproxy.google.com/~r/Detroi...
THE BACKYARD
BEST OF MAXIM
RELATED ARTICLES
Miguel Cabrera has already changed his shape in an effort to change positions. The Tigers slugger has dropped about 25 pounds this offeason, according to teammate Alex Avila in a recent TV interview. And Cabrera's trainer -- Radhi Muhammad of 4.40 Fitness -- is so proud of the progress, he's tweeting pictures of an obviously slimmer Cabrera. Cabrera is working out with...
Our Tigers preview continues with the outfield. With players back from injury, the starters are set. Brennan Boesch should be good after the thumb injury ended his 2011 season, Delmon Young's oblique is healed up and Austin Jackson looks to put a tough offensive season behind him.
What else can baseball fans do in January but dream of October? In You May Say I'm a Dreamer, the Outside Corner staff will imagine the route to a World Series in 2012 title for all 30 teams. Some of these dreamer pieces are easier than others to write, take it from me, I'm the guy who had to conjure up a fantasy world in which the decrepit Houston Astros could win a...
Time will tell whether Miguel Cabrera can make the move back to third base, as the Tigers have planned. As the reigning American League batting champion prepares for his big test at the hot corner in Spring Training, his effort is unquestioned.
Pitchers: Al Alburquerque, Collin Balester, Duane Below, Joaquin Benoit, Phil Coke, Casey Crosby, Octavio Dotel, Doug Fister, Matt Hoffman, Luis Marte, Andrew Oliver, Jose Ortega, David Pauley, Rick Porcello, Max Scherzer, Daniel Schlereth, Tyler Stohr, Jacob Turner, Jose Valverde, Justin Verlander, Brayan Villarreal, Adam Wilk.
(source feed provided no summary content for this entry)
While no one expects a Gold Glove for Miguel Cabrera at third base, he must be better than he was in 2008.
SportsTalk: Albert Pujols signs with the Angels and Prince Fielder joins the Tigers. Which team is better now? (NBC Sports)
Four years ago today, I wrote the first post in RSBS history.  It was terrifyingly awful.  What terrifies me even more is that at that time in 2008, I had incredibly high hopes for the Tigers' upcoming season based on some high-profile acquisitions they had made.  Four years later, I'm still haunted by that 2008 season and experiencing no small amount of deja vu (all over...
HBT: Prince Fielder is gone and Ryan Braun will likely miss a third of the season because of a failed PED test. Can Milwaukee stay in contention until he gets back?
Tigers News

Delivered to your inbox

You'll also receive Yardbarker's daily Top 10, featuring the best sports stories from around the web. Customize your newsletter to get articles on your favorite sports and teams. And the best part? It's free!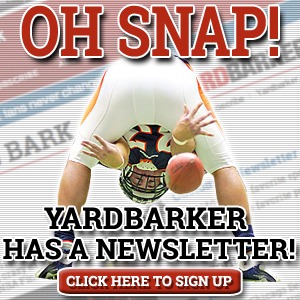 Latest Rumors
The Backyard

Today's Best Stuff

For Bloggers

Join the Yardbarker Network for more promotion, traffic, and money.

Company Info

Help

What is Yardbarker?

Yardbarker is the largest network of sports blogs and pro athlete blogs on the web. This site is the hub of the Yardbarker Network, where our editors and algorithms curate the best sports content from our network and beyond.