Found July 03, 2012 on Pro Sports Daily:
PLAYERS:
Charlie Manuel
,
David Wright
,
Daniel Murphy
,
Ruben Tejada
,
Jon Niese
,
Carlos Ruiz
,
Cole Hamels
,
Terry Collins
,
Ryan Howard
,
Roy Halladay
,
Brian Sanches
,
Pablo Sandoval
,
Vance Worley
,
Josh Thole
,
Kirk Nieuwenhuis
,
Andres Torres
,
Jason Bay
,
Ruben Amaro
TEAMS:
Philadelphia Phillies
,
New York Mets
,
San Francisco Giants
NEW YORK -- A few hours after Philadelphia Phillies manager Charlie Manuel acknowledged his team needed to start winning or face the prospect of having veterans traded, the New York Mets did their part to keep the Phillies' losing streak going. The Mets thumped Philadelphia 11-1 on Tuesday, racking up 15 hits in a rout that sent the Phillies to their sixth straight loss in front of a record Citi Field crowd of 42,516. David Wright smacked his 10th homer of the season while Daniel Murphy tied a career-high with four hits, including a double, triple, and four RBIs. Ruben Tejada had three hits out of the leadoff spot and Jon Niese pitched eight innings of one-run ball while adding his own two-run single. The Phillies scored their lone run on Carlos Ruiz's 12th homer of the season. Despite Phillies general manager Ruben Amaro Jr. telling reporters Monday he still aimed to keep starter Cole Hamels, Manuel acknowledged before the game the heat was on before the July 31 non...
Original Story:
http://www.prosportsdaily.com/article...
THE BACKYARD
BEST OF MAXIM
RELATED ARTICLES
Signing Cole Hamels should be the number priority of the Phillies, starting today. (AP) Yesterday, Corey Seidman outlined for you why it would behoove the Phillies to trade Cole Hamels before the upcoming July 31st trade deadline. Today, I'm here to tell you why, instead of trading Hamels, the Phillies must do whatever it takes to retain him. Over the last decade, the...
Brandon Nimmo Getting Into The Swing I asked Brandon Nimmo if he had a few minutes to spare at some point before the game against the Hudson Valley Renegades on Sunday. He said, "when?" I said, "you tell me, anytime your available." He turned around and caught the eye of his hitting coach Bobby Malek who simply nodded, and Nimmo turned back to me and said, "I have time...
With a lopsided victory Tuesday night over the defending division champs, the New York Mets have officially hit the season's midway point in style.  The team now sits seven games over .500 (44-37) in sole possession of second place in the NL East, just 3 1/2 games behind the upstart Washington Nationals. While most of the pundits picked the Phils to win the division back before...
Charlie Manuel let out an odd chuckle in the visiting manager's office at Marlins Park on Saturday afternoon. It was either gallows humor or a self-deprecating laugh. But it also kind of summed up the state of his fading, underachieving team. "When we can't win with (Cliff) Lee and (Cole) Hamels, that kinds of tells you how things are going," Manuel said before...
Chris Young on Wednesday fell to 2-2 Coming into July 4, Philadelphia Phillies starter Cliff Lee had zero, zilch, nada, nothing, no wins in 13 starts on the 2012 season, but that changed in the seventh inning when the Phillies took a 3-2 lead on a pair of home runs by Chase Utley and Carlos Ruiz. Both Mets starter Chris Young and Lee exchanged 1-2-3 innings in the first and second...
In the last five games the Mets are 4-1 while the Phillies are 0-5. Combined with New York being six games over .500 and Philadelphia nine games under, it's understandable why the Mets come into their three game-set with the defending NL East champs almost a bit cocky. Josh Thole is shooting to go 5-1 in the six games remaining before the All-Star break, which would winning...
Cliff Lee of the Philadelphia Phillies is among the best pitchers in the majors. What west coast hurlers are in that group? The Apocalyptic Horsemen Stats are in my daily coverage. TAL'S HANDY STATS   WELCOME, NEWCOMERS: I am alternating a game-day 2012 ERA For The NL East and a 2012 ERA For The MLB 5. See link section below. In each publication, the number after the title will...
Philadelphia Phillies (36-46) vs. New York Mets (44-37) Cliff Lee (0-5, 4.13) vs. Chris Young (2-1, 3.30) Time: 1:10, Citi Field TV: CSN Weather: Scattered Thunderstorms, 91 Media: Twitter and Facebook Happy Independence Day!  There's nothing like celebrating the Fourth of July by watching America's past time. Once again, Cliff Lee is looking for his first victory.  There...
BONUS BABY: Germán Ahmed Rosario gets record $1.75 million to sign with the Mets as day one of International Free Agency period begins. The Mets announced that they have signed Dominican SS Germán Ahmed Rosario during the first day of the International Free Agent signing period. Rosario will get a $1.75 million signing bonus, the highest bonus the Mets have ever paid an International...
Jordany Valdespin is mobbed by teammates following his game-winning walk off hit vs. Durham The Bisons put on one hell of an Independence Eve Celebration at Coca-Cola Field on Tuesday night. It wasn't enough that the Bisons had nearly 16,000 fans in the stands and the Buffalo Philharmonic on hand to give a dazzling post-game show. The Bisons wanted to get involved in the action...
The Mets look to get back on the winning page today as they open up a three game set against the Phillies in Citi Field. If records for July were held constant, this three game set, and the next (Cubs) will be the only 6 games the Mets will play against teams below .500. Anyway, the Phillies will send out Vance Worley today to take on Jon Niese. Niese is 6-3 on the season with a...
MLB News

Delivered to your inbox

You'll also receive Yardbarker's daily Top 10, featuring the best sports stories from around the web. Customize your newsletter to get articles on your favorite sports and teams. And the best part? It's free!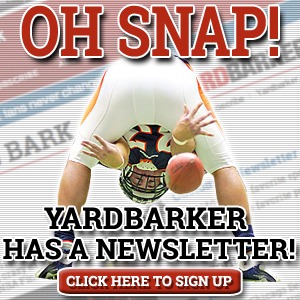 Latest Rumors
Best of Yardbarker

Today's Best Stuff

For Bloggers

Join the Yardbarker Network for more promotion, traffic, and money.

Company Info

Help

What is Yardbarker?

Yardbarker is the largest network of sports blogs and pro athlete blogs on the web. This site is the hub of the Yardbarker Network, where our editors and algorithms curate the best sports content from our network and beyond.