Found October 10, 2012 on Mets Merized Online:
MLB Trade Rumors reviewed the Mets nine arbitration eligible players:and projected what they could earn this offseason at the bargaining table:Daniel Murphy – $3MMBobby Parnell – $1.5MMJosh Thole – $1.2MMRob Johnson – $600KIke Davis – $2.8MMFred Lewis – $500KManny Acosta – $1.1MMAndres Torres – $3.2MMMike Pelfrey – $5.7MMIke Davis and Josh Thole became arbitration eligible one year earlier than usual because they earned Super Two Player status.Aside from Thole, Davis, Daniel Murphy and Bobby Parnell, it's a nearly a certainty that the others will be non-tendered and that includes Mike Pelfrey and Andres Torres.Under the rules of the new CBA any player tendered cannot be offered less than 80% of what he earned in the prior season.Davis and Murphy will get the most significant raises and using the above projections, it will cost the Mets  $8.5 million dollars to keep both of them plus Parnell and Thole. That's about $6.5 million more than what those players earned in 2012.
Original Story:
http://metsmerizedonline.com/2012/10/...
THE BACKYARD
BEST OF MAXIM
RELATED ARTICLES
In his post to CBS Sports.com, Jon Heyman writes that the "Mets are expected to offer about $100M to start as they try to make David Wright a Met for life."  According to Heyman:The Mets are expected to open negotiations with an offer for somewhere in the neighborhood of $100 million for star third baseman David Wright, people familiar with the team's thinking said.Photo...
Aaron W. asks…Who is the better starter between Jenrry Mejia and Jeurys Familia? Is one better than the other? Are they starters or relievers in your opihion?Sean replies...The Jeurys Familia/Jenrry Mejia question will loom large in 2013, and honestly – there aren't many accurate answers. Familia had a mixed season, and despite his ERA his control did in fact improve as the...
According to Jon Heyman of CBSSports.com, the Mets plan to kick off negotiations with their franchise slugger David Wright with about $100 million opening bid in an effort to make him a Met "for life". Heyman goes onto say that the Amazin's will be flexible in their negotiations as they will negotiations through October before even consider dealing their third baseman.The Mets...
Unless the Wilpons hit the Powerball jackpot in the next couple of months, the Mets are not likely to sign any big name free-agents, a la Josh Hamilton, to play centerfield. Barring any off-season trades (I don't see anything significant occurring), Kirk Nieuwenhuis will be the Mets opening day centerfielder. Beam me up, Sandy. Captain Kirk is heading back to Queens.The question...
1999 TOPPS FINEST GOLD REFRACTOR AL LEITERI peeled Al Leiter tonight.OK, it might be helpful if I rewound a bit and explained.Back in the late '90s, card manufacturers were dabbling in all manner of metallic printing.Collectors loved the shiny stuff, but balked at how easily these cards would get scratched or otherwise defaced.The Topps Finest issues were particularly vulnerable...
Mr. Met may be the New York Mets' lovable, baseball-headed mascot, but for intents and purposes, it is third baseman David Wright who is truly Mr. Met. Now, the Metropolitans are looking to make sure that Wright remains a Met for life. CBSSports.com reports that the Mets are looking to sign Wright to a contract extension, and it's likely that deal will be in the neighborhood...
The Mets have a long list of things to do this off-season, one that really begins and ends with R.A. Dickey and David Wright. I honestly can not believe that they have some many issues to address. I thought this season would be one where we found some solutions going forward. Instead we found that we don' t really have much on the current roster who will be here in the future...
The New York Mets will attempt to retain third baseman David Wright "for life" by offering a contract worth approximately $100 million, CBSSports.com reported. Wright, 29, has a $16 million team option on his contract for 2013 that the team almost certainly will pick up. Unless Wright agrees to an extension, he could be a free agent after next season. Both Wright and...
According to a report by CBSSports.com, the New York Mets are expected to offer David Wright about a $100 million when both sides open negotiations. The New York Mets are serious about re-signing David Wright and making him a Met "for life". The Mets are expected to negotiate throughout the month of October before even considering making a trade. Wright has a good relationship...
The New York Mets are set to start negotiations with David Wright very soon, Jon Heyman of CBS Sports reports. The opening offer will start off in the neighborhood of $100mm with the Mets set to give negotiations all of October in hopes of working out a deal. If the sides are unable to work out a deal, the Mets may look at trading the third baseman. The obvious goal for the Mets...
The Mets' fear in releasing Jason Bay is he would suddenly find it somewhere else. They had the same trepidation with Oliver Perez and Luis Castillo. Watching these playoffs, it is easy to see their thinking, but that doesn't mean it is justified. Outfielders Carlos Beltran and Angel Pagan, and reliever Darren O'Day all distinguished themselves yesterday, and wouldn't you...
Mets News

Delivered to your inbox

You'll also receive Yardbarker's daily Top 10, featuring the best sports stories from around the web. Customize your newsletter to get articles on your favorite sports and teams. And the best part? It's free!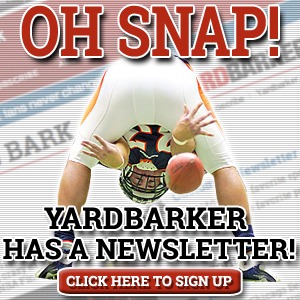 Latest Rumors
The Backyard

Today's Best Stuff

For Bloggers

Join the Yardbarker Network for more promotion, traffic, and money.

Company Info

Help

What is Yardbarker?

Yardbarker is the largest network of sports blogs and pro athlete blogs on the web. This site is the hub of the Yardbarker Network, where our editors and algorithms curate the best sports content from our network and beyond.