Found August 23, 2013 on The Daily Stache:
PLAYERS:
Al Leiter
,
Marlon Anderson
,
Francisco Rodriguez
,
Cliff Floyd
,
Pedro Martinez
,
John Smoltz
,
Carlos Beltran
,
Willie Randolph
,
Tom Gordon
,
Matt Harvey
,
Mariano Rivera
,
Wilson Betemit
,
Billy Wagner
,
David Wright
,
Ryan Madson
,
Ramon Castro
,
Robin Ventura
,
Brad Clontz
,
Mike Piazza
,
Edgardo Alfonzo
,
Armando Benitez
,
JT Snow
,
Jay Payton
,
John Franco
,
Barry Bonds
,
Mike Hampton
,
Rick Ankiel
,
Carlos Delgado
,
Todd Pratt
,
Matt Mantei
,
Endy Chavez
TEAMS:
Los Angeles Angels
,
St. Louis Cardinals
,
New York Mets
,
New York Yankees
,
Baltimore Orioles
,
Los Angeles Dodgers
,
Chicago White Sox
,
Seattle Mariners
SNY has the same tired rotation of games for Mets Classics that we have seen, oh, about 100 million times. Cone K's 19 against the Phillies in 1991 or Agbayani hits the Grand Slam in Japan to give the 2000 Mets their first win of the season. To quote the legendary New Jersey Nets player Derek Coleman: "Whoop de damn do." No offense to those games, they are in their own way classic Mets moments, but it's time to put them out to retirement and show some new stuff. Now I could make this list all post-season games but that would not be much fun. Classic games happen in the Regular Season too. So I have decided to come up with 10 Playoff and 10 Regular Season games that I think the Mets and SNY should be showing fans on a more regular basis (Side Note: You wanna be the person that tells me that SNY doesn't have the rights to these games or whatever. Fine, be that way. I personally don't care and they should still figure it out to get said rights to show these games.) Regular Season Classics 1. 10/4/1999: Mets vs. Reds: Mets win 5-0 Al Leiter throws a complete game two hit shutout against the Reds in Cincinnati to give the Mets their first playoff appearance since 1988. 2. 6/11/2005: Mets vs. Angels: Mets Win 5-3 in 10 Innings Marlon Anderson ties the game in the 9th with an Inside the Park Home Run against Francisco Rodriguez and Cliff Floyd hits a walk off three run homer in the 10th to win it. 3. 4/10/2005: Mets vs. Braves: Mets win 6-1 Pedro Martinez out duels John Smoltz as Carlos Beltran homers in the 8th to lead the Mets to their first win of the season and the first win for new manager Willie Randolph. 4. 7/4/2004: Mets vs. Yankees: Mets win 6-5 The Mets complete their first sweep of the Yankees as Ty Wiggington takes Tom Gordon deep in the bottom of the 8th inning and win their first ever six game season series version of the Subway Series. 5. 5/28/2013: Mets vs. Yankees: Mets win 2-1 Matt Harvey tosses 8 brilliant innings but it was not until the 9th Inning where Mariano Rivera, pitching for the final time in a regular season game in Queens would blow his first save ever without recording at least one out. 6. 5/5/2006: Mets vs. Braves: Mets win 8-7 in 11 Innings Mets trail 6-2 but tie the game with a 4 run 7th inning. Wilson Betemit homers in the 11th off Billy Wagner but Cliff Floyd homers in the bottom of the 11th to tie it. David Wright hits a walk off double in the 14th to win it. 7. 5/23/2006: Mets vs. Phillies: Mets win 9-8 in 16 Innings Mets trail the entire game until tying it up on a Jose Reyes two run homer in the bottom of the 8th. The game ends up going into the 16 Inning until Ryan Madson, pitching his 7th inning of relief gives up a walk off home run to Carlos Beltran. 8. 8/30/2005: Mets vs. Phillies: Mets win 6-4 Mets trail 3-0 before coming to the plate in the first but battle all the way back as Ramon Castro hits a three run home run in the bottom of the 8th to help give the Mets a 6-4 lead and eventually the win. It was the biggest game played at Shea since the 2001 season. 9. 10/1/1999: Mets vs. Pirates: Mets win 3-2 in 11 Innings Needing to sweep the Pirates to keep their playoff hopes alive, the Mets get a walk off single with two outs in the 11th inning from Robin Ventura to close the gap between them and the Reds for the NL Wild Card race to just one game. 10. 10/3/1999: Mets vs. Pirates: Mets win 2-1 The Mets complete a sweep of the Pirates and guarantee themselves at least a one game playoff with the Reds as Pirates reliever Brad Clontz throws a wild pitch on his first pitch of the game to Mike Piazza with the bases loaded in the 9th to give the Mets a dramatic win. Post Season Classics 1. 10/5/2000 Game 2 2000 NLDS Mets vs. Giants: Mets win 5-4 in 10 Innings Edgardo Alfonzo gave the Mets what should have been a comfortable 4-1 lead in the 9th after hitting a two run home run. Of course it did not stand up as Armando Benitez gave up a game tying three run homer to J.T. Snow to send the game to extra innings. In the 10th with 2 outs Jay Payton doubled and Darryl Hamilton drove him in to tie the game. After a lead off single knocked Benitez out of the game, John Franco came in and got the save, striking out Barry Bonds looking to end it. 2. 10/7/2000 Game 3 2000 NLDS: Mets vs. Giants: Mets win 3-2 in 13 Innings Trailing 2-1 in the 8th inning, Edgardo Alfonzo ties the game with a two out double and then in the 13th inning, Benny Agbayani hits a walk off home run to give the Mets a 2-1 series lead. 3. 10/8/2000 Game 4 2000 NLDS: Mets vs. Giants: Mets win 4-0 Bobby Jones pitches a one hit complete game shutout and Robin Ventura hits a first inning two run homer as the Mets remain undefeated at home all time in the NLDS. 4. 10/16/2000 Game 5 2000 NLCS: Mets vs. Cardinals: Mets win 7-0 The Mets clinch their first birth in the World Series since 1986 with a convincing 7-0 win behind a complete game shutout from NLCS MVP Mike Hampton. (Side note: Hampton left after the year to sign with Colorado, the comp pick they got from the Rockies was used to draft David Wright.) 5. 10/12/2000 Game 2 2000 NLCS: Mets vs. Cardinals: Mets win 6-5 Rick Ankiel's pitching career takes a sudden turn for the worse as his wildness gives the Mets an early lead. They eventually blow the lead and with the game tied in the 9th, Jay Payton singles in the winning run and the Mets take a 2-0 series lead back to New York. 6. 10/4/2006 Game 1 2006 NLDS: Mets vs. Dodgers: Mets win 6-5 Carlos Delgado, in his first ever playoff game, homers and in the 7th inning, singles in the go ahead run as the Mets win their first playoff game since Game 3 of the 2000 World Series. 7. 10/7/2006 Game 3 2006 NLDS: Mets vs. Dodgers: Mets win 9-5 Mets complete their first sweep of a playoff series since the 1969 NLCS as they score three runs in the 6th Inning to take the lead for good and advance to the NLCS against the Cardinals. 8. 10/17/1999 Game 5 1999 NLCS Mets vs. Braves: Mets Win 3-2 in 15 Innings Grand. Slam. Single. Need I say more? 9. 10/5/1999 Game 1 1999 NLDS: Mets vs. Diamondbacks: Mets win 8-4 With the game tied at 4 in the 9th Inning, Randy Johnson leaves with the bases loaded and Edgardo Alfonzo with two outs hits a go ahead Grand Slam to give the Mets an 8-4 win. Their first win in the post season since Game 6 of the 1988 NLCS. 10. 10/9/1999 Game 4 1999 NLDS: Mets vs. Diamondbacks: Mets win 4-3 in 10 Innings Todd Pratt hits a walk off solo home run off of Matt Mantei to help the Mets win their first playoff series since the 1986 World Series and becomes the first player ever to end a Division Series on a Walk Off Home Run. Not a bad list of 20 pretty classic games. Of course you might have noticed that all of the games were between 1999 and now. But for you fans of the team since the 60′s, 70′s and 80′s, you might remember some classic games that should be shown as well. SNY needs a new batch of classic games and I think my list of 20 games is a good place to start so we don't have to watch Endy Chavez win a game in April of 2007 with a walk off bunt. The post Mets Classics That SNY Should Put On The Air appeared first on The Daily Stache.
Original Story:
http://dailystache.net/mets-classics-...
THE BACKYARD
BEST OF MAXIM
RELATED ARTICLES
If the New York Mets are to win this weekend, today is their best chance, with Matt Harvey starting. The sad thing, is that feeling comes with the statistical backdrop of a 13-12 record in his starts this season, including the Mets going 6-10 in his last 16 starts. HARVEY: What's he really think about his support? Harvey has a 2.67 ERA with a 119-to-17 strikeouts-to-walks ration...
It is becoming more and more evident that quality pitching is the hub of a pending baseball renaissance in New York's Citi Field. Win or lose, a cadre of young pitching arms have kept the Mets competitive in Flushing for some two months now with Met pitching underlings tearing up the minor leagues at every level. The pitching uptick has many of the Met faithful thinking their...
The Mets selected left-handed high school pitcher Steven Matz in the 2nd round (72nd overall) of the 2009 MLB Draft. He came in at 16th overall in the MMN Mid-Season Top-25 Prospect list. Matz, now 22, is a local kid– growing up in East Setauket, NY and attending Ward Melville High School. In his senior season he struck out a mind-blowing 81 batters in just 44 innings while allowing...
In an effort to bolster the rotation after injuries to Jeremy Hefner and Jenrry Mejia, the New York Mets today announced the club agreed to terms with righthanded pitcher Daisuke Matsuzaka on a one-year contract. Matsuzaka will wear #16 and will start tomorrow's night game against Detroit. A corresponding move will be announced prior to tomorrow's game. Matsuzaka, 32, pitched...
Las Vegas 5, Fresno 0 The Las Vegas 51s won their fifth straight game today, blanking the visiting Fresno Grizzles, 6-0. One day after erasing a seven-run deficit for an extra-inning win against Fresno, Giancarlo Alvarado and Robert Carson combined to limit the Grizzlies to just six hits. Alvarado walked three, but they turned out to be inconsequential. He was dominant when the Mets...
The Mets send newly acquired Daisuke Matsuzaka, a recent re-'Graduate' to the major leagues, to the mound against the Detroit Tigers' Doug Fister at 7:10 p.m. at Citi Field.  Matsuzaka surely hopes his second-chance is more than a 'Semi-Charmed Life'.   Did I mention Third Eye Blind is playing a post-game concert?  'Jumper.' To get started just enter your email address...
Las Vegas 9, Fresno 8 The Las Vegas 51s scored twice in the ninth inning today against visiting Fresno to force extra innings, winning in the 10th on Eric Campbell's game-ending RBI single for a 9-8 victory. Brandon Hicks went 2-for-3 with four RBIs for Las Vegas, knocking a two-out, two-run double in the ninth inning to force extra innings. Hicks and Campbell combined for five...
In an effort to bolster the rotation after injuries to Jeremy Hefner and Jenrry Mejia, The Mets have signed Daisuke Matsuzaka, as reported by Jon Heyman. Matsuzaka is expected to go right to the 25-man roster and join the starting rotation. He hasn't pitched in the MLB since 2012 with the Red Sox. He was pitching with the Triple-A affiliate for the Cleveland Indians — and was...
Daisuke Matsuzaka has a deal with the Mets sources say. Word is he is expected to go right to the big leagues with the Mets. The Mets have suffered some injuries to their rotation lately including Jeremy Hefner and Jenrry Mejia
NEW YORK (AP) -- Max Scherzer outpitched Matt Harvey in their All-Star rematch, striking out 11 and hitting a stunning RBI double that sent the Detroit Tigers to a 3-0 victory over the New York Mets on Saturday. Scherzer (19-1) joined Rube Marquard in 1912 and Roger Clemens in 2001 as the only major league pitchers to win 19 of their first 20 decisions in a season. Andy Dirks had...
MLB News

Delivered to your inbox

You'll also receive Yardbarker's daily Top 10, featuring the best sports stories from around the web. Customize your newsletter to get articles on your favorite sports and teams. And the best part? It's free!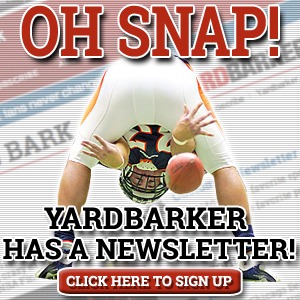 Latest Rumors
The Backyard

Today's Best Stuff

For Bloggers

Join the Yardbarker Network for more promotion, traffic, and money.

Company Info

Help

What is Yardbarker?

Yardbarker is the largest network of sports blogs and pro athlete blogs on the web. This site is the hub of the Yardbarker Network, where our editors and algorithms curate the best sports content from our network and beyond.