Found June 17, 2012 on The Daily Stache:
PLAYERS:
Chris Young
,
Joey Votto
,
Brandon Phillips
,
Miguel Cairo
,
Ike Davis
,
Josh Thole
,
Lucas Duda
,
Johnny Cueto
,
Andres Torres
,
Kirk Nieuwenhuis
,
Wilson Valdez
,
David Wright
,
Jon Rauch
,
Willie Harris
,
Sean Marshall
,
Terry Collins
,
Scott Hairston
,
Frank Francisco
,
RA Dickey
TEAMS:
Cincinnati Reds
,
New York Mets
,
Minnesota Twins
,
Baltimore Orioles
Chris Young on Sunday
The Mets sent Chris Young to the mound for his third start of the season in attempts to salvage at least one game from the Cincinnati Reds this season but was unable to hold a 1-0 lead that he helped produce with an RBI walk in the bottom of the second inning.
Young worked around a two out single in the top of the first to Joey Votto but got Brandon Phillips to fly out. After a leadoff walk in the second and a stolen base by Miguel Cairo but again got out of the inning unscathed.
As for the Mets offensively in the bottom of the second, Ike Davis, Daniel Murphy and Josh Thole hit three singles in a row after a Lucas Duda strikeout by Johnny Cueto. Andres Torres flew out followed by a bases loaded walk by Young to put the Mets up 1-0. Kirk Nieuwenhuis struck out with the bases loaded to kill the Mets' rally.
Neither side got a runner past first in the third and fourth innings, but the top of the fifth saw the Reds score three times. Young got the first two batters of the inning but allowed a double to leadoff man Zack Cozart followed by a single off the bat of former Met Wilson Valdez to score the leadoff man. Votto was walked intentionally to set up the force play, but Phillips singled to right field to bring home Valdez, then Lucas Duda threw the ball into the Reds' dugout to allow Votto to score from first and put Cincinnati up by a pair.
Nieuwenhuis struck a one out single in the bottom half of the inning but again another Mets chance was negated two batters later when David Wright grounded into a 5-4-3 double play. The Mets grounded into another double play in the sixth when Davis erased Duda on a 4-6-3 DP.
Jon Rauch came on to pick the eighth and got in and out of trouble after Daily Stache all-time favorite Willie Harris singled and stole second base. Meanwhile the Mets got to Jose Arrendondo a bit in the bottom half of the inning as Wright and Duda reached with two down. Sean Marshall came on to face Davis, but Terry Collins replaced him with Scott Hairston who grounded out to end the inning.
Frank Francisco pitched the ninth and allowed another hit to Votto with two down, but got Phillips to ground out to send it to the bottom of the ninth against Marshall. Murphy grounded out, Thole popped up and Torres struck out to end the ball game and give the Reds the series sweep.
Earning the win was Cueto who improves to 8-3 on the year heading into his next scheduled start on Saturday at home against the Minnesota Twins. Suffering the loss was Young (1-1) who will also be on the bump again on Saturday when he faces the Yankees.
The Mets get right back to action at Citi Field tomorrow when they take on the Baltimore Orioles as RA Dickey looks to start a new scoreless innings streak after losing his Mets' record in the ninth inning of his last start against Tampa Bay.
Game Ball: Chris Young, despite allowing three runs (two earned) he pitched well in seven innings of work. He even drove in the lone Mets' run, one of only five they scored this entire series against Cincinnati.
Original Story:
http://dailystache.net/archives/2038?...
THE BACKYARD
BEST OF MAXIM
RELATED ARTICLES
Fathers Day Starting Lineup Kirk Nieuwenhuis, lf Omar Quintanilla, ss David Wright, 3b Lucas Duda, rf Ike Davis, 1b Daniel Murphy, 2b Josh Thole, c Andres Torres, cf Chris Young, rhp The Mets try to get back on the right track today as they face the Reds in an early afternoon game. The Mets just couldn't get it done yesterday as Niese made really only one bad pitch and the bats...
Another rough night In Binghamton… Pawtucket 6, Buffalo 1 Sunday was the final game of the four-game set, and the end result was no different from the first three. The Bisons fell 6-1 to the PawSox, drifting eight games behind in the divisional race heading into an 8-game road trip to Norfolk and Durham. Inefficient starting pitching doomed the Herd this weekend, and the case was...
Huntington, NY native, Cam Maron is one of two Met catching prospects who seem to have the makings of future MLB players.  His calling card has been a solid average with little power and no speed.  His patience and contact oriented approach and his being a lefty (Hitting) makes me think of Josh Thole.  Having another Josh Thole in the minors is not a bad thing. Camden is a local...
This is a blog about the Mets but today I ask you for a brief break from our favorite team.  This is a personal article, written three years ago.  It's about baseball – in a way – but I hope it has an even broader appeal.  I promise to write about the Mets tomorrow, when Chris Young and company salvage the final game in the series against the Reds. ***** Most of my childhood...
To borrow a phrase from the great Walt Clyde Frazier, Ike Davis "is starting to percolate". We were all wondering when it was going to come, and it finally may have started. More than 2 months into the season Ike Davis has begun to put together quality at-bats on a nightly basis over the past week or so. Over the last 7 days Ike has begun to heat up. He is 9 for his last 16 and...
Mets right-hander and soft-spoken Southern gentleman R.A. Dickey threw his second consecutive one-hitter tonight — in this case, against the Orioles of Baltimore. Nor do his defense-independent numbers suggest that he was anything but excellent on Monday night (box): 9.0 IP, 30 TBF, 13 K, 2 BB, 11 GB on 15 batted-balls (73.3% GB), 1.14 xFIP. The average knuckleball from Dickey...
Ramblings from Henry and Fayette Streets The Week That Was: June 11th – June 17th The news from this past week that had the biggest impact on the Binghamton Mets occurred in the transaction column and not the stats column.  By weeks end, two of the B-Mets top players had finally found their way to Buffalo and the AAA Bisons. First, it was center fielder Matt den Dekker who...
Both accounts are courtesy of excerpts taken from Redleg Journal: June 16, 1978 - Tom Seaver pitches the only no-hitter of his career in a 4-0 Reds win over St. Louis at Riverfront Stadium. Previously, Seaver had entered the ninth inning with a no-hitter three times, and surrendered a base hit on each occasion. In this game in the ninth, he walked Jerry Mumphrey...
NEW YORK - R.A. Dickey continued his masterful run by throwing his second straight one-hitter, and Ike Davis provided Dickey all the support he would need with his first career grand slam as the Mets beat the Baltimore Orioles 5-0 in front of 29,014 at Citi Field on Monday. Dickey is the first pitcher to throw consecutive one-hitters since Dave Stieb in 1988. Dickey, who issued...
CLEVELAND, OH (AP) - Years of bottled-up frustration between Cleveland's Derek Lowe and Reds manager Dusty Baker spilled over last week in Cincinnati. The two won't have to wait nearly as long to pick up where they left off. As the Ohio Cup series resumes Monday night at Progressive Field, Lowe will take the ball in the opener just days after he and Baker took several verbal...
APNewsNow. Reds 4, Mets 1. With AP Photos. By MIKE FITZPATRICK AP Sports Writer Homer Bailey pitched out of trouble for eight innings, Jay Bruce hit a three-run homer and the Cincinnati Reds beat the New York Mets 4-1 on Saturday night for their fifth straight victory. Ryan Ludwick added an RBI single to help the NL Central leaders move a season-best 10 games over .500 at 37-27...
A wild one in Cleveland tonight, but the Indians outlast the Reds. Homers from Choo, Kotchman and Chisenhall in this one. Chisenhall was a double short of the cycle. Perez gave up a ninth inning run, but gets the save.   Scoring Summary Top 1st: Cincinnati - J. Votto homered to deep right center Bot 1st: Cleveland - S. Choo homered to deep right Top 2nd: Cincinnati...
MLB News

Delivered to your inbox

You'll also receive Yardbarker's daily Top 10, featuring the best sports stories from around the web. Customize your newsletter to get articles on your favorite sports and teams. And the best part? It's free!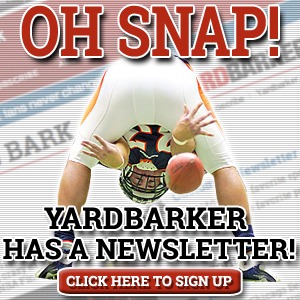 Latest Rumors
Best of Yardbarker

Today's Best Stuff

For Bloggers

Join the Yardbarker Network for more promotion, traffic, and money.

Company Info

Help

What is Yardbarker?

Yardbarker is the largest network of sports blogs and pro athlete blogs on the web. This site is the hub of the Yardbarker Network, where our editors and algorithms curate the best sports content from our network and beyond.