Found May 11, 2012 on Busted Coverage:
And Josh Beckett acts like a d*ck to media when they ask about how he spends his 18 off days per MLB season. How about what happened to Marlins catcher Brett Hayes yesterday on the Florida Turnpike. As you can see from the tweet, Hayes watched a dude with a gun walk by his car and that guy eventually shot two officers before shooting himself. Suck it, Becket.
According to the Miami Herald:
The FBI has identified the gunman who shot two law enforcement officers before turning the gun on himself in the middle of evening rush hour traffic on Thursday as David Edwin Bradley, 23, of Miami Gardens.

Bradley left a trail of armed violence from Miami-Dade to Broward counties on Thursday, when he committed at least two carjackings, one armed robbery and shot two law enforcement officers on Florida's Turnpike — then turned the gun on himself in a spectacular suicide that caused a monumental traffic jam from the evening rush hour on Thursday until early Friday.
Hayes was sorta live tweeting the proceedings and eventually figured out what that dude and the gun had been up to. At least the guy killed himself and saved the taxpayers a lunch bill.
Filed under:
Baseball
Original Story:
http://bustedcoverage.com/2012/05/11/...
THE BACKYARD
BEST OF MAXIM
RELATED ARTICLES
Josh Beckett made it clear Friday that he doesn't want to be part of a reality show. But if he was, he'd probably like his nickname to be "The Solution." Beckett spoke with WEEI.com on Friday regarding his health and the ongoing controversy surrounding his golf outing a day after being scratched due to a sore lat. The pitcher made it clear that he's here to...
Josh Beckett must have lasted longer on the golf course than he did on the mound. The embattled Red Sox ace was booed off the field at Fenway Park when he was pulled after just 2 1/3 ineffective innings Thursday night in Boston's 8-3 loss to Cleveland. Hours earlier, Boston manager Bobby Valentine downplayed the uproar over Beckett's golf outing last week, which came a...
I often wonder what opposing teams, their beat reporters and bloggers are saying about the Red Sox after playing the Red Sox. Here's a dose of 'enemy chatter' from Cleveland. Above is a photo posted on Let's Go Tribe which depicts Beckett's rehab assignment. Clever. The Indians took advantage of a sub-par outing from Josh Beckett, drove the ball over...
Josh Beckett never made it through the 3rd inning, which pretty much tells you everything you need to know about Thursday night's game against the Cleveland Indians at Fenway Park. Beckett's line was 2.1 innings, 7 runs (all earned) on 7 hits including 2 home runs, 2 walks and 2 strikeouts. It was no surprise that Beckett was booed off the field when manager Bobby Valentine...
ZOMG! Report: Josh Beckett played golf before missing Red Sox startOn one hand, this is the dumbest controversy ever. The notion that a major league pitcher who throws in the 90s is somehow being recklessly irresponsible by playing a game favored by retirees is absolutely laughable.On the other hand, the atmosphere is so charged, with this team continuing to lose, it's like a...
Josh Beckett wasn't pleased with his outing on Thursday night, displaying clear signs of being unhappy during his postgame press conference. The 31-year-old took his frustration out with some choice words after the Red Sox 8-3 loss to Cleveland on Thursday. Check out the video above to see Beckett dropping some bombs during his media session.
KANSAS CITY, Mo. -- Josh Beckett is coming under fire for playing golf with a sore lat muscle after missing a start. But Red Sox manager Bobby Valentine isn't ready to jump to any conclusions. Since Beckett flew back to Boston on Wednesday, Valentine said he never had an opportunity to discuss the issue with his right-hander. "I haven't talked to Josh about this yet...
The Indians jumped all over Josh Beckett, chasing him in the third inning after plating seven. Derek Lowe earned his fifth win, which must be killing the faithful in Bawston. Kipnis hit his sixth home run, and Jack Hannahan hit one of his own. Pestano made things interesting by loading the bases, but got out of the eighth without surrendering a run.   Cleveland AB R H RBI...
The Red Sox are currently in the basement of the American League East. After the first month of the season, they don't have the luxury of pointing to last year's remarkable turnaround, considering they were 18-20 at this point in 2011. The starting pitching is seemingly in disarray and could receive a boost when Daisuke Matsuzaka returns. In the meantime, let's take a...
Let me just get this right out of the way off the top; I do not like Josh Beckett. Never have. Never will. Not only did he used to own the Indians, particularly during the 2007 ALCS where he wont both of his starts, but he also won a World Series title with the Florida Marlins in 2003 where he was the MVP. The Marlins having two rings in a seven-year span makes me ill on so many...
Editor's note: The temperature gauge is a Bill James-created statistic that measures how hot or cold hitters are. We will spotlight Red Sox and opposing team temperatures on game days. Asdrubal Cabrera has historically put up good numbers, especially power numbers against the Red Sox. Unfortunately for Boston, the Indians infielder comes into Fenway swinging a pretty hot bat...
After falling last night 8-3, the Boston Red Sox look to get back on track in the second game of a four-game set against the Cleveland Indians at Historic Fenway Park. First pitch is scheduled for 7:10 p.m. and the game will be broadcast on NESN in the Red Sox television market. If you live in the Indians television market, you can catch the game on SportsTime Ohio (STO). If you...
MLB News

Delivered to your inbox

You'll also receive Yardbarker's daily Top 10, featuring the best sports stories from around the web. Customize your newsletter to get articles on your favorite sports and teams. And the best part? It's free!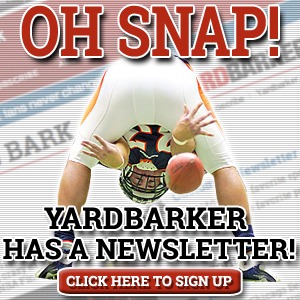 Latest Rumors
Best of Yardbarker

Today's Best Stuff

For Bloggers

Join the Yardbarker Network for more promotion, traffic, and money.

Company Info

Help

What is Yardbarker?

Yardbarker is the largest network of sports blogs and pro athlete blogs on the web. This site is the hub of the Yardbarker Network, where our editors and algorithms curate the best sports content from our network and beyond.