Found October 23, 2012 on hardballchat.com:
My colleague Rob Kelley has been on the record as saying that if the Miami Marlins fire Ozzie Guillen it will be a sign that they are a bush league organization. I can certainly understand the impulse and today the Marlins became the bush league organization in his and many others eyes. That is because the Marlins announced that they have fired Ozzie Guillen one year into his four year contract. He will earn ten million dollars for the lifetime of the deal. He gets to sit at home for the majority of it. It is easy to call the Marlins a joke and in many cases they certainly are. Much like the Bobby Valentine hiring, I knew the Ozzie Guillen hiring was doomed from the start. Beyond the personality problems was the fact that he was just not a good manager. According to total run index, he was the worst manager in baseball in 2011. That can be seen from the massive improvement the Chicago White Sox had this season under Robin Ventura. Some of it may be Ventura, but most of it is the absence of Guillen. Similarly, signing Heath Bell was seen as a mistake by many. Heck, all of the contracts given to all of the free agents were seen as mistakes. I'd tend to agree that at least the long-term nature of those deals were mistakes. Mistakes happen. An organization becomes bush league when it refuses to admit to its mistakes. Allowing Ozzie Guillen to manage for another season or two would have been a failure to admit to the mistake. Yet, the trade of Heath Bell to the Dbacks before the firing is particularly telling and likely a bone of contention between different commentators. I think it was a brilliant move in terms of organizational psychology. If you had fired Guillen before trading Bell it would have signaled to the players that they could run someone out of town. In this case, the Marlins sent a signal to the players that trying to undermine the manager would not be tolerated. The Marlins of the past have certainly gotten their fair share of criticism. They have two World Series championships, but those titles were followed by two fire sales. Those fire sales seemed to be predicated on the notion that they could not afford to field a competitive ball club. So, despite having more championships than every team but the Yankees since 1997, they are seen as a model as how not to do something. However, I will pass judgment when I see what the Marlins do this offseason. Good organizations make good decisions, but they remain good because they recover faster from bad decisions. The main way that you do that is by admitting that you've made a bad decision. The Marlins cut ties with Heath Bell and Ozzie Guillen after just one season. I'd say that's a pretty quick decision. They did the same with Hanley Ramirez. Now, if they pocket the savings (on the player end) then it would be fair to call them a bush league organization. If they reinvest that money in other players then it is fair to question those decisions, but it is not fair to call them a bush league organization. Bush league organizations don't try to win. Bad organizations try to win, but they do it in the wrong ways. So far, the Marlins look like the latter, but now that they have a chance to start over we'll begin to see where this thing is headed. The post Miami Marlins Fire Ozzie Guillen appeared first on Hardball Chat Baseball Blog.
Original Story:
http://www.hardballchat.com/2012/10/m...
THE BACKYARD
BEST OF MAXIM
RELATED ARTICLES
While Ozzie Guillen wasn't talking with the media in the immediate aftermath of his firing from the Miami Marlins on Tuesday after one season as manager, he did take to Twitter to share some thoughts.Thanks to my family and great friends for there support my kids mi wife and all my boys Ozzie Guillen (@OzzieGuillen) October 24, 2012to the fans that support me and for those who...
Ozzie Guillen lasted just one season with the Miami Marlins. The team announced the manager's firing Tuesday afternoon. "After careful consideration following the disappointment of the 2012 season, we decided to dismiss Ozzie," Marlins president of baseball operations Larry Beinfest said in a statement. "Our managerial search begins immediately and our hope is that...
We probably should have seen this one coming, but now, it's official: Ozzie Guillen is out as Marlins manager after just one season. Firing him nearly three weeks after the season ended seems like a bit of a low blow by Miami, with many major league coaching vacancies already filled. That also doesn't bode well for Miami's search for a replacement, as a lot of the sexiest...
Prior to the 2012 season, the Marlins changed their name, their uniforms, their home address and most notably, their locks on the team's piggy banks.  Or to be more accurate, they got rid of those locks altogether, spending money freely to sign, sign and sign some more big-name players.  In addition to the well-known players they added to their roster, Miami also added a manager...
The Marlins have made their decision. They have fired manager Ozzie Guillen.   Guillen served as Marlins manager for one season, leading the team to the fourth-worst finish in franchise history, a 69-93 record. He was hired in September 2011 with a four-year, $10 million contract. The Marlins still owe him the remaining $7.5 million over the next three years. Though a replacement...
Ed Berliner joins Fox Sports Tonight to discuss the controversial firing of Ozzie Guillen from the Miami Marlins.
In 1968, 34 years before he would become the owner of the Florida (now Miami) Marlins, Jeffrey H. Loria published his second book -- What's it All About, Charlie Brown? The book is a philosophical look at life through the lens of the Charles Schultz comic strip, which is just too appropriate considering that the businessman and art collector has turned the organization into a...
It's a new managerial era in Major League Baseball. With the dismissals of Bobby Valentine and Ozzie Guillen from the Red Sox and Marlins, respectively, there's an undeniable trend in the sport in terms of hiring managers. No longer are the Billy Martin-like, outspoken and thoroughly controversial skipper en vogue. Rather, there's a clear movement towards "players...
If you are a Chicago White Sox legend, the past 48 hours have been the equivalent of one of those innings that is going so badly that Hawk Harrelson doesn't say anything at all. On Monday night, Sox (of both colors) Hall of Famer Carlton Fisk was arrested for DUI when cops in south suburban New Lenox, IL found Fisk passed out behind the wheel of his truck… in the middle of a...
At least ESPN is sure Dale Jr. has been cleared to race. As if anyone watching SportsCenter even cares if Dale Jr. races this weekend. Can someone please just pull the plug on NASCAR? Put them out of their misery. Stop pretending that white males in middle Ohio care about this 'sport.'   Here's your morning NY Post covers. Looks like Sanchez lost Longoria. More on that later...
MLB News

Delivered to your inbox

You'll also receive Yardbarker's daily Top 10, featuring the best sports stories from around the web. Customize your newsletter to get articles on your favorite sports and teams. And the best part? It's free!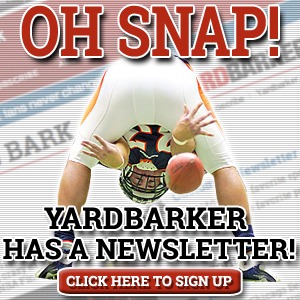 Latest Rumors
The Backyard

Today's Best Stuff

For Bloggers

Join the Yardbarker Network for more promotion, traffic, and money.

Company Info

Help

What is Yardbarker?

Yardbarker is the largest network of sports blogs and pro athlete blogs on the web. This site is the hub of the Yardbarker Network, where our editors and algorithms curate the best sports content from our network and beyond.