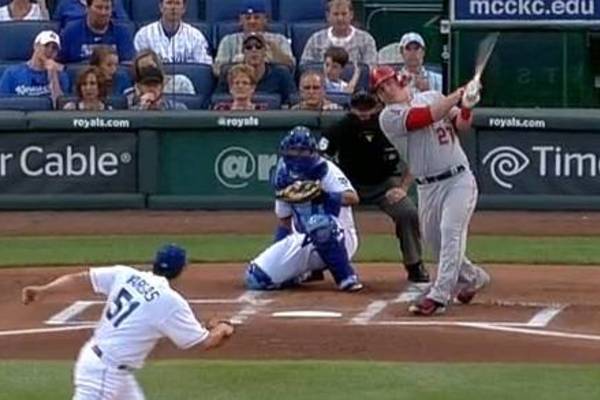 On Friday night at Kauffman Stadium in Kansas City, Mike Trout did something pornographic to a baseball. ESPN is calling it at 489 feet, which would be the longest hit in the majors since Giancarlo Stanton hit a 494 foot bomb in 2012. However, we're holding off on calling it…yet. The Hit Tracker data for the homer will officially be posted after the game, and we'll make a call then (and you'll see it in next week's edition of the longest homer of the week – they always happen on Fridays, don't they?). But I'm leaning towards that 489 foot number being legit. This thing cleared the batter's eye at Kauffman, which puts it *at least* at 460. Throw in the margin of error and the fact that the naked eye sucks at estimating these things, and I'm willing to bet that this is your longest homer of the year so far.
MORE FROM YARDBARKER
MLB News

Delivered to your inbox

You'll also receive Yardbarker's daily Top 10, featuring the best sports stories from around the web. Customize your newsletter to get articles on your favorite sports and teams. And the best part? It's free!