Found May 16, 2012 on Losers Bracket:
  So it appears that one of our fellow Yardbarker blogs is a tad upset with me and my Fire Sale article. Miller Park Drunk, a Milwaukee Brewers blog has posted this article in response. I often don't get into arguments with Drunks, but, since were Losers, I guess we can offer a retort. We also joined the Yardbarker network to get some more exposure, gain readers and to see what other blogs out there are discussing. It allows us to post the ads you see and offers us a small stream of income. Much like Miller Park Drunk, we have yet to become rich off our ventures. We have the Green Bay Packer feed and the Milwaukee Brewer feed. Visitors to our site can see the feed and click articles of interest. It also offers us a chance to see if Yardbarker is picking up our articles and posting them to other website's feeds. Its a good trade off despite the occasional irrational visitor or even the occasional attack of another blogger. Miller Park Drunk, I offer you some advise prior to my response to your article. You take yourself way to seriously. You are a blog. A Milwaukee Brewers blog. Your opinions and articles are just that, opinions and articles. Much like our blog you write what interests you and offer your thoughts. You are not a professional journalist, or at least I couldn't find your credentials on your site. I will assume that you are a blogger…or self proclaimed expert. Either way, you are not the final say in any sports argument. Once you start attacking others for posting their opinions because they may contradict yours, you lose credibility. I see that you won "2012 Winner for best sports blog" from the Shepherd Express. Congrats. You then offer this "Look, I know in the grand scheme of things that this award doesn't really mean anything. It definitely doesn't mean that this blog is "better" than any of the other blogs out there or that I am an amazing writer. (To be fair, I am.)". Yet, today, your article clearly implies that you are "better" when you offer this statement; "One of these sites would be LosersBracket which seems like your basic "pictures of hot girls mixed with sports opinions" site. Kind of a poor man's Busted Coverage. These sites are great because you don't really need to have any knowledge of sports to run one and you'll still get hits because omgboobz. I would normally just ignore their content, but sometimes someone writes something so bad, so dumb, so devoid of intelligence that you have to do something to it. You have to FJM it." So here you go acting high and mighty by implying that we "have no knowledge of sports". omgboobz. This is your word, you said it, offers a little insight into your thought process. See, unlike your strictly Milwaukee Brewers website, we dive into other topics some of which include photos of women….and yes, those women oftentimes have boobs. In no way do we state we are experts or even that we are correct, its an opinion and a blog….for a reason. Nothing wrong with your choice to only cover the Brewers, but to discuss stories of women, pop-culture, etc, we have to include your "omgboobz".   Article Response; -You say it is not fire sale time. Understandable position. Likely it isn't. The article was offering that as an option. We make no claims of expertise. I guess you are an expert so if you say no, then I guess its not Fire Sale time. Hopefully Mark Attanasio contacts you prior to any trade or player acquisition discussions. -All of us have been to Miller Park. The definition of peruse is; "to look over or through in a casual or cursory manner". You claim no one, in the history of Miller Park, has looked over or enjoyed spotting a good looking woman and if they did, they are creeps. Yes, if done in the way your mind apparently works it would be. However, if you just look around and notice things, while minding your own business, its a pretty normal behavioral trait. Never said hitting on, those are your words. -Yes calling the season over, after 35 games is premature and you are correct, there are two wild cards. However, the current Brewers are struggling….so fans often jump to conclusion. Its really not that out of the ordinary. We are fans, we jump to conclusions. -This is my favorite; A number of factors have contributed to my fear it is fire sale time and that The Brewers may cruise to a 90+ loss season. 1.) I'm dumb.
2.) I'm stupid.
3.) I have no idea what I am talking about.
4.) I'm like 15 years old. So, I may be wrong, but there is a chance you may be wrong. Which one of the choices listed above would apply to you? If you offer this as an attempt to bash our fear that the Brewers MAY lose 90+ games, you had better be prepared to recognize that you are either dumb, stupid (aren't they the same thing?), that you have no idea what you are talking about or that you are "like 15 years old, oh my gosh" should The Brewers lose 90+ games. Or, maybe you do know what you are talking about and you do know FOR SURE that the Brewers will not lose 90+ games. If that is the case, quit your blog business and start gambling. I mean, with that kind of clairvoyance, you could be a millionaire. -Maybe them missing Prince Fielder is a stretch on my part. He is struggling this year, but he was a key part of the team success last year. I guess he may not have been though, because now Manny Para can relax. -You poke fun at our T-Shirt mention and that it is akin to a "Fart Noise" t-shirt. This coming from a guy who named his site "Miller Park Drunk" and sells shirts saying "******* Love Me". Wait, I thought references to ******* was "omgboobz" and creepy. Looks like only you are allowed to make goofy T-Shirts. -Tyler Green is hitting better than Mat Gamel. You win this round. Guess the questions at first base are answered. Off to the World Series. -Apostrophes = pointless. I am not sure what this means, but clearly a picture of a cartoon is better. Apostrophes can be used to mark a pause in thought, a side bar, but they clearly are inferior to any cartoon picture you may post. -I will be sure to send you an email anytime I question the use of OK as opposed to okay. As chief of the internet grammar police, Miller Park Drunk will be checking all blogs on the Yardbarker Network from this day forward. Please, bloggers, watch your sentence structure, spelling and grammar. -You don't think the Brewers should trade for prospects. Others do. Difference of opinion. I'll await the reasons as to why your opinions should be believed over others. -We agree that Weeks is in a funk. Guess you had to reach for some criticism there, but funk is a funny word. -Yes, trading hitting for pitching is dumb. I don't watch How I Met Your Mother. -Stats pertaining to Brewers hitters vs Cardinals hitters. Stats look even. Which team would you pick to win an important game? Which line up would you want? -I never claimed to be an expert. You have claimed your expertise. I offered up an article to address a subject which Brewers' fans are engaged in. Had I claimed expertise your response would be valid. -I should have included another option in the poll.   All that being said, I do thank Miller Park Drunk for offering us some link sharing and education on how to be a True Blue Brewer Backer. Fans out there, please DO NOT question the Brewers nor offer any alternative lines of thinking on Miller Park Drunk's watch. He has stated that The Brewers will be fine, they will not lose 90+ games and that all who oppose him are stupid or 15 years old. Now, we at LosersBracket don't hate Miller Park Drunk, he is a blog like the rest of us. However, when another blog acts high and mighty and attempts to claim superiority in intelligence, ideas or thought it can't go unanswered. Its too bad he felt the need to go this route. We are all just Wisconsin fans who want the best for their teams. We don't claim to have the right answers, but we are fans who ask questions and try to think through solutions to the problems which our teams face from time to time. If we were experts we wouldn't be blogging.   P.S. Miller Park Drunk, please, for the love of all that is Blue and Gold, get a new server. While refreshing your pages I kept getting time out errors because your server was full or timed out.
Original Story:
http://losersbracket.com/2012/05/mill...
THE BACKYARD
BEST OF MAXIM
RELATED ARTICLES
I'm always checking out twitter during the games. This isn't because all my friends are either old or lame married or gay, and it's certainly not because I live in a basement and if I make too much noise I'll wake my mom up and she'll be mad. No, I do this because I like to keep my finger on the pulse of what Brewers fans are thinking. I've always sort of...
After seven straight quality starts for the Brewers starting rotation, Randy Wolf's outing on Wednesday felt like a step back for a group that seemed to be getting it back together. The group had posted a 1.37 ERA in that time, holding opponents to an impressively low .160 batting average. But in Houston on Wednesday night, Wolf gave up six earned runs, walked three Astros batters...
  Losers, baseball fans, Wisconsin residents, I ask the above question; Is it fire sale time for the Milwaukee Brewers? Due to a number of factors, the 2012 Milwaukee Brewers season looks to be all but over. Well, not over in the fact that we can still go enjoy the beautiful Miller Park, enjoy the food, and, most importantly, peruse the parking lot for hotties…..but it looks to...
After winning the National League Central title last season and establishing themselves as contenders in the National League for the foreseeable future, the Brewers' start to the 2012 season looked, to many, like a colossal disappointment. A 16-20 start through May 16 certainly wasn't ideal. And losing three important pieces to the puzzle in the first month or so of the...
Milwaukee Brewers second baseman Rickie Weeks went 1-for-5 Thursday night and still raised his batting average. That's how bad it has been for Weeks, who entered the 4-0 loss at Houston with a .154 average and emerged at .156. Weeks is last in the NL in hitting and first with 49 strikeouts, not a good combination. If that skid continues, manager Ron Roenicke won't be able...
It is never too early to start talking about the trade deadline, especially when we can talk about would-be contenders that might unexpectedly end up being sellers rather than buyers at the deadline.  Over the next few weeks, we'll be taking a look at many of these such teams, and there is a surprisingly large amount, and what exactly they might be looking to sell...
Today we're introducing a segment we're calling "Point/Counter-Point" here at The Brewers Bar.  It's a chance to show you the debates that sometimes only happen behind the scenes.  Up for debate today - Should the Brewers Drop Rickie Weeks in the Lineup?Andy: I don't even think it's a question of should they drop him or not, it's more of where...
    With all the hubub over my article suggesting a fire sale by the Brewers, I thought I would post a funny statistic.   **A.D.D. Side note. Look, Losers, Brewer Fans, Wisconsinites……..I am a very reactionary fan. I live in the moment….be it the Brewers, The Packers, The Badgers or which ever Wisconsin team is competing. I bleed Green and Gold, Blue and Gold, Red and White…...
The Mets will have to hold off impending storms if they hope to get the chance to sweep the Brewers in their brief two-game set. First pitch is still scheduled for 7:10 p.m. and the game can be seen on SNY or heard, as always, on WFAN 660AM.  Join the conversation on Twitter by following @dailystache or yours truly, @DevOnSports. The rains came late in Monday's 3-1 win over...
HOUSTON (AP) -- Jed Lowrie hit a two-run homer and J.A. Happ threw six sharp innings before three relievers completed the Houston Astros' 4-0 victory over the Milwaukee Brewers on Thursday night. The win wrapped up a two-game sweep for the Astros, who took the opener 8-3. Happ (3-3) yielded seven hits and walked one, managing to escape jam after jam as the Brewers stranded...
As the quarter-point of the Major League Baseball Season approaches (the point when it's no longer early), I am beginning too reflect on things for the Milwaukee Brewers thus far.  To me its pretty simple what is going on.  I don't know why its happening or if it will change and yes, I am not oblivious to the injuries but I do know that this team is UNDER-PERFORMING. Take that...
A home series with the Minnesota Twins usually brings out the best in the Milwaukee Brewers. With the way things have been going, the reigning NL Central champions will be desperate for that trend to continue when they open a three-game set with the Twins on Friday night at Miller Park. Milwaukee (16-22) lost for the fourth time in five games Thursday, falling 4-0 at Houston. The...
MLB News

Delivered to your inbox

You'll also receive Yardbarker's daily Top 10, featuring the best sports stories from around the web. Customize your newsletter to get articles on your favorite sports and teams. And the best part? It's free!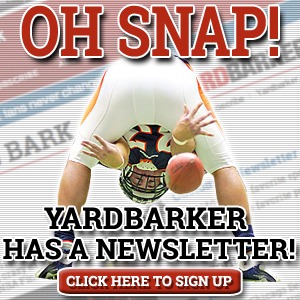 Latest Rumors
Best of Yardbarker

Today's Best Stuff

For Bloggers

Join the Yardbarker Network for more promotion, traffic, and money.

Company Info

Help

What is Yardbarker?

Yardbarker is the largest network of sports blogs and pro athlete blogs on the web. This site is the hub of the Yardbarker Network, where our editors and algorithms curate the best sports content from our network and beyond.