Found March 25, 2013 on Midwest Sports Fans:
"Those who do not learn from history are doomed to repeat it." ~George Santayana With the signing of Kyle Lohse to a $33 million contract, the Milwaukee Brewers have proven that they have not learned from the past. Now they may be doomed to repeat it. It's a move that reeks of desperation as the young starters have underperformed this spring. But it reeks more because of the similarities to a move that still burns in many Brewers fans' memories: the ill-fated signing of Jeff Suppan in 2007, a player who pitched so terribly for the Brewers they were forced to cut him three years into a four-year deal and eat millions in salary. This is a mistake a team like the Yankees can afford to make, but not the small market Brewers. In 2007, at the age of 32, Jeff Suppan signed a four-year, $42-million dollar deal with the Brewers. Suppan was coming off a couple strong seasons in St. Louis, but he was never overpowering. He got by on control, deception, and using his sinker to induce groundballs. For his career Suppan went 111-112 with a 4.59 ERA, 1.42 WHIP, and 1,088 Ks when not in a Brewer uniform. Now let's hammer home the comparison. Today, at the age of 34, Kyle Lohse signed a three-year, $33-million dollar deal with the Brewers coming off two very strong seasons in St. Louis. Lohse is also not overpowering, getting by on control, deception, and inducing groundballs. For his career Lohse is 118-109 with a 4.45 ERA, 1.37 WHIP and 1,238 Ks. While the two are statistically very similar for their careers, the last two seasons Lohse has actually been dominant, compiling a 30-11 record with a 3.11 ERA, 1.13 WHIP, and 254 Ks. This is a stretch of sustained dominance that Jeff Suppan could only dream of. Suppan's best season was 2005 when he went 16-10 with a 3.57 ERA and 1.38 WHIP. And for that reason there is some hope. Which Kyle Lohse will Brewers fans see this season? The guy who dominated the National League the last two season … or Jeff Suppan 2.0? For the sake of Brewers fans, and my own sanity, I sincerely hope it will be the former. But I can't help but look at all the parallels and expect the latter. The post Milwaukee Brewers Sign Kyle Lohse … Or Should I Say Jeff Suppan 2.0? appeared first on Midwest Sports Fans.
Original Story:
http://www.midwestsportsfans.com/2013...
THE BACKYARD
BEST OF MAXIM
RELATED ARTICLES
Kyle Lohse finally found a team.  After waiting almost to the brink of opening day, Lohse signed with the Milwaukee Brewers for 3 years/$33 million. A bit less than what he and agent Scott Boras were hoping for, but at least they got a deal done. However, when I first heard about the signing, I immediately thought back to the Brewers signing of Jeff Suppan.  In case you forgot...
Kyle Lohse finally signed with a team today, and that means he should be off your fantasy team by this weekend.Look, if he's on your waiver wire, you've got to add him. Unless you found a mega sleeper, he's going to be better than your last-round pick. And if you drafted him in a late round, waiting for the day he would sign, that's a smooth move. But I don't...
The signing of free-agent right-hander Kyle Lohse gives the Milwaukee Brewers five players who will earn a combined $61.5 million in 2014, according to Cot's Baseball Contracts. Owner Mark Attanasio, however, said Tuesday that the team's rising payroll will not prevent the Brewers from trying to re-sign first baseman Corey Hart, a potential free agent, or pursuing other...
A person familiar with the deal tells The Associated Press that free agent pitcher Kyle Lohse and the Milwaukee Brewers have reached agreement on a three-year contract worth $33 million. Several media outlets reported the deal Monday. The person spoke to the AP on condition of anonymity because an official announcement was expected later in the day. The 34-year-old Lohse joined...
LHP Kyle Lohse has finally found a home for 2013. The former-Phillie and former-St. Louis Cardinal starting pitcher has signed a contract with the Milwaukee Brewers, as first reported by CBS' Jon Heyman. The 34-year-old spent the last five seasons of his career with the Cardinals, where he won a...
CBS' Sports Jon Heyman is reporting today that free agent pitcher Kyle Lohse will be signing with the Milwaukee Brewers- Lohse to sign with brewers — Jon Heyman (@JonHeymanCBS) March 25, 2013 Lohse was the prize of the free agents left, but signing the veteran starter would have cost a team their first round pick. The Brewers will forfeit the #17 selection in the upcoming MLB...
Photo by: Keith Allison Kyle Lohse has packed his bags and now he can buy his plane ticket because he finally has a destination for 2013, Milwaukee.  The Brewers have reached an agreement (pending a physical) with Lohse for 3 years and $33 million.  The 34 year old right-hander should slot in behind Gallardo as the Brew Crew's 2nd starter once he is ready to join the rotation...
The Milwaukee Brewers have agreed to a multiyear contract with free agent right-hander Kyle Lohse pending a physical, according to multiple reports. CBS Sports reports the contract is worth 33 million over three years. Lohse, 34, went 16-3 with a 2.86 ERA in 33 starts and 211 innings for St. Louis in 2012. Despite finishing seventh in the National League Cy Young voting last season...
After holding out almost all of spring training, it appears former Cardinals starter Kyle Lohse has finally landed with a new team. On Monday Lohse reportedly signed a three-year deal with the Milwaukee Brewers. News of the deal was first reported by CBS Sports' Jon Heyman. One of the major sticking points that caused so many teams reluctance on Lohse was the fact that signing...
When word leaked out yesterday that the Brewers had come to a three-year/$33 million agreement with Kyle Lohse, a lot of Pirate fans immediately started wondering why the Pirates didn't make more of a push for Lohse given their current rotation woes. There are a lot of fairly straightforward answers to this question: Lohse is due for some regression and is much more likely to...
Could THIS be the guy who never plays until Corey Hart comes back in May? Note: This post was being written when it was announced that the Brewers were signing Kyle Lohse. The transaction is in stark contrast to much of the intro, but I'll be goddamned if I'm going to re-write it. Just pretend this was written Friday or something. Cool? *** Every mid-February when pitchers...
Today, we're going to begin previewing the major awards going into the 2013 season. We'll take a look at the MVP, Cy Young, and Rookie of the Year favorites in both the American and National Leagues, kicking off with the ROY today. We've also got some other goodies planned, so keep your eyes here today. Yesterday, here's what you missed around the Corner. ...
MLB News

Delivered to your inbox

You'll also receive Yardbarker's daily Top 10, featuring the best sports stories from around the web. Customize your newsletter to get articles on your favorite sports and teams. And the best part? It's free!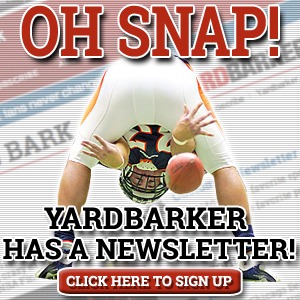 Latest Rumors
Best of Yardbarker

Today's Best Stuff

For Bloggers

Join the Yardbarker Network for more promotion, traffic, and money.

Company Info

Help

What is Yardbarker?

Yardbarker is the largest network of sports blogs and pro athlete blogs on the web. This site is the hub of the Yardbarker Network, where our editors and algorithms curate the best sports content from our network and beyond.