Found July 29, 2012 on hardballchat.com:
Kenny Williams made another puzzling move when he dealt infielder Eduardo Escobar and left-hander Pedro Hernandez to to the Twins for starter Francisco Liriano. The White Sox have long been questioned for the depth of their farm system and now he has made two deals surrendering five prospects. What's more, I'm not exactly sure how he has gotten better.
Liriano presumably will move into the rotation and provide more depth, but I question whether the White Sox needed another starter to begin with. I suppose if they are expected to shut down Chris Sale is might make some sense, but there hasn't been anything coming out of the White Sox camp as to whether that is what they plan to do. So, here is a list of what the White Sox have in the rotation and their performance as starters this season.
Jake Peavy: 140.0 INN, 3.15 ERA, 126/29 SO/BB
Chris Sale: 124.0 INN, 2.61 ERA, 114/31 SO/BB
Gavin Floyd: 109.0 INN, 4.46 ERA, 92/37 SO/BB
Philip Humber: 82.1 INN, 5.90 ERA, 70/34 SO/BB
Jose Quintana: 76.2 INN, 2.58 ERA, 44/14 SO/BB
John Danks: 53.2 INN, 5.70 ERA, 30/23 SO/BB
Francisco Liriano: 92.2 INN, 5.34 ERA, 100/48 SO/BB
With Jose Quintana off to a great start, the White Sox already had three front-line starters, but there was quite a bit of drop off from there. Gavin Floyd just returned from injury and he has been solid for the most part since his return. So, the White Sox could be said to be in the market for a fifth starter with both Phillip Humber and John Danks struggling (or hurt). Enter Francisco Liriano. Those are his numbers as a starting pitcher this year.
I suppose we can give Kenny Williams some credit for gambling. When you look at Liriano's numbers, it is clear that he has the capability of performing like a front line starter. He's done it in the past and once he came back from his stint in the bullpen, he's done it more often, but even now he has had some starts where things just didn't work. The month of July is a perfect microcosm of his career. He has starts where he has tallied 15 strikeouts and ten strikeouts interspersed with starts where he has surrendered seven runs and five runs. So, while he has 39 strikeouts in 28.2 innings, he also is 1-3 with an ERA over 5.00.
As for the Twins, they get a couple of useful pieces for a pitcher they likely weren't going to bring back after the season. Pedro Hernandez has one start at the big league level, but has shown considerable promise this season at the minor league level. He is only 23 years 8-2 between AA and AAA with 85.2 innings pitched. His combined ERA for the season between those two levels was 2.94.
Escobar has spent the entire season on the 25 man roster in Chicago. It's not like the White Sox are surrendering a lot here. He is also 23, but has an OPS under .600 and doesn't even have 100 plate appearances yet. Whether the Twins keep him on their 25 man roster remains to be seen. Still, getting a capable starter like Hernandez makes this deal worthwhile. The Twins may go ahead and promote him to give him some valuable big league experience.
All in all, the White Sox do get another arm they may or may not get hot with a new team. The Twins get a useful arm and a fringe utility infield prospect. They may have gotten more had they waited for more suitors, but you can never know these days. Terry Ryan is definitely going with the bird in the bush theory of trading a player. That leaves Kenny Williams with two in a bush. For his sake, I sure hope Liriano performs better than he has recently.
Original Story:
http://www.hardballchat.com/2012/07/m...
THE BACKYARD
BEST OF MAXIM
RELATED ARTICLES
With their playoff chances looking ever brighter and a roster full of young, inexperienced players, the White Sox are up for the challenge. Now, Francisco Liriano must turn their challenge into his opportunity. When the White Sox traded for Liriano on Saturday, they knew they weren't getting a polished starter guaranteed to win them a chunk of games down the stretch. They were...
When Francisco Liriano takes the mound Tuesday night in Minnesota, he'll be coming out of the visiting clubhouse for the first time in his career. Acquired by the Chicago White Sox over the weekend, Liriano squares off against his former Twins teammates as these AL Central rivals continue a three-game set. In an attempt to bolster its starting rotation, division-leading Chicago...
MINNEAPOLIS The Minnesota Twins traded pitcher Francisco Liriano to the Chicago White Sox on Saturday, acquiring shortstop Eduardo Escobar and left-handed pitcher Pedro Hernandez, who will both be assigned to Triple-A Rochester. Liriano has played his entire big-league career with the Twins, dating back to 2003 when the team acquired him from the San Francisco Giants. He's...
GM Terry Ryan pulled the trigger Saturday on the trade everyone saw coming, moving LHP Francisco Liriano to the Chicago White Sox for infielder Eduardo Escobar and LHP Pedro Hernandez. That doesn't mean he's done dealing. Teams have until 3 p.m. CDT Tuesday to trade players without sending them through waivers. Ryan called the run-up "my most important time of the...
MINNEAPOLIS The inevitable came on Saturday night, just hours after recent Twins call-up Samuel Deduno's seven-inning, two-hit night. It came as the Twins have gained more and more confidence in their young pitchers over recent weeks, but that didn't make it any more of a decision the team wanted to make. It came as the Twins strung together two nights with double-digit...
The Chicago White Sox have acquired left-hander Francisco Liriano from the Chicago White Sox for shortstop Eduardo Escobar and pitching prospect Pedro Hernandez. The AL Central-leading White Sox Tweeted the news late Saturday night after the Twins beat the Cleveland Indians and Chicago won in Texas. Liriano was an All-Star in 2006 and was expected to be one of the Twins' top...
The Cleveland Indians continue to fall off pace in the AL Central amid a frustrating series against the Minnesota Twins. On the bright side, they won't have to face Francisco Liriano in the finale of the three-game series Sunday when they try to avoid a sweep. Liriano was scheduled to pitch before the Twins dealt him to Chicago late Saturday night for shortstop Eduardo Escobar...
A sweep in Texas would have been nice Sunday night, but the Chicago White Sox lost 2-0 as Rangers RHP Scott Feldman pitched eight shutout innings. The Sox couldn't feel bad about taking two of three from the Rangers, as well as going 6-3 against the defending American League champions this season. And when they arrive in Minnesota for a three-game series, the Sox will welcome...
Kenny Williams reportedly worked his tail off to land Zack Greinke from the Brewers this week. The AL Central is up for grabs and the White Sox and Tigers have gone back and forth for the division lead in recent weeks. Greinke would have solidified the White Sox hold on the division by giving them another top starter to go along with Chris Sale and Jake Peavy. Williams was so entrenched...
MAKING MOVES
The White Sox weren't able to get Zack Greinke from the Brewers, but they pulled off a trade for Francisco Liriano from the Twins.
53-48, 2nd place, 2.5 games back. Keeping it short and sweet for the W… - Sanchez threw only 4 balls in the first 3 innings yesterday. - White Sox continue to beat up on Texas (5-0 vs. them this year), as they won their 5th straight yesterday, and they acquired Francisco Liriano from the Twins. Today's It's Okay to Bat Rayburn Once Per Week Against Lefty's Though 6th is...
Last Thursday, The Common Man expressed his trepidation that the Twins were positioned to truly make this a disastrous trade deadline.  With the trade of Francisco Liriano to the White Sox, that's well underway. Admittedly, Liriano is a uniquely frustrating pitcher.  When he's on, Liriano has three plus-plus pitches in his fastball, changeup, and slider, and is capable of...
MLB News

Delivered to your inbox

You'll also receive Yardbarker's daily Top 10, featuring the best sports stories from around the web. Customize your newsletter to get articles on your favorite sports and teams. And the best part? It's free!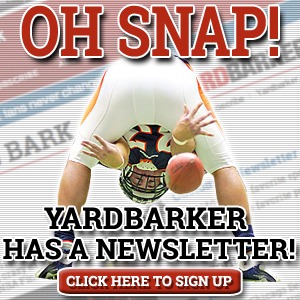 Latest Rumors
The Backyard

Today's Best Stuff

For Bloggers

Join the Yardbarker Network for more promotion, traffic, and money.

Company Info

Help

What is Yardbarker?

Yardbarker is the largest network of sports blogs and pro athlete blogs on the web. This site is the hub of the Yardbarker Network, where our editors and algorithms curate the best sports content from our network and beyond.